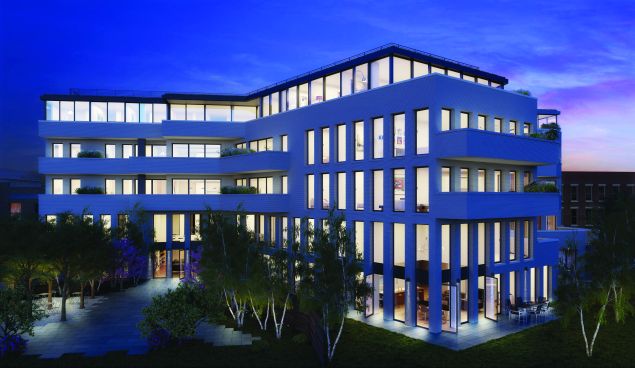 Luxury condos built on the site of a garage at 280 Saint Marks Avenue in Prospect Heights are hitting the market today.
DNA Development, the company behind the project, purchased the site, located between Vanderbilt and Underhill Avenues, in November 2014 for $15.7 million, and completed the demolition of the existing building (a one-story garage) in June. TOWN is handling sales and marketing for the condo, which will rise five stories, with 32 units comprised of one, two, three, and four-bedroom apartments, including seven townhouses and six penthouses (a fifth of the units).
One-bedrooms will start at $899,000, two-bedrooms at $1.299 million, three-bedrooms at $1.619 million, and four-bedrooms at $2.499 million. And, with a display of optimism for the ever-rising Brooklyn market, particularly in once-marginal neighborhoods, the developers told the Observer that a couple of the units will be over $3 million. Currently, the median price for a one-bedroom in the neighborhood is around $810,000.
When it came to designing the building, the developers said that they took inspiration from the surrounding area.
"It's a brownstone neighborhood," David Berger, a partner at DNA Development, told the Observer. "What we wanted to do with the architecture of the project is fit it into the neighborhood, not just build something that is going to stand out like a large block. We worked with our architectural firm, DXA Studio, to come up with an interesting way of fitting into the neighborhood."
That translated to using almost 16,000 handmade Peterson Kolumba ceramic bricks to construct the façade of the building, to make it "bring in the feeling of townhouses," as Mr. Berger put it, what he described as an effort to show the area's transformation while at the same time maintaining some sense of the neighborhood's original architecture.
"I live a block away from the site," Alexander Sachs, another partner at DNA Development, said. "I've lived in the neighborhood for the past eight years, and the neighborhood has really changed since then."
Well, yes, Brooklyn neighborhoods have definitely changed quite a bit in the last eight years, with the influx of luxury developments, though until recently and with the notable exception of Richard Meier's On Prospect Park, Prospect Heights has actually managed to remain somewhat removed from that.
Back to the very Brookyn-ness of this Brooklyn development: local materials by local artisans include art from Fiercely Curious, a communal table by a local woodworker Brian Klotz, custom light fixtures by David Weeks (you guessed it, another Brooklyn local!), and of course, custom wallpaper by Flavor Paper.
A somewhat distinctive aspect of the building is that every single unit has private outdoor space, whether it be a terrace, balcony or a personal backyard.
"It is fairly common to have outdoor space in Brooklyn," Mr. Berger conceded, "but we've seen in some of the other competitive projects that a lot fewer units have outdoor space. We think that's one of the most important things to buyers, I think it will differentiate [280 Saint Marks Avenue]."
The inclusion of outdoor space also provides some insight into who might be the most interested in this kind of development.
"People who have at least one, if not a couple, of kids, really like the outdoor space in Prospect Heights. We incorporated those elements into the building," Mr. Sachs said.
Though they profess themselves quite optimistic about the broad appeal of 280 Saint Marks for those on the other side of the bridge, as well.
"It's so centrally located in Brooklyn, and has such great access to the city. We're finding interest from Manhattan buyers—couples that don't have kids or are a little bit older, that want to be in a nice neighborhood," Mr. Berger opined. "The feeling you get on Vanderbilt Avenue is a nice, small town feel, but you are just a few blocks away from Flatbush and Grand Army Plaza."
We're not sure just how "small town" a vibe Brooklyn gives off at present, but in any event, some amenities have been added to make the apartments "livable for the long-term."
"What I mean by that," Mr. Berger clarified, "are side-by-side washer and dryers wherever possible, kitchen pantries, and more closets in general." Other amenities include a shared roof deck, a resident's lounge, an outdoor garden, children's playroom, and fitness center, as well as a bike room and doorman. There are also private storage units and an underground garage with parking spaces–at an additional cost, of course.
"You have the culture and you kind of have everything there," Mr. Berger concluded. "I don't know why, it was sort of a nicely kept secret, but we're happy to bring Prospect Heights to the rest."
Anyone hoping to be let in on the "secret" neighborhood of Prospect Heights,  will be able to move in by next year–construction is expected to be completed by December 2016.