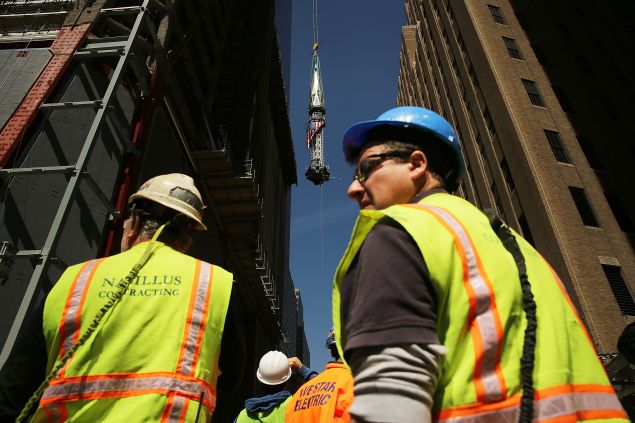 Just months after the de Blasio administration argued that hiring union workers would undermine the Democratic mayor's ambitious affordable housing plan, Comptroller Scott Stringer and Public Advocate Letitia James today announced a plan to create or preserve up to 20,000 below-market apartments through a partnership with organized labor—and joining them was Building and Construction Trades Council President Gary LaBarbera, an outspoken critic of the mayor.
Mr. Stringer and Ms. James today announced a new $150 million city investment AFL-CIO Housing Investment Trust, which allocates union worker savings dollars to construction projects that hire union workers—and which is undertaking a $1 billion project to build and maintain affordable housing in New York City. Both Democratic pols sit on the board of trustees of the city's pension system and, as the city's chief financial officer, the comptroller serves as the custodian and investment adviser for the civil servant retirement and disability funds.
"When it comes to building and preserving the housing we so desperately need, and creating the jobs we need, economically targeted investments are a crucial, important tool. And that's because the Housing Investment Trust supports the rehabilitation and affordable housing construction, but it does so with union construction," Mr. Stringer said at the announcement at the School of Visual Arts in Manhattan.
The seven-year HIT plan will use the funds for renovations and improvements at between 12,500 to 15,000 apartments in New York City Housing Authority buildings and other subsidized housing developments, and the creation of 5,000 to 7,500 new apartments through various nonprofit partners. The program aims to create 7,300 union construction jobs.
Ranges of rents at the new units was not immediately available, though HIT leaders told the Observer they would target tenants making as little as half the median income in the New York City metropolitan area.
Mr. LaBarbera fiercely asserted that hiring union was essential to addressing the problem of affordability, and to ensure that below-market housing was built and maintained to high standards and under good working conditions.
"The reality is we're never going to address the issue of affordability and affordable housing in this city, we need to address the issue of income inequality—truly address the issue of income inequality. And you do that by creating jobs, and jobs that are good jobs," he said. "The only real, real good job in construction is a union job."
The union leader clashed with Mayor Bill de Blasio earlier this year over reforms to the controversial 421a tax abatement for developers. Mr. LaBarbera was a driving force behind a group called Up4NYC to lobby the state to require real estate interests receiving the exemption to pay union wages.
Mr. de Blasio argued that setting such a pay floor would make the large scale affordable housing construction envisioned in his agenda financially unfeasible and preclude the creation of as many as 17,000 below-market apartments.
Mr. LaBarbera and the various unions belonging to the Building and Construction Trades Council recently led protests outside affordable housing sites subsidized under the mayor's administration that employed non-union subcontractors accused of labor violations.
The mayor's quarrels with the building trades unions left him in an awkward and unusually conservative position, given his frequent brandishing of his pro-labor credentials—a position Gov. Andrew Cuomo gleefully exploited by siding with Mr. LaBarbera in the 421a dispute. Ultimately, the governor and the State Legislature decided that 421a would only continue if the real estate industry could come to an agreement with organized labor over wages by year's end—and Mr. LaBarbera told the Observer today that negotiations are underway.
Ms. James made a point of echoing Mr. LaBarbera during her remarks.
"Let me associate my comments with Gary LaBarbera. He has basically stolen my speech," she began, emphasizing the abuses suffered by workers on non-union projects. "If we build it union, we build it right."
Ms. James told the Observer afterward that the city should follow the HIT's example in its affordable housing efforts.
"This is the model, this is the model how we should look forward. AFL-CIO builds affordable housing, they build it union and they earn a profit," she said.
The comptroller, seen as Mr. de Blasio's most aggressive rival in city government, told the Observer he did not believe there was a single "one size fits all" model for affordable housing, but said the HIT program illustrated how union work and below-market construction were not incompatible.
"You can build affordable and you can build union and we've been doing it for a long time," he told the Observer."The announcement we're making today clearly shows you can build affordable housing, and you can do it by creating union jobs as well."
So will Mr. de Blasio get to include the apartments under this plan in the tallies of affordable housing created and preserved during his tenure?
"I don't do that kind of math," Mr. Stringer replied.
This story originally incorrectly identified the name of Up4NYC and identified Mr. LaBarbera as a co-founder. He was not a co-founder of the group.