Are students on your campus looking for relationships, or do they just want to "Netflix and chill"?
Algorithmic matchmaking app Clover analyzed its data to see if there were any interesting trends happening on university campuses across the U.S. What was found allowed their analysts to rank colleges on factors like kinkiest, most reserved and most liked and disliked. They also took a look at which schools are all about hooking up and which are looking for love.
Clover displayed their findings in a infographic: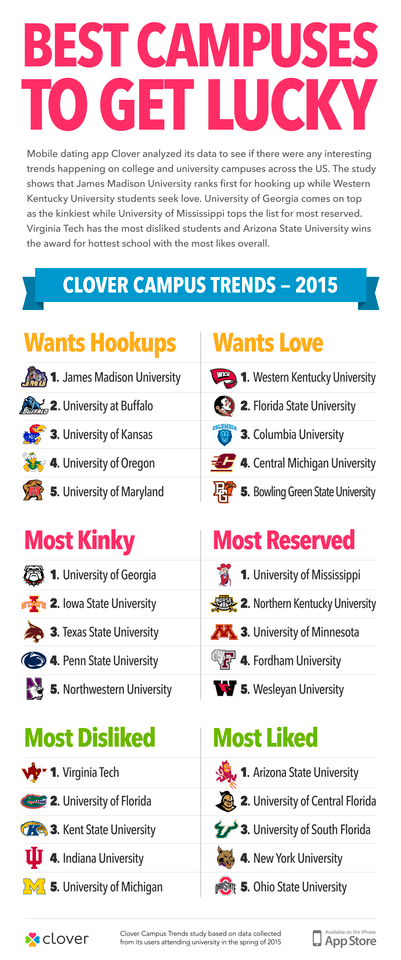 Clover CEO Isaac Raichyk told the Observer exactly how they analyzed the data. The "like" and "dislike" categories are pretty obvious, but the others required a deeper look.
"The 'Hookup' and 'Love' categories are based on what users choose as their intention. Clover allows users to show others what their relationship goals are on their profile. Whether it's to make new friends, find a hookup, casual dating or long term relationships."
He added:
"The 'Kinky' and 'Reserved' categories are based on answers users provided to their '20 Questions.' Clover users have the option of answering 20 simple questions designed to help us present people with more compatible matches and help users quickly get to know each other."
Some examples of questions that determined kinky or reserved asked users things along the lines of "Do you experiment in bed?" and "Do you stick to routine?"
Do the results surprise you?