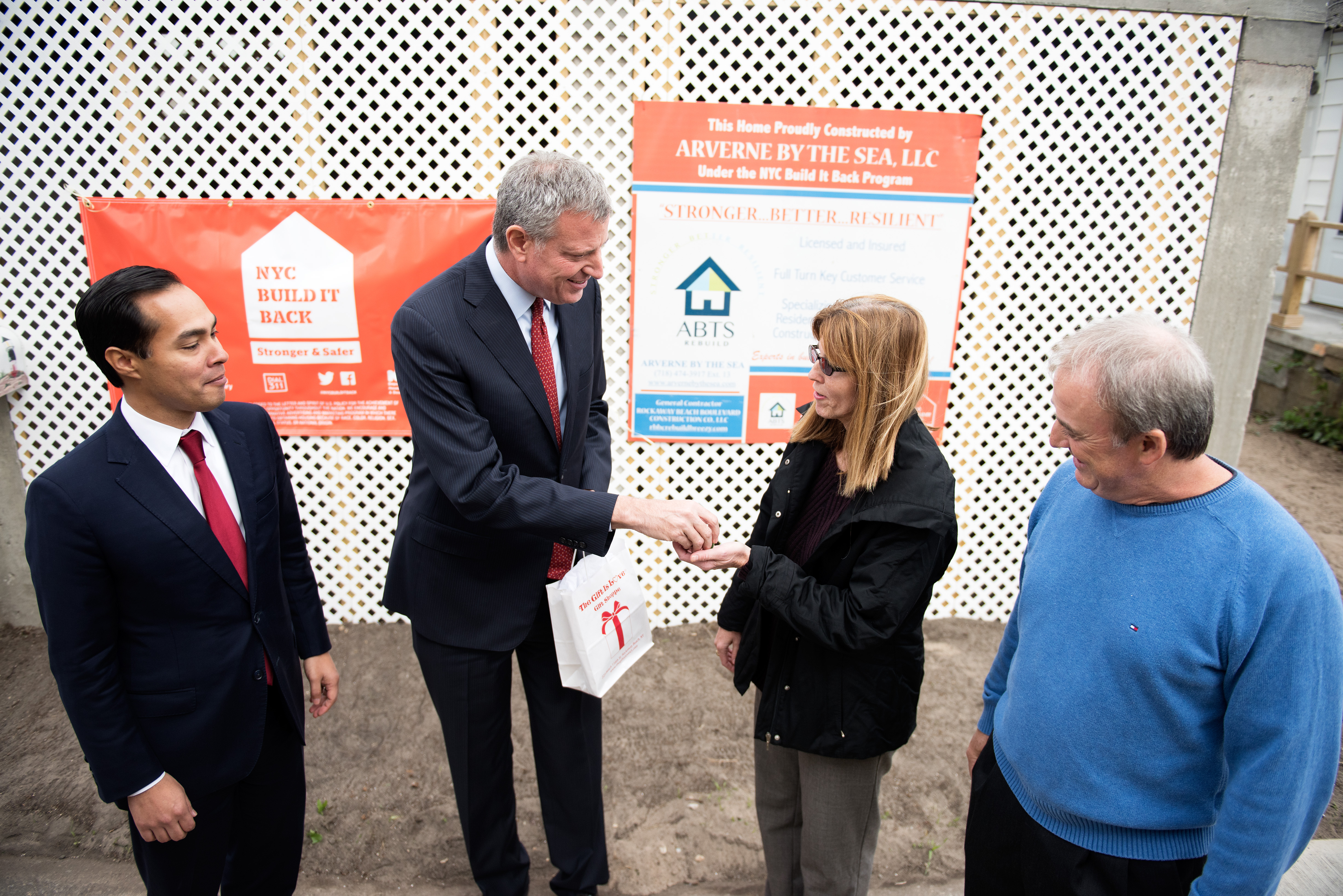 Nearly three years after Hurricane Sandy, more than 60 percent of the New Yorkers enrolled in the Build it Back program have received either construction or financial help returning home, Mayor Bill de Blasio said alongside Housing and Urban Development Secretary Julian Castro today in Breezy Point.
"The numbers are really impressive," Mr. de Blasio said, before touting statistics: the program has sent out reimbursement checks to 5,312 households that did their own repair work, has started construction on 1,877 homes and finished 1,200 of those.
That amounts to more than half of the 9,318 active applicants in the program—though there were closer to 20,000 people enrolled when the initiative first launched under Mayor Michael Bloomberg. Build it Back Director Amy Peterson noted that's a similar level of drop-off to other regions hit by Sandy and other disasters. But red tape and massive delays in the months immediately following the storm turned off many homeowners, and there had been zero construction starts or reimbursement checks sent before Mr. de Blasio took office and, several months later, rolled out a program overhaul.
"We had to do something very, very different," Mr. de Blasio said. "It took a full overhaul of Build it Back."
While the mayor was plenty happy to look back on the program, he would not look ahead. Asked whether he had a timeline for serving the remaining active participants, he demurred.
"Today we are focused on what has been done to date, and then on Thursday we're going to talk about where we're going from here. So we are going to explicitly go over the next phase of the plan on Thursday," Mr. de Blasio said.
Despite the lack of specifics, Mr. Castro—rumored to be on the list of potential vice presidential candidates for former Secretary of State Hillary Clinton—promised that help was coming for those who still aren't home.
"We haven't forgotten about those who are still fighting their way back, and we never will," Mr. Castro said, promising to keep working "until this great comeback story is complete."
Before the press conference, Mr. de Blasio toured a home that had been rebuilt by Build it Back and elevated 15 feet off the ground—that's three feet above the base flood elevations suggested by the Federal Emergency Management Agency for the area. He handed over the keys to the owners, Eamonn and Roseann Cunningham.
"Our appreciation is so deep," Ms. Cunningham told the mayor and Mr. Castro as they toured the home.
For Mr. Castro, it was an opportunity to see some of the money allocated by his department for Sandy recovery at work: Build it Back is funded by community development block grants administered by HUD.
"Thank you for the resources," Mr. de Blasio told Mr. Castro during the tour. "You're the man with the check."
Mr. Cunningham, meanwhile, offered an impressive knowledge of the history of the department, which was begun during the 1960s "War on Poverty."
"Lyndon Johnson would be proud of you," Mr. Cunningham told Mr. Castro.