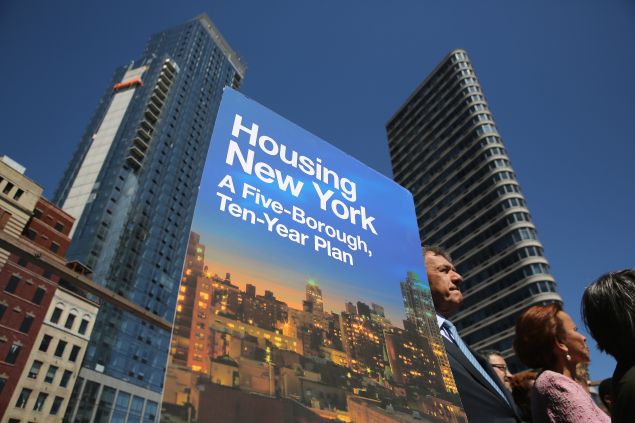 Mayor Bill de Blasio hailed the role Canadian public pension dollars played in the purchasing of the Stuyvesant Town-Peter Cooper Village complex under an arrangement designed to depress rising rents, and said today he saw "a lot of promise" in using the retirement dollars for his ambitious plan to build 80,000 new units of affordable housing and preserve 200,000 others.
The investment firm Ivanhoe Cambridge, which manages the accounts of Quebec's civil servants, is part of a $5.3 billion deal to purchase the 11,000-plus apartment development—a deal in which the city will commit some $250 million in subsidies to ensure that some 5,000 units remain rent stabilized, and a new system reserving 1,400 others for middle to upper-middle-income earners. Mr. de Blasio called it the "mother of all preservation deals," and argued Ivanhoe Cambridge's involvement promised stability after the years of chaos that followed Tishman Speyer's $5.4 billion purchase of the historically middle class enclave in 2006—a severely overleveraged deal that resulted in the largest commercial mortgage default in history and lengthy litigation with tenants over illegally deregulated apartments.
"Public pension funds were involved, that bring a lot of different values to the process, including appreciating the importance of housing for middle class people," Mr. de Blasio said.
The mayor told the Observer he hoped to see the city's own $160 billion in pension funds marshaled toward his housing agenda in the future.
"I think we're constantly looking for ways to foster affordable housing, and certainly the pension funds are one of those options. And it's something I've seen a lot of promise in. It comes down to each individual opportunity, each individual deal," he said.
Deputy Mayor for Housing Alicia Glen noted that both the city and the state pension system have offered low-cost mortgages to individuals for years. But she suggested that the pension system could see strong returns and social gains if it increased the amount of affordable housing in its portfolio.
"I think it's true there's more to be done and there's more creative ways to be engaged with the pension funds," she said. "They do have to look at their basic asset allocation, and New York real estate's a good place to invest right now."
Mr. de Blasio has a representative on the boards of the city's five pension funds, but the custodian and investment adviser of the assets is his biggest rival in city government, Comptroller Scott Stringer. Mr. Stringer has recently steered $150 million from the retirement and disability accounts into affordable housing, but has done so in a manner at odds with the mayor's vision for affordable housing—by funneling it into the AFL-CIO's Housing Investment Trust, which devotes funds to building and repairing below-market apartments exclusively with union labor, which the de Blasio administration has repeatedly insisted is not cost-effective.