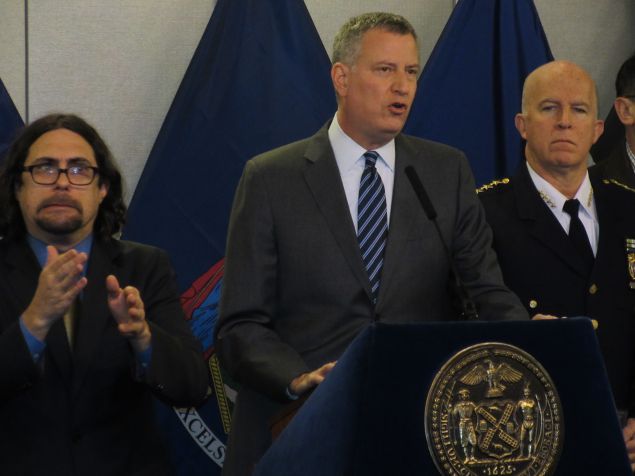 Mayor Bill de Blasio today told reporters that he was putting his plans to spend Friday in the nation's capital "on hold" because of the threat of Hurricane Joaquin.
Speaking to reporters at the Office of Emergency Management in Brooklyn, Mr. de Blasio said that—even though current reports indicate the category four storm will have a "limited" impact in the city—he was no longer planning to attend the progressive State Innovation Exchange in Washington, D.C. tomorrow or the United States Conference of Mayors Fall Leadership Meeting in Baltimore on Saturday.
"At this point, it's on hold and we have to get further updates from the weather service and the hurricane center, and that will determine everything, but for now there's no plan to travel until this is clear," he said.
Mr. de Blasio, surrounded by his commissioners and their staff, said he was preparing for the storm in a manner former Mayor Michael Bloomberg failed to do before Hurricane Sandy in 2012. He and his administrators reported emergency vehicles and personnel were at the ready, drains were being cleared, equipment strategically placed and vital infrastructure being shielded
"We're going to be one, communicating a lot, two, positioning assets in a lot more widespread fashion than in the past," he said, adding that it did not yet appear that coastal areas would have to be evacuated like they were three years ago. "We do not foresee a situation, thank god, at this point that suggests an evacuation is necessary, but if we get closer and we see that type of situation, one of the things that's going to be different than in the past is you're going to hear a very strong message early and repeated often, and a lot to support that message."
The mayor urged New Yorkers to prepare a bag of emergency supplies, including water, non-perishable food, a battery-operated radio, a flashlight, back-up batteries, first aid materials and crucial identification documents. He also recommended they find out if they live in an area at-risk of flooding by phoning 311, or going to www.nyc.gov/notifynyc.
"Look, we're not going to be surprised here," he said. "The important thing is for people to stay updated and take the update seriously."
If the hurricane hits New York, it would be expected on Sunday or Monday.
In choosing to stay in the city for the storm, it would appear Mr. de Blasio has learned about more than emergency preparation: Mr. Bloomberg earned considerable ire when a 2010 snowstorm struck the city while he was at his vacation home in Bermuda.