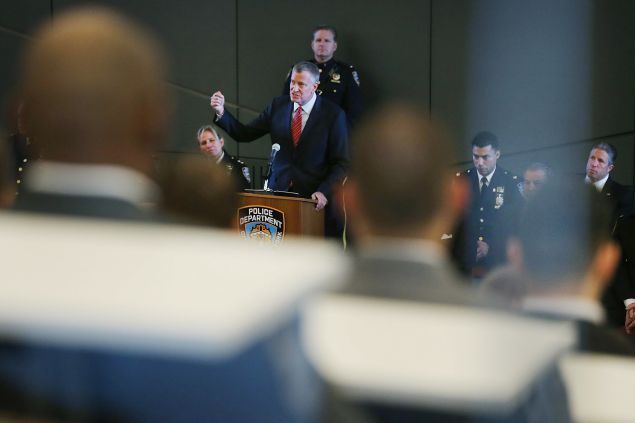 Mayor Bill de Blasio didn't have much to say today about his arch-villain getting out of the mayoral race.
"Each person has to make their own choice on whether they want to run for office and I have said I welcome anyone who makes that choice and I'm ready to have a very spirited debate about New York City," he said at an unrelated press conference in Queens.
"We're very proud of what we've done in terms of driving down crime, in terms of full-day pre-K for all and improved test scores in our schools and 177,000 new jobs since I took office so I look forward to that discussion but, you know," he added.
Eva Moskowitz, the CEO and founder of Success Academy Charter Schools, announced this morning she would not run for mayor in 2017. A fierce critic of the de Blasio administration and an old Democratic rival from their City Council days, Ms. Moskowitz had been floated as a potential candidate since last year. Mr. de Blasio's declining poll numbers enticed Ms. Moskowitz to keep herself in the running until today.
The two clashed early into Mr. de Blasio's tenure when he initially rejected plans for her schools to expand into new buildings and said he'd charged charters rent. With the help of the mayor's erstwhile friend, Gov. Andrew Cuomo, the State Legislature passed a law mandating that new charters receive rent-free space in public school buildings or new space paid for by the city, a significant win for Ms. Moskowitz.
But Ms. Moskowitz faced long odds in trying to unseat an incumbent mayor and was not the only Democrat eyeing a bid. Bronx Borough President Ruben Diaz Jr. and Comptroller Scott Stringer have not ruled out campaigns against Mr. de Blasio. Congressman Hakeem Jeffries of Brooklyn, a close Moskowitz ally, is another contender often floated for 2017, as well as Don Peebles, a real estate developer and one-time de Blasio backer.