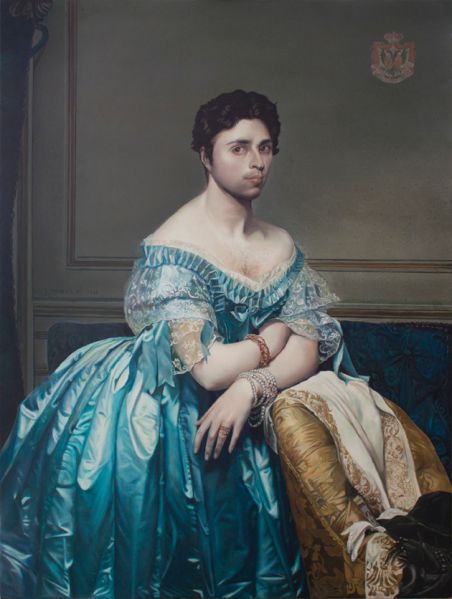 "I visit the Metropolitan Museum of Art every time I'm in New York," Turkish hyper-realist painter Taner Ceylan told me in the car taking us from his opening at Paul Kasmin Gallery to the celebratory dinner following. "I first saw Ingres's portrait of Princesse de Broglie at the Met on my initial visit in 2005 and last year I came back to spend a week studying and researching the painting with the help of the museum's curators."
Mr. Ceylan's second solo show at the Kasmin gallery is inspired by Jean-Auguste-Dominique Ingres's famous 19th century portrait of the French princess. Taking Oscar Wilde's maxim "Every portrait that is painted with feeling is a portrait of the artist, not of the sitter" as his point of departure, Mr. Ceylan painted the head of Ingres on the Princess' body. Then, Mr. Ceylan painted a small portrait of the princess's head and placed it on a stand facing the first, even gazing at it. Lining the walls around the two paintings are 10 skillfully executed drawings done in the manner of Ingres. But now it is Mr. Ceylan's head replacing those of the sitters—and completing this finely tuned show in Kasmin's intimate third gallery space.
"I started seeing Taner Ceylan's work at collector's home and at art fairs seven or eight years ago and thought that he was easily the most interesting of the contemporary Turkish artists," Paul Kasmin told me outside the restaurant. "He's an unbelievably fine painter. There's a humor to his work. It's really clever. The scale of the work is perfect for this space. He's conceived the exhibition as an installation in the space—as a total work of art."
One of the more gracious gallerists in New York, Mr. Kasmin invited 45 guests to the dinner at newly opened Kat & Theo restaurant in the flatiron district. A Mediterranean-influenced restaurant staffed by executive chef Paras Shah—who worked at Ferran Adrià's El Bulli, Per Se, and Momofuku Noodle Bar—and Eleven Madison Park's former pastry chef Serena Chow, Kat & Theo prepared special cocktails and a three-course dinner.
The Met's Research Associate Michele Wijegoonaratna, art advisors Maria Brito and Ceylan Ecer, Brooklyn Industries CEO Lexy Funk and gallery artists Nir Hod and Erik Parker were part of the mix, along with MoMA Department of Drawings Curator Christian Rattemeyer and his wife Cay Sophie Rabinowitz of Osmos Magazine. Collector and financial advisor Alvin Hall had a lively conversation with Mr. Ceylan's partner, Turkish painter Alp Ismen.
"The dinner was incredible," said Hall, before departing. "I found out how the work developed historically, and that's the key. And when I spoke to the artist about the work, I discovered why he chose the subjects for the drawings and the quotes that he applied to them. They're witty, they're funny, they're bitchy—and it all works."