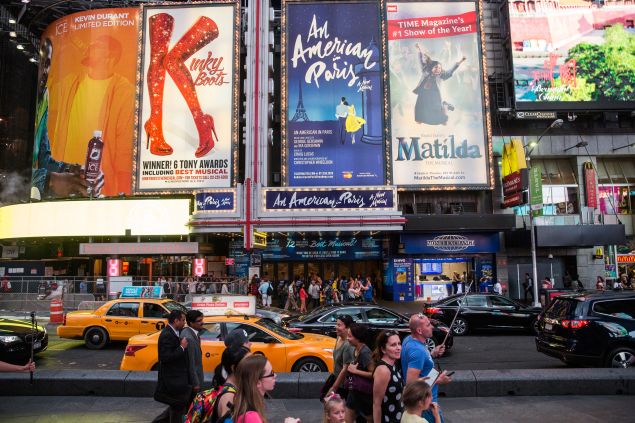 When I get an email from a PR Company whose subject reads "Important News — Please Read" I reflexively push the trashcan icon. Especially if the topic is about their own personnel moves. But today's email from DKC actually is kinda big news, at least for people like me who truly love theater.
According to DKC President Sean F. Cassidy, Rick Miramontez, the "legendary theatrical press agent"  who runs theater publicity giant O&M Co., is merging the company with DKC, the PR colossus that was No. 2 on Observer's PR Power List last year. The merger includes other top O&M talent including Creative Director Andy Snyder and VP Molly Barnett. They will be integrated into the existing DKC entertainment practice led by Joe Quenqua, Executive Vice President at DKC.
O&M is to theater publicity as the 1927 Yankees are to baseball.
O&M is to theater publicity as the 1927 Yankees are to baseball. They repped the past three Tony Award winning Best Musicals: Kinky Boots, A Gentleman's Guide to Love and Murder, and Fun Home and also handle long-running smashes Beautiful – The Carole King Musical and the Tony nominated play Hand to God; I will certainly be singing along to "If you wanna be the teacher's pet…" when they mount School of Rock – The Musical later this year.
O&M's reach extends beyond specific shows and beyond Manhattan. They also rep many theaters, including The American Theatre Wing, MCC Theater, and Jujamcyn Theaters, plus the Curran theatre in San Francisco, which is trying to rescue that city from the notion that surfing is the only appropriate cultural outlet after a 20-hour workday at some bullshit bro-code startup.
Mr. Quenqua told the Observer, "I have known and adored Rick for years. With the extraordinary growth of DKC's entertainment practice – particularly in the areas of film and TV – Rick was clearly the answer to how we expand into Broadway and legit theatre in the biggest possible way."
Mr. Miramontez is equally excited about the merger, telling the Observer, "This is an exciting moment for us, and, hopefully, for all of Broadway. We are looking forward to collaborating with our new colleagues and to expanding our footprint to other parts of the country and cultural world."
In his memo, the often understated Mr. Cassidy gushed uncharacteristically. "This is a hugely exciting opportunity and a major transformational move for DKC, establishing our entertainment division as a wholly unique and differentiated practice in the industry."