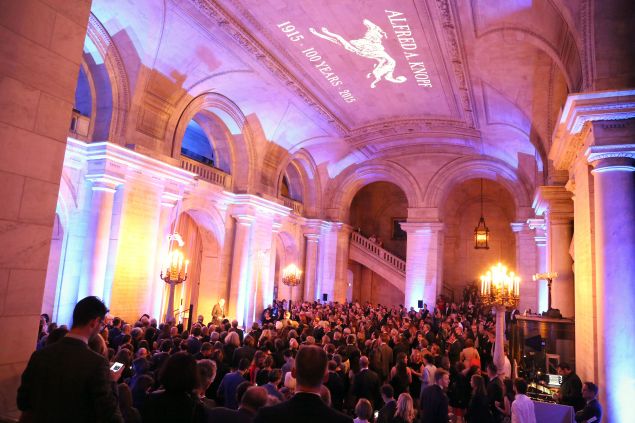 A pair of remarkably well-behaved Borzois stood at the entrance to The New York Public Library on Thursday night, greeting the damp literary crowd festively dressed for the occasion. The presence of real dogs, an allusion to the Knopf logo that adorns its book's spine and is a kind of spirit animal for the brand, set the tone for the evening: it wasn't just any old book party, it was the Random House imprint's 100th birthday bash.
An advantage of being a prestigious publishing house is having authors who double as high-profile guests. Patti Smith, whose most recent book, M Train, had gotten a good Michiko Kakutani review earlier in the day, took a break from a conversation with Sam Shepard to pose for cellphone pictures with fans. Passing the bar, we saw Renata Adler and her trademark long white braid talking to Fran Leibowitz and her trademark black bob.
"Graydon Carter said I had to talk to you," someone told Ms. Leibowitz, as way of introduction.
"Graydon is wrong," she replied, not unkindly.
Guests mingled beneath a light projection on the ceiling that proclaimed Knopf's centennial. The red napkins that the waiters passed out bore an image of a Borzoi. James Ellroy, when he took the stage during the lengthy period of the evening devoted to speeches, began his remark by howling like a Borzoi. The evening sure had a theme.
"Where does one rent a Borzoi?" we asked Ms. Lebowitz, over the party din.
"Speak up," she said.
We leaned in. Her hair smelled like old New York, which is to say, faintly of cigarettes.
"I have no idea," she replied. "I thought they were stuffed when I was walking up the stairs. Live animals seem excessive."
Later, we asked Paul Bogaards, Knopf's head of publicity and chief party planner, the same question.
"You hire people and they rent them!" he explained.
Knopf editor in chief Sonny Mehta, his voice echoing in the vast marble hall, played the part of emcee, which, when you think about it, is maybe not that different from the role of editor in chief. After a few words of his own, Mr. Mehta introduced speakers such as Penguin Random House CEO Markus Doyle, the Beloved Toni Morrison and Power Broker Robert Caro. "This is Sonny bringing it back," Mr. Mehta said, introducing poet Sharon Olds, who gave something of an ode to her publisher.
"Please forgive my Berkeley, California accent in Middle English," Ms. Olds said, before quoting Chaucer. In addition to a way with words, the poet really has a way with hair clips.
"I have to sing a cappella which means I have to find my note myself," Ms. Smith, the final speaker, said.
The evening, which was scheduled to end at 9, stretched to 10 as water was substituted for key drink ingredients like tonic and vermouth in an imitation of classic cocktails.
"What are you doing here, you literary snob, you?" we heard one gentleman ask another. Eventually, the library lights went on and gift tote bags, bearing a hardcover book listing all the books ever published by Knopf, were handed out.
The more devoted drinkers tipsily made their way to a Midtown steakhouse and took over the bar with talk of book deals and publicity campaigns. It was the type of establishment that writers and editors have been drinking at for 100 years. No matter how much publishing changes, there are some things that remain the same.