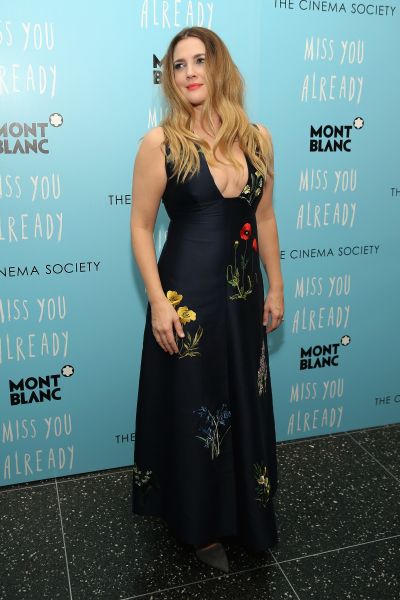 What's better than celebrating fall with pumpkin motifs? Well, many things. As it turns out, embracing a dark floral for the colder season is definitely one of them, as Drew Barrymore did this past weekend.
Bedecked in a navy gown from Stella McCartney's spring 2016 collection, we approve of the notion that this frock is absolutely fitting for this time of the year. Dotted with a slew of fauna, including bright poppies and delicate hibiscus, it does have a delightfully moody undertone to it, due to the dark backdrop against the embroidered detail.
Paired with pointy grey pumps and an effortless wavy 'do, Ms. Barrymore put her personal stamp on this lovely look, which she wore to the premiere of her latest film, Miss You Already. With a mostly bare face and a not-so-subtle pop of coral lipstick, her fresh beauty look was a smart accent to this entire look. And we will admit, we were smitten with this floral gown when we first spotted it at Ms. McCartney's garden soirée this past summer.