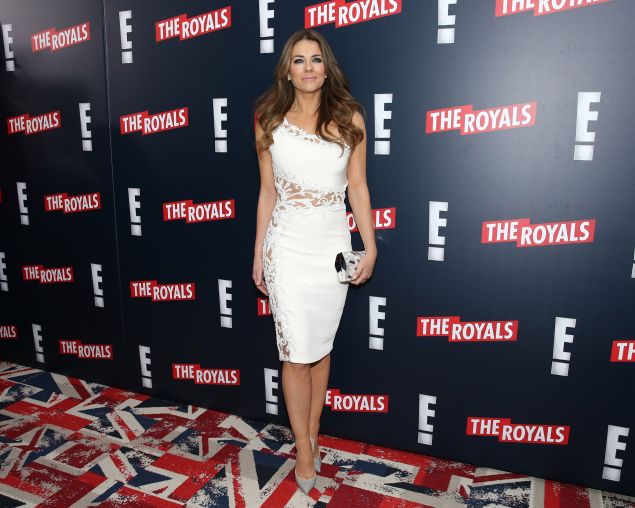 The Victoria & Albert Museum's Great Bed of Ware is more than fit for a queen, but English actress Elizabeth Hurley discovered the hard way that even her "Royal" credentials didn't qualify her to lay upon the centuries-old four poster.
The actress landed in hot water with security after snapping a selfie and posing on the bed while visiting the V&A with her friend, designer Patrick Cox—violating the institution's strict "no touching" rule. Shortly after taking the photo, alarm bells rang out and the pair were lead from the building.
Ms. Hurley, who plays Queen Helena on E!'s The Royals (a dishy Gossip Girl-style drama centered around a fictional British royal family) just wrapped up filming the show's second season, set to air next month on E!. While the timing of the incident seems suspiciously convenient, we won't cry "viral marketing stunt" just yet.
Mr. Cox, who took the photo, told The Daily Mail, "Liz and I wanted to take a quick selfie on this really old bed. The alarm went off and all these security guards came and escorted us out of the building. It was very funny."
The lavish gold and red Great Bed of Ware was built by Jonas Fosbrooke in 1580, and is large enough to accommodate four couples at nearly ten-feet wide. The museum describes the bed as "probably the single best-known object in the museum," and it's even earned a shout-out in Shakespeare's Twelfth Night.
In a caption to the photo on Instagram, Ms. Hurley wrote, "Oops. Couldn't resist perching on this magnificent bed in the glorious V&A last night… and set all the alarms off. Thank you to the @vamuseum staff for being nice" and added a shout-out to the designer of the outfit she was wearing, Dolce & Gabbana. (Now, we'll cry "viral marketing stunt.")