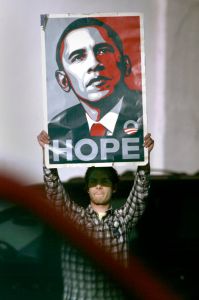 It was the Saturday before Labor Day. I was strolling through the suburbs, en route to a BBQ. The day, and the summer, were ending, but the soft, late afternoon light imbued the picket fences and basketball hoops with the idyllic charm of a Nancy Meyers movie. Normally a staunch defender of the virtues of city life, I found myself imagining scenes of domestic bliss.
Then, I looked at my phone.
"This pisses me off, Kara" read the subject line in my inbox. I was filled with panic and dread. What had I done this time? Could be anything, really. Whatever I had done, it warranted use of my name. People mainly address you by name when they are really angry at you or are trying to sell you something. I looked to see who the email was from, and realized it was the latter.
Debbie Wasserman Schultz. How did I know her again? Oh, that's right, Ms. Wasserman Schultz is a congresswoman and the head of the Democratic National Committee. She was pissed off at the Republicans, not at me. She wanted me to donate money. Now I was pissed off, Debbie!
But then again, I did open the email.
"Campaigns are measuring for two things. They are measuring for open rates, and they are measuring for action rates. What they really want is donations," explained David Karpf, who teaches media and public affairs at George Washington University and the author of The MoveOn Effect: The Unexpected Transformation of American Political Advocacy. "But the first step is getting people to open. So they run a bunch of statistical tests and try out different headlines to see what gets the most opens, and then pay attention to the ones that lead to the actual outcome they want. Then they go with the winner."
In 2008, Barack Obama captured hearts, minds and the presidency by extolling the virtues of hope and change. His campaign was good at the Internet; they understood things about young people, like that they use cell phones rather than home phones. Smart phones were not yet ubiquitous, but Mr. Obama instructed people at rally after rally to text "hope" to a specific number in order to receive regular texts from the campaign. The fact that people actually did that either says something about Obama's powers of persuasion or about technology in 2008. Or both.
In 2012, the whole process proved less exciting the second time around. And Mr. Obama's emails reflected that. Subject lines like "Hey," "Frustrated," "Let's Meet," and "Dinner?" gave rise to jokes and memes that likened the president to an ex who isn't really over the relationship. But despite the tone, they did work. And the "Hey" subject line? It ended up one of the most successful fundraising emails of the whole campaign.
Mr. Obama and the DNC sound increasingly bitter.
In what seems to be an evolution of the famous "Hey" headline, Hillary Clinton's campaign sent out an email recently with a subject line that read "no subject."
"What's probably going on there is a novelty effect," Mr. Karpf said. "Since political campaigns haven't really tried 'no subject' as a headline, when they tested it, people probably opened it because they aren't used to it."
A couple of weeks after Ms. Wasserman Schultz's email, as I was running late to the office, I got another email. "This is unacceptable, Kara." What?! I wasn't even that late. I looked again and realized the email was from the president, not my boss.
Turns out, I wasn't the only one getting stressed out by these emails.
"Trying Not to Make This Awkward, Isabel," Barack Obama wrote my friend earlier in the summer. Too late, Mr. President. It was, however, jarring enough that my friend was still thinking about it a couple months later instead of most, which just disappear into the abyss of a constantly overflowing inbox.
But as Ms. Clinton seizes the novelty of A/B-tested minimalism (or maybe she is just sick of emails in general?), Mr. Obama and the DNC sound increasingly bitter. The effect may make me feel pissed off, but then, as Mr. Karpf pointed out, they are making me feel something