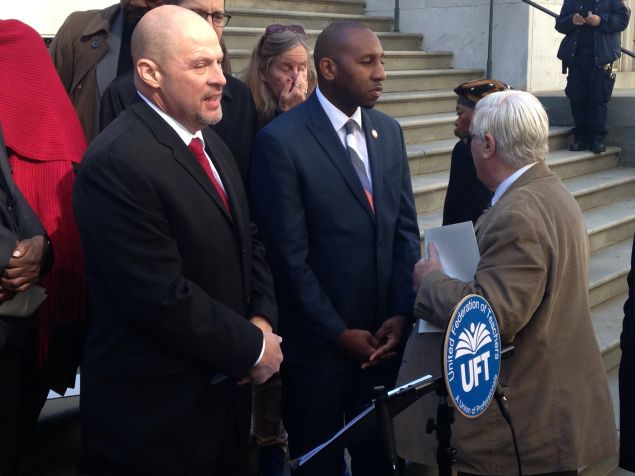 Michael Mulgrew, president of the United Federation of Teachers, sounded downright wistful today when asked about the announcement from charter school queen Eva Moskowitz—long the bête noire of organized educators—that she will not challenge Mayor Bill de Blasio in 2017.
The founder and CEO of Success Academy, the biggest chain of privately-run, publicly funded schools in the city, created a great deal of buzz earlier this month when she said she was on the cusp of a decision about her political plans. She ultimately ruled out a run against the union-aligned mayor, which Mr. Mulgrew seemed to view as an opportunity for him to flex the UFT's muscle.
"It would have been interesting. My members would have been very energized," Mr. Mulgrew told the Observer after an unrelated event at Tweed Courthouse today, as he gazed off dreamily into the distance. "It is what it is, it's a democratic process, people have a right to do what they want, but my members would definitely have been energized."
The union leader said he would use the rally of charter school instructors planned for Wednesday as another opportunity to rally his backers and to expand his influence through outreach.
"We have other places to use our energy," he said. "God knows, on behalf of the UFT members of this city, we have plenty to do at all times."
Public school advocates like Mr. Mulgrew have long argued that charter schools use various methods to skim high-performing children out of the traditional educational system, including failing to "backfill" seats left empty when children either drop out or are expelled—with studies finding Success Academy among those leaving spots vacant. Critics allege this leads to charters enjoying the smallest class sizes and the most engaged parents, which results in their having far higher test scores than the rest of the school system.
"When they serve all the children and keep all the children, I'll say we're on a level playing field," Mr. Mulgrew said today.