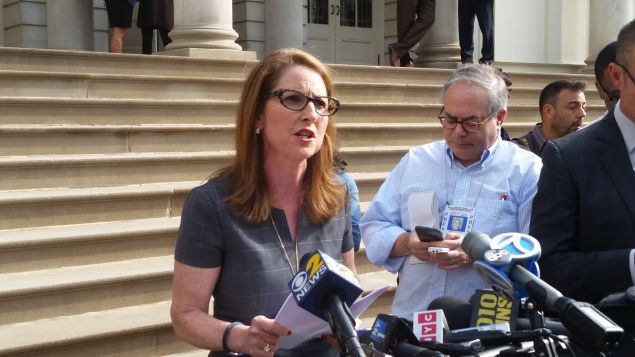 Citing her dedication to "re-imagining" education through the charter schools movement, Eva Moskowitz ruled out today that she would challenge Mayor Bill de Blasio in 2017.
Ms. Moskowitz, likening the influential educational network she founded, Success Academy Charter Schools, to revolutionary companies like Apple and Google, said she would rather be an education advocate than a mayoral candidate.
"I am not running for mayor in 2017. I thought it was important to explain why," Ms. Moskowitz said at a hastily called City Hall press conference. "My decision is not based on my estimation of winnability. Politics is a pretty unpredictable thing. I did not make my decision based on that."
Ms. Moskowitz, a former Manhattan city councilwoman and perpetual thorn in Mr. de Blasio's side, would not rule out a future mayoral campaign. She told the Observer she had not selected a candidate to back against Mr. de Blasio, a fellow Democrat, but would consider anyone who espouses her values.
While Ms. Moskowitz said she held this press conference to end speculation that she would run for mayor, the charter schools leader herself was often fanning the flames. In TV interviews and news stories, she repeatedly refused to take herself out of the running for 2017, joining a growing list of Democrats—some aligned with charters—who were openly considering taking on Mr. de Blasio, who has endured declining poll numbers and withering criticism from the city's elite.
Her announcement also came a day after the charter schools advocacy group she belongs to, Families for Excellent Schools, held a large rally in Brooklyn. It was not immediately clear if the timing of the two events was linked, or if Ms. Moskowitz was pressured internally to focus less openly on her political future.
"I like politics and policy. I like campaigning, I like talking to New Yorkers about the problems they face," she said.
Ms. Moskowitz bashed Mr. de Blasio for trying to foil the expansion of her controversial charter schools network and took aim at the United Federation of Teachers and the labor-backed Working Families Party for opposing her at every turn. As she spoke, protesters from a liberal anti-charters group chanted from City Hall Park, and Billy Easton, the director of the left-leaning Alliance for Quality Education, quickly seized the podium after Ms. Moskowitz departed.
In anticipation of Ms. Moskowitz declaring she was running for mayor, a group known as the Hedge Clippers, which ridicules Ms. Moskowitz as a puppet for hedge fund and corporate interests, purchased a series of domain names–evaformayor.org, for example–that redirect to a report attacking Success Academy.
"The protests can go on. I find them a little scary, but I am very clear in my convictions about what needs to be done and so I'm going to continue to do educational activism just the way I've done it for the last 20 years," Ms. Moskowitz said. "I think that the political interests—it's not just the teachers union, it's AQE, it's the teachers union, it's the Working Families Party and it's sometimes the Democratic Party—[are] very threatened by the work of Success Academies."
Ms. Moskowitz has drawn plenty of praise for the high test scores her schools achieve despite operating in poorer, minority-heavy neighborhoods. Her critics, however, argue she cherry picks students and wants to break the teachers' unions by circumventing workplace protections.
Mr. de Blasio, closely aligned with the teachers' unions, is one of those critics, but toned down his rhetoric after the State Legislature passed a law last year that guaranteed charter schools free space to expand. Ms. Moskowitz insisted today that the liberal mayor was trying to foil her anyway.
"The mayor, of course, has not made it any easier. There are 165,000 empty seats, there are hundreds of buildings with empty space," she charged. "He negotiated a deal with us. He's not lived up to it."
"You would think—if someone came here from outer space—you would think given our results at Success Academies that the mayor and the chancellor would be rolling out the red carpet," she added. "They don't have that many truly successful schools, particularly in the most disadvantaged neighborhoods and instead of welcoming that success, there have been obstacles at every turn."
Were she elected mayor, Ms. Moskowitz predicted four years of "dueling press conferences" with Michael Mulgrew, the head of the United Federation of Teachers.
"Imagine if I ran and I won. One of my first conversations would be with Michael Mulgrew. Imagine how that conversation would go," she said.
As a mayoral candidate, Ms. Moskowitz would have brought many strengths and weaknesses to the campaign. She would be a prolific fundraiser and, some argue, a threat to peel off minority support from Mr. de Blasio, since her charter schools operate primarily in black and Latino neighborhoods. But she is also a deeply polarizing figure, and would likely unite the organized labor establishment against her. Defeating an incumbent mayor is difficult to do, and she would have faced long odds unless Mr. de Blasio's popularity plummets far more.
Bertha Lewis, a liberal activist and proud Moskowitz critic, predicted she would run for mayor anyway.
"As long as she can keep 'mayoral run' and 'Eva Moskowitz' somehow connected, she's fine," Ms. Lewis told reporters after Ms. Moskowitz had left City Hall.
"All she has to do for next year is get out of that lane and raise the money from her supporters. Guarantee you, 2016, November, December, we'll be right back out here with her announcing how all of a sudden she's seen the light and changed her mind."
Jillian Jorgensen contributed reporting.