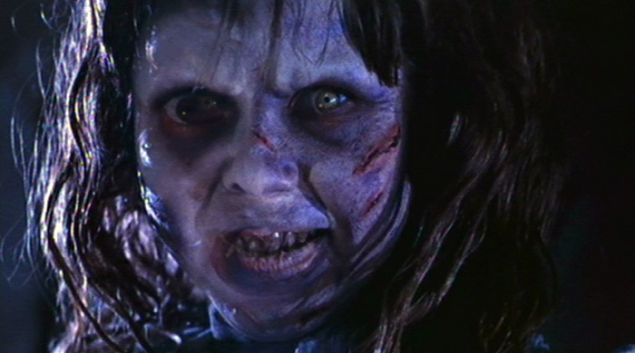 It's been three months since Destination America announced the cast of Ghost Asylum will perform an exorcism live(!) inside the St. Louis home that inspired The Exorcist. If you haven't spent these three months gleefully preparing for this event, I suggest an exorcism on your brain because…does that make sense? Probably not, but neither does the fact that Exorcism: Live! exists, in this world, as a real thing that is happening.
Today, Destination America provided some details on how you can battle literal agents of Satan from the comfort of your own home. Just Tweet @DestAmerica using #ExorcismLIVE and you, yes you, can help banish actual hellspawn back to the fires from whence they came.
This…this is all just so amazing. And ridiculous. Ridiculously amazing! I can't even decide which part of this entire process is my favorite, because they're all my favorite. So instead, I'll rank every aspect of Exorcism: Live, in descending order of how much I can't believe it's real.
I joked in July that Exorcism: Live was one exclamation point away from being an NBC musical. Little did I know that the exclamation point exists. It's Exorcism: Live! Incredible. I swear if Christopher Walken shambles into frame dressed as Captain Hook it will be the most horrifying moment of the entire two-hour special, guaranteed.
The fact that there even IS a hashtag. Humanity is so damn weird. We're about to watch the cast of a ghost hunting show and, presumably, a priest do battle with demons and the first thought is "but what does the Twitterverse think in less than 140 characters?"
Also, the live-Tweeting will be led by Dave Glover, who Destination America describes as a "St. Louis Media Personality and Exorcist House Aficionado." Exorcist. House. Aficionado. What a fucking career path there, Dave. According to a release, Mr. Glover ran a contest in 2008 on the local radio station, in which three lucky winners got to investigate the Exorcist house by night. "Footage never before seen on television will reveal the immediate terror inflicted upon one winner," the release continues, "and the frightening encounter that sent another running and screaming from the house."
My favorite part of all of this, however, is that Destination America, the cast of Ghost Asylum, me, you, and everyone reading this is in mortal danger right now. Destination America had this to say: "Based on preliminary reports from world-renowned psychic medium Chip Coffey, who will lead efforts to communicate with what lurks in the house during the live special, the demons know we're coming." I did not add the bold-faced type, by the way. Destination America did that itself so you're well aware ACTUAL DEMONS are preparing for our arrival. How are you going to encourage viewers to Tweet along, two paragraphs after telling them the collected forces of Lucifer's army are actively preparing for this night? Bad move. That is, at the very least, PR 101.
But, if you're cool with pissing off an entire house filled vengeful spirits just for the benefit of your 150-2,000 followers, Exorcism:Live! airs Friday, October 30. The power of Christ Retweets you.