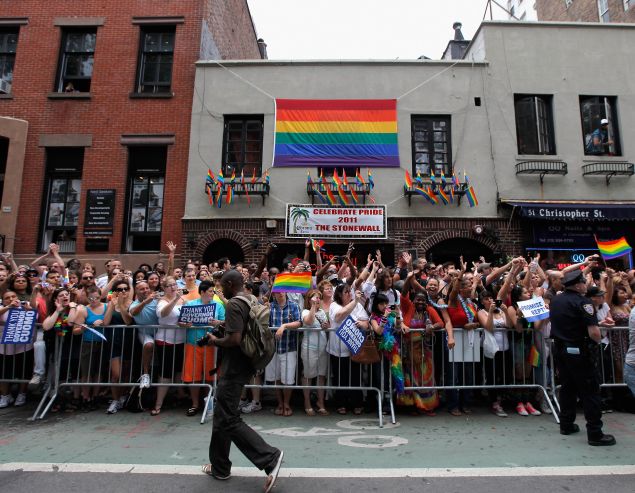 To coincide with National Coming Out Day and Spirit Day, the social network's data visualization team conducted a study about how milestones in the LGBT community in the past year have affected the rate of people coming out on Facebook. Their main finding was that about 800,000 Americans have updated their profile to express a same-sex attraction since October 2014, when the study began.
More specifically, the rate of profile changes peaked on June 26, 2015, the day of the Supreme Court ruling on marriage equality. The number of people who came out on the site on that day was actually 2.5 times higher than the amount who came out on National Coming Out Day 2014.
The study also found that one in five people who updated their "interested in" field on June 26 did so to reflect a same-sex attraction—this is double the normal daily rate of one in 10. More than 26 million LGBT and ally users also added the rainbow filter to their profile pictures.
In a reflection of how fast the tide has turned for LGBT rights, researchers found that of the total six million Americans who have come out on Facebook over its history, 78 percent of them have made the change since January 2012.
The study also includes a map of the percentage of Facebook users who are out by state—the largest concentrations of LGBT users are in the Northeast and Southwest:
Support for LGBT groups on Facebook has also increased by about 25 percent in the past year. About 5.7 million Americans are fans of at least one of the top 300 most popular LGBT-affiliated pages, such as GLAAD. These pages also saw an increase in popularity at the time of the Supreme Court ruling, although there were also spikes on World AIDS Day (December 1) and the period from April 24-28, when Caitlyn Jenner was interviewed by Diane Sawyer and the Supreme Court heard oral arguments in the same-sex marriage case.
The information for the study was aggregated and de-identified. The study defined "coming out" as users changing their profile to reflect a same-sex attraction, or who specified a custom gender using the field Facebook introduced in February 2014.