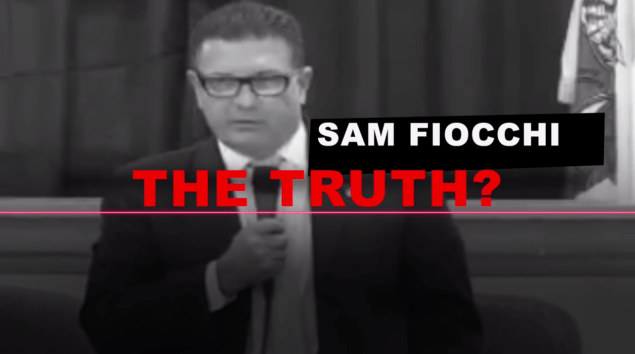 Following the release of an attack ad airing on Philadelphia-area TV stations, Assemblyman Sam Fiocchi (R-1) is calling on his Democratic rivals Assemblyman Bob Andrzejczak (D-1) and Bruce Land to denounce the spot's accusations against him. The ad claims that Fiocchi has a history of late tax payments, a charge the assemblyman is calling distorted.
Calling the ad's accusation that he is "one of South Jersey's most notorious tax delinquents" a disingenuous smear, Fiocchi said that he doubted that the Democrats would speak out against the PAC-funded attack.
"Bob Andrzejczak and Bruce Land will predictably throw-up their hands and claim they have no ability to speak out against these sleazy advertisements from the North Jersey special interests backing their campaign, but that's not true and they know it," said Fiocchi.
Fiocchi released his property tax records in response to the ad and noted that the late payments in question were the result of making payments within days of the original filing deadline, a repeated misstep that he said only led to interest penalties of less than $5.00.
"After more than 40 years owning, operating and growing a South Jersey small business, all the slimy North Jersey special interests backing our opponents can dig up on me is that I was late mailing in some tax payments and had to pay a few dollars extra in interest because of it?" he said.
The ads also tout the fact that the state revoked one of Fiocchi's businesses' ability to file due to the late payments, a charge that Fiocchi called true but unremarkable.
Fiocchi pointed to Senator Jeff Van Drew (D-1) and Van Drew's dental practice, which he says has a similar record of late payments and stayed on the same list of businesses unable to file for more than seven years. Van Drew originally tapped Andrzejczak for the assembly seat in 2013, and has served as a figurehead for the Andrzejczak campaign this year.
The ad was funded by the General Majority PAC, which has also mounted attacks on Assemblyman Chris Brown (R-2) and is drumming up controversy with its mailers supporting Assemblyman Vince Mazzeo (D-2). Both Fiocchi and Van Drew's businesses are now in good standing.