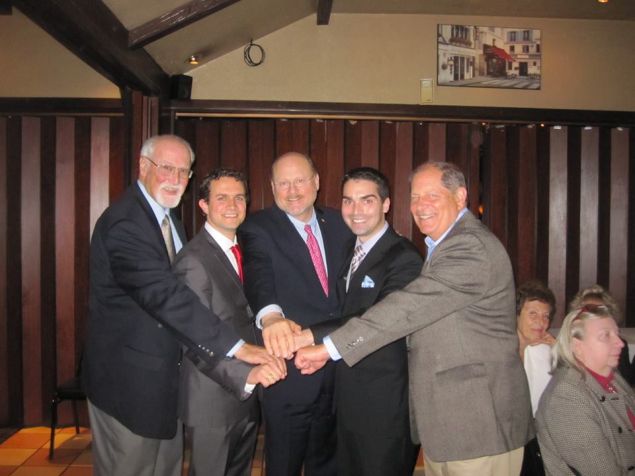 Former Council Minority Leader Thomas Ognibene, a Queens Republican powerhouse, died today at the age of 72 following a struggle with cancer.
"Tom was a giant, literally and figuratively. He left an indelible mark on the lives of so many people & raised the bar for public service," Republican Queens Councilman Eric Ulrich, an Ognibene protegé, tweeted this evening. "Former Councilman Tom Ognibene was like a second father to me. I would not be the man I am today if it were not for his help and guidance."
Ognibene was first elected to the Council in 1991, representing a predominantly white, blue collar district covering the neighborhoods of  Middle Village, Glendale, Ridgewood, Richmond Hill, Woodhaven, and Forest Hills
He rose to the position of Council minority leader in 1994, and held the perch until term limits ended his tenure in the body in 2001. He ushered a personal ally into the chairmanship of the Queens Republican Party in 1995.
Despite being a Republican, Ognibene enjoyed a friendly and beneficial relationship with then-Speaker Peter Vallone Sr., a Queens Democrat. Staten Island Borough President James Oddo, who succeeded Ognibene as Republican minority leader in the Council in 2002, worked as his counsel in the 1990s and remembered his former boss as a "brilliant tactician" with the ability to "blow up a hearing."
"He was a brilliant debater. I remember so many memorable moments, probably the best debates in the history of the council, were Tom Ognibene and [former Queens Councilman] Anthony Weiner's. They both did it with a little twinkle in their eye. They were happy warriors about it," Mr. Oddo told the Observer. "If Tom were a Democrat, he'd be a legend in this town. He was a conservative Republican and he got under a lot of people's skins. If he were a Democrat they would treat him as the legend that he really is."
Mr. Oddo recalled Ognibene as a "foot soldier in Rudy Giuliani's war to make New York City governable," but also as someone who held a press conference blasting Mr. Giuliani for endorsing Mario Cuomo's re-election as governor.
Ognibene's reputation and political future suffered in 2001 when allegations arose that he used his influence to secure jobs and funds from the city Department of Buildings in exchange for vacations, though he was never charged with wrongdoing.
In 2005, he sought to defeat then-Mayor Michael Bloomberg in the Republican mayoral primary, only to have Mr. Bloomberg successfully challenge his petition signatures and disqualify him from the GOP race. He continued his quixotic campaign on the Conservative Party line. Mr. Oddo recalled how the former legislator stole the show at the 2005 mayoral debate at the Apollo Theater in Harlem, which Mr. Bloomberg did not even bother to attend.
Mr. Ognibene sought his old seat again in 2009, but lost to current Councilwoman Elizabeth Crowley. He backed Joseph Lhota for mayor in 2013, bucking the Queens Republican establishment.
Mr. Lhota also lamented his fellow Republican's passing on Twitter.
"NYC lost a great friend today—former Council member and Minority Leader Tom Ognibene. May he rest in peace," Mr. Lhota wrote.