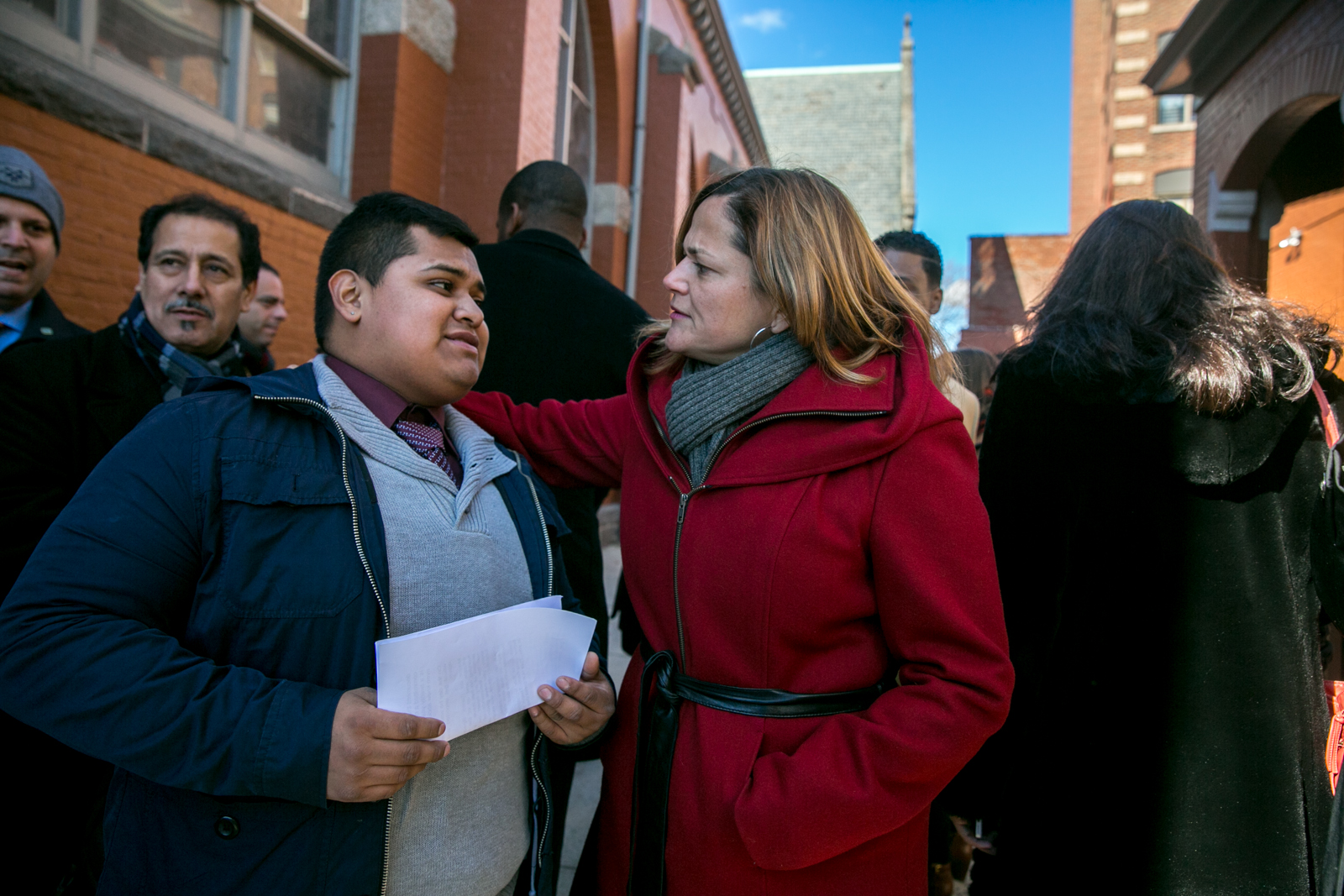 The night before the first Democratic presidential debate in Las Vegas, Council Speaker Melissa Mark-Viverito found herself at a rally on the same stage as the woman she'd endorsed for president, former Secretary of State Hillary Clinton.
"I was very happy to rally and happy that all the presidential Democratic candidates were asked to be present—and only Hillary Clinton showed up," Ms. Mark-Viverito, an East Harlem Democrat, told reporters recently. "And I think she did excellently in the debate, and is demonstrating why she's going to be a tireless fighter for Americans."
Their meeting—at an anti-Donald Trump gathering of hotel workers seeking to unionize—wasn't planned, but it wasn't quite an accident, either. While the city's media speculates endlessly about when Mayor Bill de Blasio will endorse in the presidential race, Ms. Mark-Viverito, a native of Puerto Rico, has been quietly but steadily building her profile nationwide as lawmaker who speaks out on behalf of issues that matter to the Latino community: the kind of lawmaker who could be a valuable surrogate to Ms. Clinton.
"Certainly, the path to victory as President Obama showed us resoundingly, twice, runs through women and Latinos—and certainly there's no greater surrogate than Melissa or somebody like her when you're trying to motivate those voters," Jon Reinish, a New York-based Democratic strategist with SKDKnickerbocker who works on behalf of many causes important to the Latino community, told the Observer.
The speaker has looked to make her mark nationwide on specific issues that she's also sought to address in New York—namely, immigration reform and boosting Latino voices in politics—and it seems to be working: she was today named honorary co-chair of the Latino Victory Fund, a group aiming to increase the numbers of Latinos in elected office, alongside former Los Angeles Mayor Antonio Villaraigosa and Congressman Joaquin Castro. It was the Latino Victory Fund that brought her out to Las Vegas for the debates, and the rally where she met with Ms. Clinton.
She's traveled outside of New York to deliver speeches on immigration—talking about how New York has stopped handing over immigrants on detainers to Immigration and Customs Enforcement, or how the city boosted funding for lawyers representing unaccompanied minors, or sharing best practices for municipal ID programs. She has picked her moments to weigh in on national issues—the Puerto Rican debt crisis, Mr. Trump's bombastic remarks, court decisions on the president's immigration orders—in an effort bolstered by a sharp press office led by Eric Koch, a veteran of Congressional offices and Senate campaigns.
"We for quite some time have been watching and following the speaker's rise in New York City, and began engaging with her around some events and some work about a year ago now," Cristóbal J. Alex, president of the Latino Victory Fund, told the Observer in a recent phone interview. "And over that time, we increased our work with her and watched her more carefully, and we're just so impressed, not only on her policy positions, but her ability to really connect with anyone from the grassroots to the grass-tops, in English and in Spanish."
Ms. Mark-Viverito had only a "very brief encounter" with Ms. Clinton at the rally, she told reporters earlier this month. "We took some great pictures together," she added, referring to a photograph of the two of them smiling together, both clad in red.
Brief or not, the picture led many people to compare Ms. Mark-Viverito's decision to endorse of Ms. Clinton to Mr. de Blasio's decision to hold off on doing so. It was the speaker getting a national boost to her profile and her politics from standing beside Ms. Clinton, not the mayor. It was the speaker who was on television praising her performance after the debate. And it was the speaker who was talking with Ms. Clinton's campaign about New York City's priorities and local efforts.
"I've had the opportunity to speak to her, but also to her campaign, about issues that matter," Ms. Mark-Viverito said earlier this month. "We're doing some incredible work in the City of New York and this council is doing some incredible work on many—a whole host of issues. When we talk about immigration, when we talk about criminal justice, the conversations that we're having, we're doing stuff here that can be a model, and we'd love to see it happen across other municipalities."
Mr. de Blasio has been repeatedly knocked for a forum he's planning to attend in Iowa in December—it's unclear which presidential candidates will even attend—that will be hosted by a group he created and dubbed the Progressive Agenda Committee. (A source close to the Progressive Agenda Committee said the mission was to combat income inequality, not to further the mayor's personal brand.) Meanwhile, Ms. Mark-Viverito has been talking about her own lower-case progressive agenda. 
"Any opportunity to really talk about the success of our progressive agenda is one that I definitely would engage with others," Ms. Mark-Viverito said of her meeting with Ms. Clinton earlier this month.
While they make for an easy comparison, Mr. Reinish said the two pols simply have two different missions on the national stage. "His mission has sort of been to be a bridge to the left for national voters," he said." But I think something that's more interesting with the speaker is, it's really, really targeted toward Latino empowerment."
And there's a precedent for a council speaker to take an issue they care about and make a national case for it, he said, citing former Speaker Christine Quinn's national activism on gay, lesbian and transgender rights issues.
In some ways, it is easier for a national cause—or a candidate seeking a presidential nomination—to embrace a council speaker than it is to embrace a mayor. A council speaker is rarely blamed for anything, Kenneth Sherrill, professor emeritus a Hunter College, told the Observer, unlike mayors, who can become the political shorthand for everything bad about their city. (Mr. Sherrill offered the notable exception of Ms. Quinn, who at the end of her tenure was inexorably tied to a council vote that allowed Mayor Michael Bloomberg to run for a third term during which he became quite unpopular.)
"I think that trotting out an important New Yorker who has virtually no negatives is a very safe political act. There's a lot of upside and virtually no downside," Mr. Sherrill said of Ms. Clinton embracing Ms. Mark-Viverito's endorsement. "The fact that she's a Latina in an important position also puts her in a relatively rarefied group, so I think there's a tremendous upside there. You add to that that she's a very skilled politician…from the point of view of national politicians in the Democratic party associating with her, it's pretty much all upside and no downside."
Ms. Mark-Viverito was recently booted from a Senate candidate's fundraiser because of her support for freeing Oscar López Rivera, a member of the Armed Forces of National Liberation in Puerto Rico. But Ms. Mark-Viverito's stance on Mr. Rivera—which is also held by the Congressional Hispanic Caucus—does not seem to have caused any tension with Ms. Clinton.
If there is any risk in the other direction—risk to Ms. Mark-Viverito in endorsing Ms. Clinton—it's that it could hurt her credibility on the left-wing of the Democratic party: the faction that adores Sen. Elizabeth Warren and is clamoring for Vermont Sen. Bernie Sanders to be the next president. Ms. Mark-Viverito, is after all, a former healthcare union organizer who holds plenty of policy positions to the left of the establishment candidate Ms. Clinton. It's not the first time Ms. Mark-Viverito has pragmatically shunned a liberal for a centrist, either—she also passed on endorsing Zephyr Teachout in her primary bid in favor of Gov. Andrew Cuomo.
But for now, it seems Ms. Mark-Viverito has held on to her credibility in politics' scrappier circles, even as she becomes more well-known in the political mainstreat. Mr. Reinish said he believes she's viewed by the establishment as a "rising star"— but she was greeted as a "rock star" at a gathering of Latino, health care and labor activists recently. And Mr. Alex, at the Latino Victory Project, couldn't stop praising her—saying she manages to walk the walk.
"It helps us a great deal not only as an organization, but as a community, to have someone, a Latina, out there forcefully fighting for these important issues," Mr. Alex said. "And I think that's probably one of the important reasons why the folks at Hillary Clinton's campaign are happy to have her."