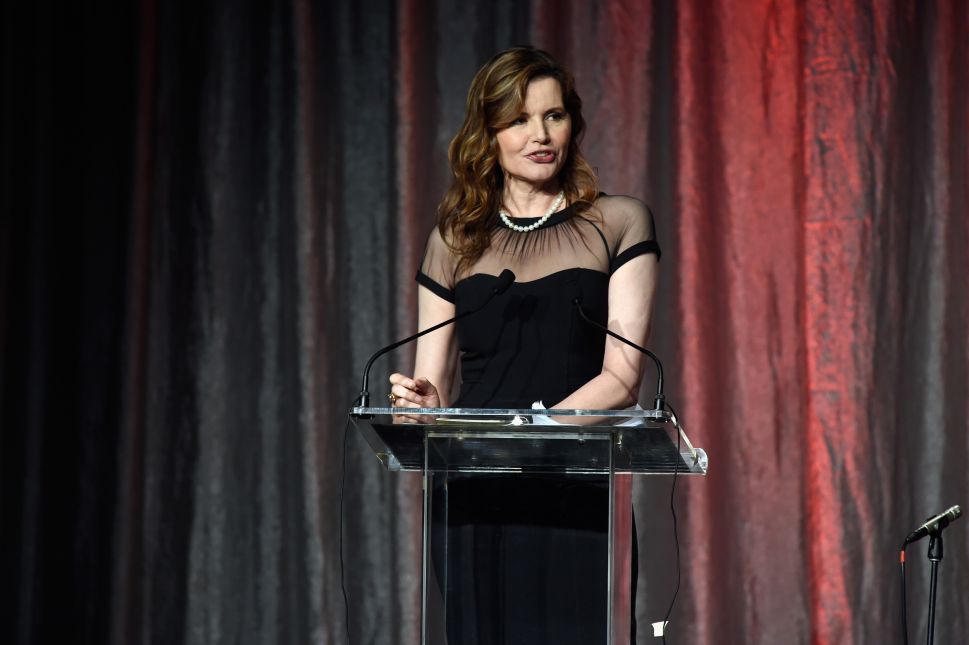 Actress Geena Davis (Photo by Stephen Cohen/Getty Images for Muhammad Ali Center)
The ratio of men-to-women roles in family films was 3-to-1 in 1946. Today, that widely disproportionate ratio remains the same.
Noticing this absence in the children's TV programs and films she watched with her daughter, actress Geena Davis took it upon herself to begin spreading word of the discrepancy to her colleagues in the entertainment industry.
"Every single person I spoke to responded saying, "oh no, that's not true anymore, that's been fixed," and they were very earnest about it, and cared about my concerns. Nobody blew me off, but affirmed that it was a big priority they worked on," Ms. Davis told the Observer in a phone interview. "Often they would cite one movie with a female lead character as proof that gender inequality had been fixed."
Ms. Davis came to the epiphany that no one else was noticing.
"I thought to look at the data corroborating what I was seeing and found no one had done research before on gender in the media, so I ended up sponsoring the largest amount of research conducted ever on children's media, covering over a twenty year span."
Since founding the Geena Davis Institute on Gender in Media in 2006, 18 groundbreaking studies have been commissioned on researching gender in the media, led by Dr. Stacy Smith, Ph.D. and her team at the USC Annenberg School for Communication & Journalism. The findings are sobering. One study, between 1990-2006, of the top 300 G. PG and PG-13 rated films, found slightly less than a third to 26.2% of characters were females, with very little variation between release dates and ratings. Another independent study—led by Dr. Stacy Smith, Ph.D. and her team at the USC Annenberg School for Communication & Journalism and funded by The Harnisch Foundation, and other supporters of the Media, Diversity, & Social Change Initiative at the USC Annenberg School for Communication and Journalism, of which Dr. Smith is the Founding Director—discovered women played only 30.2 percent of all speaking roles or named characters in the 700 biggest box office films from 2007 to 2014. Only 28 of those films were directed by women.
"The whole point of having the research is so, because I'm in the industry, I can go directly to the premieres of children's media and share the research in a colloquial and private way, and its reception has been remarkable," said Ms. Davis.  "I had no idea from the very first meeting what their reactions would be. Their jaws were on the floor; they absolutely cannot believe how many female characters they are leaving out. The worlds they are creating are nearly bereft of a female presence."
The unprecedented research of the Geena Davis Institute on Gender in Media is beginning to have an impact on the way the entertainment industry approaches their projects.
"We've actually conducted a survey of everyone who has heard my presentation. 63 percent said it impacted two or more of their projects and 41 percent said it impacted four or more of their projects. Because of the reactions and positive reception we are getting, I feel confident saying it won't take another seven decades from 1946 to start progressing towards gender equality in Hollywood, instead maybe it'll be just another seven years to move the needle significantly."
Ms. Davis starred in two of the most revered films examining the bonds between women and escaping the constraints of a male dominated narrative: Thelma & Louise and A League of Their Own. She received a Golden Globe nomination for both, and an Academy Award nomination for Thelma & Louise.
"There was so much talk when Thelma and Louise came out in the press, about how now this changes everything, and the same thing happened when A League of Their Own came out; oh they'll be so many more female sports movies after this and then nothing came of it," Ms. Davis explained. "Over the years when a movie comes out and hype surrounds it that it'll start a new trend for women in film, it never has. I think it's because we, first of all, have this unconscious bias about women that I think is with us from the very beginning. A bias that views women as less important, less valuable, taking up less space, doing less things, because of the entertainment that we see is so lacking of women. This absence of women is drumming this message into kids' heads that girls aren't as important as boys. I also think that there's a sort of axiom that Hollywood lives by that says women will watch men, but men won't watch women and everywhere you go people believe this firmly and dare not, oh that one movie was successful, but "I don't trust it, I don't want to watch women", and it happens all the time, so we never gain any momentum despite the evidence that female led movies can be incredibly successful."
The societal effects from the female absence in films can be felt in nearly every aspect of our culture. The White House reports that full-time women's workers earn, on average, 77 cents for every dollar earned by men in the exact same position. Women remain significantly underrepresented in all forms of government leadership. As of September 1st, 2015, based on rankings of gender equality represented in government by the Inter-parliamentary Union, the United States was 76th in the world with women holding only 19.4% of the seats in congress, and 20 percent of the seats in the senate. The gender inequalities portrayed in the media are perpetuated in reality because constant imagery serves as a guideline in the formation of cultural values and individual identities.
Ms. Davis advocates to film casting directors to "just pause and populate it more with female presence. Change a bunch of names from male to female, and voila, suddenly you have a gender balanced movie and the female characters will be un-stereotyped probably because they were originally written for men."
She also emphasizes awareness and being proactive for parents and educators, in order to inoculate children from the negative impacts of the gender inequalities portrayed in media.
"I recommend, what I've done with my own kids, is whenever I can, watch with them, especially when they're younger. I am media savvy, so I can comment on what they're seeing; "Hey, did you notice there was only one girl in that whole group of people doing whatever is? Or, do you think a girl could do that Or, why do you think the girl is wearing that if she's going to rescue somebody?" As a result, they actually learn to notice when girls aren't being treated equitably on screen and it will take away the damage that seeing those images causes if kids actually learn how to watch media judiciously."
From earliest childhood she has been taught and persuaded to survey herself continually. And so she comes to consider the surveyor and the surveyed within her as the two constituent yet always distinct elements of her identity as a woman.
A study published in the journal Sex Roles in 2012 corroborates Ms. Davis' claim. Psychologists at Knox College in Illinois discovered girls begin to self-sexualize, understanding they are judged through male gaze, between age six to nine, but if the negative impacts of being judged through the male gaze are completely taken away if their mothers point out the fallacy in this self-sexualization.
"As long as society and grown women place looking good for others above other traits a woman might have," said Christine Starr, lead researcher of the study, "young girls will model such beliefs and behaviors themselves."
The delineation of women as objects to be judged upon by men is one of the most destructive stereotypes perpetuated in media by the absence of women in film. This objectification and imbalance are toxic to both men and women, undermining the ability for each to have healthy relationships with the other.
"From earliest childhood she has been taught and persuaded to survey herself continually. And so she comes to consider the surveyor and the surveyed within her as the two constituent yet always distinct elements of her identity as a woman. She has to survey everything she is and everything she does because how she appears to men, is of crucial importance for what is normally thought of as the success of her life. Her own sense of being in herself is supplanted by a sense of being appreciated as herself by another," writes John Berger in his book, Ways of Seeing. "One might simplify this by saying: men act and women appear. Men look at women. Women watch themselves being looked at. This determines not only most relations between men and women but also the relation of women to themselves. The surveyor of woman in herself is male: the surveyed female. Thus she turns herself into an object — and most particularly an object of vision: a sight."
For the past decade, Ms. Davis has been Hollywood's major proponent to transform this propensity for women to identify themselves based on the severe constraints of the male gaze, assert their independence and reclaim their humanity. To expedite progress, Miss Davis founded the Bentonville Film Festival, which premiered earlier this year in May. For a movie to be eligible for the festival it must be predominantly directed, run, or acted in by women and/or minorities.
"The festival has 86 sponsors now, including Wal-Mart, our main sponsor. Because of them, we can offer prizes which are unheard of in the world of film festivals. Winners get guaranteed distribution in theaters, on TV, digitally, and on DVDs; there's nobody else that offers that," says Ms. Davis. This year's best documentary winner, In My Father's House, opens in October and kicks off a symposium tour of twenty different markets across the country.
"We want to make an impact, not just by celebrating films that might be directed by a woman or a minority, but demonstrate how commercially successful they can be. My fantasy is that in a few years somebody will be making a movie, with aspirations to get into the Bentonville Film Festival, adjusting their cast or director to fit the criteria with more women and minorities, so our influence begins impacting what comes out of studios and not just independent films."
Clarification: An earlier version of this story incorrectly implied that the study that found only 28 of the top 700 films had directed by women had been funded by the Geena Davis Institute on Gender in Media. In fact, it was funded by The Harnisch Foundation, and other supporters of the Media, Diversity, & Social Change Initiative at the USC Annenberg School for Communication and Journalism. Dr. Stacy Smith is Founding Director of the USC Annenberg School for Communication and Journalism.