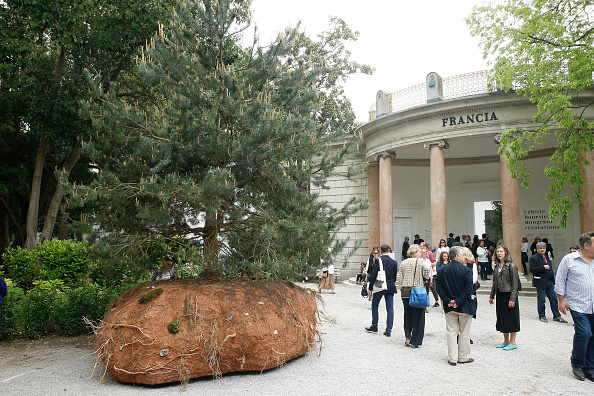 The Google Cultural Institute, which has been systematically putting art objects and exhibitions from major museums around the world online since it started in 2011, is now broadening its scope to include virtual tours of the art world's most prestigious international show, the Venice Biennale.
Art lovers can now view the international pavilions of the Biennale from the comfort of their homes, Italy's culture minister Dario Franceschini announced today. The collaborative partnership between the Biennale and Google puts images of nearly 4,000 artworks on view at the main venues, the Giardini and the Arsenale, online. There's also a trove of information on the artworks now available digitally.
The 56th Venice Biennale, curated by Okwui Enwezor, features 136 artists from 89 countries and is open through November 22. Google's virtual tours will remain viewable after the exhibition's close.
Highlights from this year's exhibition included the coveted Golden Lion award, which was presented to American artist Adrian Piper, Pamela Rosenkranz's cosmetics-colored pool installation at the Swiss Pavilion and Chiharu Shiota's installation The Key in Hand, featuring hundreds of keys hanging from bright red string.
The conversion of a Catholic church into a functioning mosque by artist Christoph Büchel, for Iceland's national pavilion, was also among the Biennale's most talked about works. The Mosque opened for prayers on May 8 and incited a frenzy from city officials and local police, who saw it as a security threat, and members of the Catholic community who opposed the artwork on the grounds that the church was not officially de-consecrated. The show was eventually closed due to the controversy, on May 22. Sadly, The Mosque will not be on view via Google.