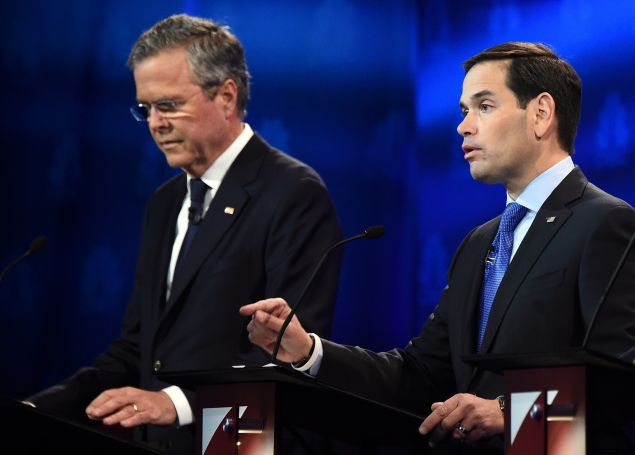 When the books about the making of the president in 2016 are written, the big story about the third GOP presidential debate will be that it marked the beginning of the end of the Jeb Bush campaign, and gave a powerful boost to Marco Rubio.
Rather than elaborate on the strengths and weaknesses shown by candidates in the debate, we focus here on what I believe is by far the most important result of the event.
The campaign of Mr. Bush is now in very grave and immediate trouble and there will soon be pressure on him to drop out.  The prospects of Mr. Rubio in the campaign were given a major boost as the young senator demonstrated a strength and skill that he needs to be a leading contender for the GOP nomination.
Mr. Rubio is a next-generation candidate who might mobilize appeal to both anti-establishment conservatives and high-level GOP establishment figures.
Donald Trump and Ben Carson will continue to hold their place as frontrunners in the GOP race, while Mr. Rubio is now in a position to bid for the top tier, as a next-generation candidate who might mobilize appeal to both anti-establishment conservatives and high level GOP establishment figures.
To take readers inside what is happening today in the upper echelon of the Republican Party, for some weeks it has been apparent that despite the huge amount of money he has raised and the large campaign infrastructure he has assembled, Mr. Bush continues to lag far behind the GOP frontrunners in all public opinion polling.
It has been obvious for some time that the Bush campaign was not catching on with voters. GOP insiders and major Bush donors were becoming increasingly impatient with the faltering prospects of Mr. Bush, who was unable to effectively respond to the onslaught of criticism from Mr. Trump, the Republican frontrunner throughout the summer and into the fall.
Going into the third GOP debate there was widespread agreement among Republican insiders that Mr. Bush was in trouble and needed the debate to ignite his campaign.
During the weekend before the debate there was a large meeting of the extended Bush family including former presidents George H.W. Bush and George W. Bush and major campaign donors and advisors.  Most analysts expected Mr. Bush to launch a frontal assault against frontrunner Donald Trump, and also against Mr. Rubio, his major challenger among candidates within striking range of the top tier candidates.
Once the debate began it became clear that Mr. Bush, who had given signs he was intimidated by Mr. Trump, would instead target Mr. Rubio for a preemptive political attack.
Mr. Rubio fired a second time, and Mr. Bush was left virtually speechless.
In recent days Mr. Rubio received considerable criticism over the fact that he missed a large number of votes in the Senate.
On the eve of the debate it appeared Mr. Bush had been given a major break when the Sun Sentinel, a leading Fort Lauderdale-based newspaper, leveled a scorching attack against Mr. Rubio over his absenteeism from the Senate and went so far as to suggest that he should resign.
Mr. Bush had several days to plan his attack, and Mr. Rubio was well aware such attacks were coming from opposing candidates or debate panelists from CNBC.
What was stunning about their performance was how weak Mr. Bush launched into Mr. Rubio, and how prepared and fierce Mr. Rubio was in defending himself and launching his own successful counterattack.
The highlight of the Mr. Bush's performance was a preplanned sound bite suggesting Mr. Rubio was operating on a "French" work schedule of three days per week. When Mr. Rubio fired back that Mr. Bush had never criticized other candidates for president who served in the Senate and missed many votes—such as Senator John McCain—Mr. Bush appeared taken aback. Mr. Rubio fired a second time, and said that the only reason for the Bush attack was to politically criticize a campaign opponent using sound bites written by his staff, and Mr. Bush was left virtually speechless.
The most likely outcome will be an implosion of the Bush campaign.
The impact of this exchange will be devastating for the Bush campaign, which had recently been cut back substantially to conserve campaign money and was almost universally seen by political analysts, prominent Republicans and many large Bush campaign donors as being in deep political trouble even before the debate began.
The most likely outcome of the debate will be an implosion of the Bush campaign. The fact that Mr. Rubio so decisively got the better of Mr. Bush on a subject that could have been very damaging to the Rubio campaign will further depress political and donor support to the Bush campaign and create growing pressure on Mr. Bush to drop out in the not-too-distant future.
By contrast, the power and effectiveness of the Rubio response will increase the stature and presidential-level credibility of the young Senator from Florida, who demonstrated a toughness and tenacity that he needs to prove to succeed in the hardball business of presidential politics.
In the coming days the world will watch Mr. Bush, to determine whether his support further deteriorates from its currently mediocre levels.
In the coming days the political world will be watching Mr. Bush, to determine whether his political support further deteriorates from his currently mediocre levels, and whether his large donors dramatically pull back and the pressure mounts for him to withdraw between now and Thanksgiving.
My guess is that Mr. Bush's position, which was weakened before debate, will now be untenable after the debate. He can limp along or drop out, but the accumulation of problems faced by his campaign are almost certainly fatal to his candidacy, sooner or later.
Regarding Mr. Rubio, he now enjoys a golden opportunity to vault to center stage. His supporters and donors, large and small, will be ecstatic about his third straight strong debate performance. Political professionals and the media will be impressed by the savvy and strength he showed turning the potential liability of his missed votes in the Senate into a devastating counter-punch against Mr. Bush.
In truth what worries Republican strategists the most is the natural strength of Hillary Clinton in a general election campaign, the power of her political machine, her skill in the parry of attacks and counterattacks during campaigns and her ability to take charge in the crucible of presidential debates as she did during the first Democratic debate.
Jeb Bush's stock crashed and Marco Rubio's doubled and split!
It is equally true that what worries Democratic strategists the most is running a next generation candidate such as Mr. Rubio, who would have the added advantage of appealing to the all-important Hispanic vote other Republicans have alienated.
There are two things to watch regarding Mr. Rubio. The first is how the young and relatively inexperienced senator handles the intense scrutiny and attacks from Democratic and Republican opponents that will be directed against him in the coming days and weeks.
The second thing to watch—and it is hugely important for the Rubio candidacy—will be whether or not GOP mega-donors will move into his corner.
Many eyes will now turn to Las Vegas, for example, to watch the next move of Sheldon Adelson, the billionaire casino mogul who has a history of making mega-donations to support conservative candidates he favors. There has been significant scuttlebutt, which is widely believed to be true among GOP insiders, that Mr. Adelson has been giving serious consideration to putting his formidable support behind Mr. Rubio. If he does, his support could be a defining moment in the battle for the GOP nomination, and in the meantime, Jeb Bush's stock just crashed and Marco Rubio's stock just doubled and split!