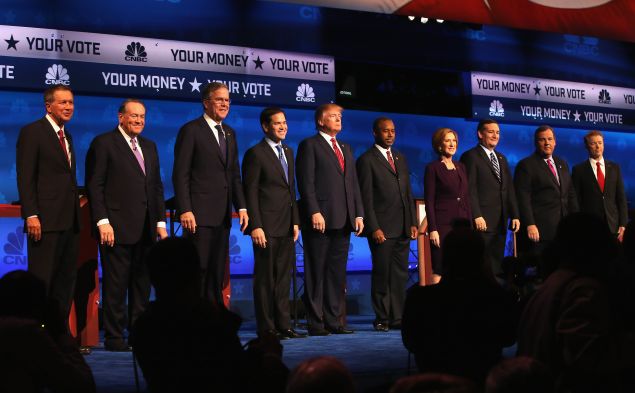 The Republican debate started out much as expected, as 10 candidates dug and tore at each other in a scramble for time and preciously stretched-thin support—but half an hour in, they turned their guns off each other and instead laid into CNBC moderators Becky Quick, John Harwood, and Carl Quintanilla.
For almost the first half hour, the debate followed the anticipated script: a bristling Ohio Gov. John Kasich again ripped into pack-leading real estate magnate Donald Trump and retired neurosurgeon Ben Carson; Mr. Trump, the populist billionaire, mocked Mr. Kasich for his low poll numbers and his work for failed investment firm Lehman Brothers; former Florida Gov. Jeb Bush blasted one time protege, Sen. Marco Rubio, for missing votes as the younger man threatens to eclipse him as the Sunshine State's brightest light. Then, rather than responding to a question about raising the debt ceiling, Texas Sen. Ted Cruz took the conversation in a whole new direction.
"The questions that have been asked so far in this debate illustrate why the American people don't trust the media," he said to cheers from the audience. "This is not a cage match. And you look at the questions: Donald Trump, are you a comic book villain? Ben Carson, can you do math? John Kasich, will you insult two people over here? Marco Rubio, why don't you resign? Jeb Bush, why have your numbers fallen? How about talking about the substantive issues people care about?"
After that, the moderators all but lost control of the discussion. Candidates didn't just run over their time limits: they backed up and hit them again to make sure they were dead. Nearly any question that aimed to pit the different Republicans against each other or to demand they clarify a past inconsistency received a chorus of boos from the audience and a resounding attack on the media from the candidates.
The trio of hosts did not always acquit themselves well: Mr. Quintanilla and Mr. Harwood at times seemed to struggle to suppress their tempers, and Ms. Quick often came off as condescending and contemptuous, breaking in with bored-sounding "okays" and "alrights" when speakers exceeded their time.
But a few consistent patterns still emerged from the forum.
HILLARY, HILLARY, HILLARY
The one thing that did seem to go according to expectations was the near constant salvos against the Democratic front-runner, ex-Secretary of State Hillary Clinton. Ms. Clinton—occasionally joined by President Barack Obama and her primary rival, Vermont Sen. Bernie Sanders—was the perpetual foil to every argument and proposal the Republicans made.
But because the attacks were so repetitive—that she would grow the government, raise taxes, that she was dishonest about the causes of the attack on the Libyan embassy in Benghazi—the comments almost became background noise and the wide field of GOP candidates failed make their critiques of the former first lady distinctive.
NOT-SO-PUMPED TRUMP
Mr. Trump, who dominated polls for months but now is vying for the top spot with Mr. Carson, neither monopolized the conversation like he did in the first forum nor became red-faced and flustered like he did in the second. He managed to keep his composure during a particularly embarrassing incident in which he denied calling Mr. Rubio the "personal senator" of Facebook founder Mark Zuckerberg because of the Florida pol's favorable position on H-1 visas for foreign workers with special skills—only for Ms. Quick to come back after a commercial break to quote the line directly from the Queens-born developer's web page.
If anything, Mr. Trump came off like a regular candidate, even dialing down the fiery rhetoric on immigration that has defined his campaign—but is that a good thing?
THE RISING STARS
Mr. Rubio looked every bit the ascendant establishment favorite. He brushed off attacks on his absences in Washington, on his personal financial history, and landed blows against the media while making subtle policy points on contentious issues like immigration.
Mr. Carson was the only candidate who managed not to interrupt his peers and his answers. While still speaking in a calm monotone, he didn't seem as hazy or rambling as he had in the past. For a man who suggested taxation be based on the Biblical system of tithing, he dealt out budget numbers with ease.
JEB…?
For the third time, Mr. Bush—whose overflowing coffers and name recognition once made his nomination appear inevitable—failed to distinguish himself. He taunted Mr. Rubio by comparing the number of votes the senator missed to the four-day French work week, only to have the senator embarrass him back by pointing out past presidential candidates the ex-governor supported had even more absences.
He lashed out at Ms. Clinton and the left's "more government" solutions several times, but once again found his voice drowned out amid louder and angrier rivals. With his poll numbers wilting, the last thing Mr. Bush wanted was to look like a wallflower. But that's exactly what happened.
AND THE REST
Mr. Cruz got strong applause for his fusillades against the press and seemed to even better position himself as the heir to Mr. Trump's supporters should the real estate magnate withdraw from the contest. The Tea Party Texan sounded increasingly populist as he blamed government for wealth disparities in America.
New Jersey Gov. Chris Christie got in a few strong lines near the end of the debate, his outsized personality expanding to fill the space left by a more restrained Mr. Trump, mocking the idea of federal regulations on fantasy football apps that pay out money. Former Arkansas Gov. Mike Huckabee was again the kindly Sunday school preacher, engaging the New Jersey governor in a relatively low-key exchange over whether Social Security benefits ought to be scaled back in some manner to keep the program solvent.
Coming off a shining second debate performance, former Hewlett Packard CEO Carly Fiorina was somewhat underwhelming. She got the most speaking time of any candidate, but seemed to use most of it trying to talk over the moderators with mixed success and to reiterate again and again how Republicans had been making the same promises on the same issues for decades—not exactly a way to captivate voters.
Mr. Kasich twitched and grimaced incessantly at his podium, seeming like a desperate man, but managed to carry off the third-most speaking time while highlighting his record in Ohio. Kentucky Sen. Rand Paul spent much of his time agreeing with Mr. Cruz, and thus failed to set himself apart from a higher-polling rival.
Disclosure: Mr. Trump's son-in-law, Jared Kushner, is publisher of Observer Media.