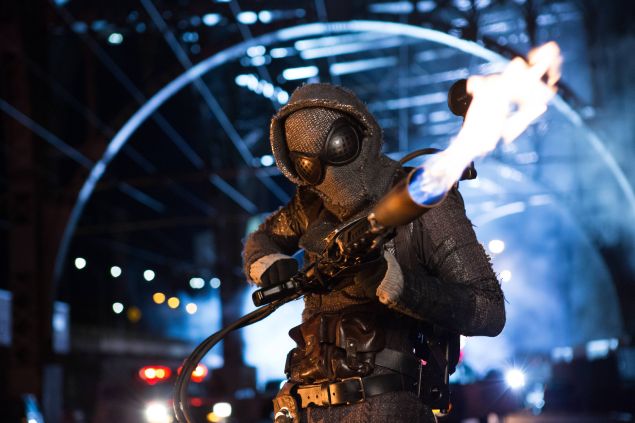 What's white, and red, and dead all over?
Well, a couple of people actually. Technically the answer is Bridgit Pike — you know, because of the horrifying dead skin tissue covering her entire body now? But she's not really dead, just…fireproof? That's according to those dudes underneath Indian Hill (more on that in a little). The answer could also be Kristen Kringle, who is definitely dead, the life (accidentally?) choked from her body by Eddie Nygma after a bedside chat that went less than well. And the red and white because, you know…Kringle? Like, Santa Clause? Whatever man, I'm not the one obsessed with riddles with two check marks in my body count column.
A lot of last night's Gotham, titled 'By Fire,' felt like a new beginning. And if you didn't pick up on that feeling, the show presented us with a *super* serious montage of crying faces – Nygma over the body of Kringle, Selina Kyle figuratively over the body of Bridgit Pike, interspersed with footage of Cobblepot and Co. preparing for an Archer-style rampage, footage that included the most insanely over-the-top shotgun cock from Robin Lord Taylor that should win, at the minimum, three Emmys.
But really, all the different stories seemed to have come to a head, and now we're heading into something bigger. Doing away with villain-of-the-week stories in favor of a more serialized narrative has done wonders for the quality of Gotham. Everything and everyone is so much more interesting because we've finally had time to move into Gotham City with these people, instead of dropping into a different part of town each week and staying at a shitty motel that vaguely smells of Fish.
I like Jim more, because his mission to clean up Gotham City feels like an actual mission. I like Bruce Wayne and Alfred more, because since breaking into Thomas Wayne's cave-thing they've been on an actual, realistic track to the future-Dark Knight. I like all the villains more (Butch and Oswald win the superlative for "Best Chemistry"), because they have an actual plan that isn't immediately being foiled by the world's shittiest detectives. I even like Selina Kyle more, because she no longer feels like a Post-It note in a writers room that says "Becomes Catwoman later, probably." Although, Selina saying "by the way…y'all suck" just reeks of a group of older writers trying to decide how a "cool street kid" would talk.
With all that said…haha imagine the Riddler having sex?
As always, let's run down every reference, fact, and nugget of Bat-history brought up in season 2, episode six: 'By Fire'
Indian Hill, A Division of Wayne Enterprises
A refresher: Indian Hill was mentioned all the way back in November of last year, in season one's best episode 'Penguin's Umbrella.' Carmine Falcone convinced Sal Maroni to include the "useless" land in a deal, and Fish Mooney described it as a  "toxic waste dump on top of an Indian burial ground."
When I asked 'By Fire' writer Rebecca Perry Cutter what the deal with Indian Hill is, she was vague but did let on that "there's going to be a big character coming down the road that is going to be associated with it." The options there are unlimited:
-Swamp Thing or Solomon Grundy, only because one is literally a walking, sentient swamp and the other is a zombie. Both seem ripe to crawl out of a toxic, possibly haunted waste dump.
-The much-discussed Ra's al Ghul, because I'm now fantasy-writing a scenario in my head where Indian Hill just happens to be over the Lazarus Pits.
-The Court of Owls, because the whole point of the Court is that they're embedded in ALL things Gotham. The fact that Indian Hill is both a toxic piece of land as old as Gotham itself, but also involves Wayne Enterprises, has their wing-prints all over it. Plus, remember that one time last season a bird, possibly-but-maybe-not-an-owl, flew by the Wayne Enterprise windows right after the company decreed Bruce Wayne had to die?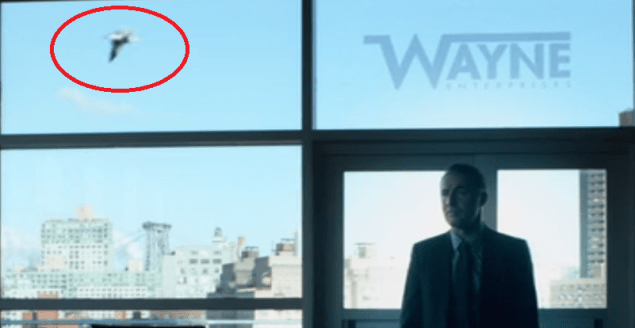 -But really, my gut is telling me the Indian Hill stuff is leading not to a "big" comic book character, but a "big" Gotham character — the return of Fish motherf*cking Mooney. Yes, Jada Pinkett-Smith dipped out of Gotham faster than you could say "terrible haircut," but the signs are there. Last week, Butch and Selina shared an exchange where Selina scoffed at the idea Fish wouldn't come back. This was immediately followed by the Pike brothers emphasizing "when Fish comes back…" Plus, you know the writers had her fall into the ocean to make a comeback possible, and you DEFINITELY KNOW they want to make some awful pun on fish being able to swim. The entire Gotham writers' room lays awake at night dreaming of that pun. It's their magnum opus. This show basically exists so that pun can exist.
Finally…does this dude in Indian Hill look like he's putting a fish back together?