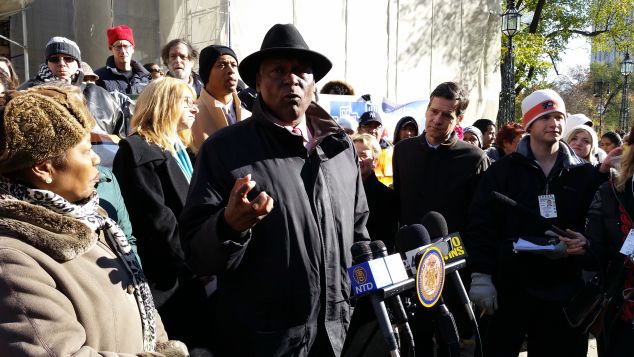 Assemblyman Keith Wright today picked up the endorsement of his upper Manhattan colleague Assemblyman Herman "Denny" Farrell in his bid to succeed retiring Congressman Charles Rangel—adding to a growing list of endorsements in an increasingly crowded field.
Mr. Wright has already snagged the backing of Harlem Councilwoman Inez Dickens, former Gov. David Paterson and a number of local faith leaders.
"Keith Wright has been an essential voice for central Harlem for decades. His dogged advocacy and leadership is palpable throughout the community, and his partnership here in upper Manhattan and in the New York State Assembly has been invaluable," Mr. Farrell said in a statement. "It is with great confidence and excitement that I support my friend, neighbor and long-time colleague to continue the legacy of inclusion and representation for Harlem residents in US Congress."
The 83-year-old Mr. Farrell is a quiet but powerful presence in Albany, having been elected in 1974 and currently serving as the chairman of the Ways and Means Committee. He, like Mr. Wright, has long been a close ally of Mr. Rangel and the Harlem Democratic establishment—though Mr. Farrell broke with the congressman last year by endorsing State Senator Adriano Espaillat—who has twice unsuccessfully challenged Mr. Rangel for the congressional seat—for re-election to the State Senate.
The Manhattan-Bronx district was once overwhelmingly black, but today is majority Latino—and those changes have heavily influenced the tenor of recent elections in the district. Mr. Wright is quickly becoming the best-funded and most-endorsed candidate in the race, but several other black Harlemites are seeking to represent the district—where race and ethnicity will likely again be a factor in 2016.
State Senator Bill Perkins revealed to the Observer he was running in August and will kick off his campaign tomorrow morning. Former Obama and Clinton administration official Clyde Williams—who challenged Mr. Rangel in 2012—and local faith leader Suzan Johnson Cook, both African-American, are also running.
Also in the race is former East Harlem Assemblyman Adam Clayton Powell IV, the son of Mr. Rangel's predecessor and New York's first black member of Congress Adam Clayton Powell Jr. (Mr. Powell, who is half Puerto Rican, could appeal to Latinos in the district as well)
And many observers expect Mr. Espaillat, who challenged Mr. Rangel in 2012 and 2014, to also jump in—making him the only Dominican-American candidate in the running. Despite the potential for the district's demographics to work in his favor, strong African-American voter turnout combined with divisions in the Latino community allowed Mr. Rangel to twice triumph over Mr. Espaillat.