New York, New York, that "hell-of-a-town," that cerebral cortex of America, is constantly changing, and in the realm of classical music, the change has been dramatic.
There was a time when opening night at the Metropolitan Opera was front-page news in The New York Times. Now, the event is tucked neatly somewhere or other into the arts section. There was a time when a celebrated Wagnerian soprano was dropped from the Met roster because she sang jazzy songs on her nights off. Now, the current diva, Rene Fleming, a veteran nightclub entertainer, brings shades of the cocktail lounge into her singing, and the afternoon soaps into her acting. Even a prim venue like the Chamber Music Society of Lincoln Center decided to become trendy, inviting personalities like Chick Corea to stride on stage in tuxedo and tennis shoes for a world premier of some crossover number that will, with luck, never be heard again.
'…Nothing is so opposed to poetry—not even crime—as business.'
There was a time when subscriptions for the New York Philharmonic were handled by two gentle ladies in a little office on 57th street. Now, that venerable organization, and the other occupants of Lincoln Center, engage armies of college-trained marketing people: directors of community relations, directors of development, directors of media development, directors of outreach, who have utterly failed to fill the halls with full-price-paying customers and shore up the exodus of serious listeners. In its wake they have created a monstrous machine known as the music business, a muse killer that is living testament to Thoreau's remark "…nothing is so opposed to poetry—not even crime—as business."
All the "business" in the world cannot not stanch this exodus. Its primary cause is not the fact that sitting down front at the Metropolitan Opera costs $534, or that the public is weary of incomprehensible pieces by "composers in residence." The primary cause is our culture itself, which has drastically and irrevocably changed. Thomas Mann, with a wary eye on the ways of Americans, wrote in his diary "…I read about the decline of the culture of antiquity. Central phenomenon: gradual absorption of the educated classes into the masses, 'simplification' of intellectual life: barbarization."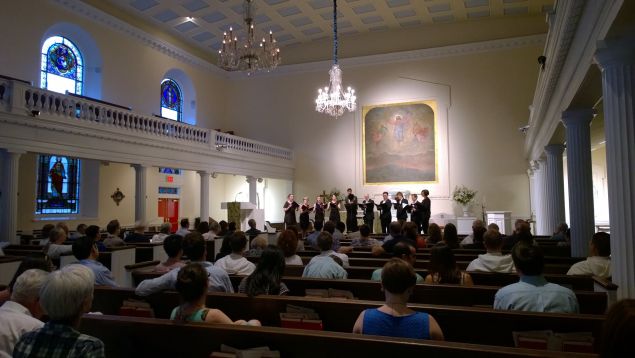 The same process is evident in every aspect of American life, and in regard to music, no pre-concert panel discussion, no class, no outreach program, no 10-color brochure will stop it. A new audience has appeared in New York's temples of art, and these temples give their new audience what it wants.
At a performance of the Misssa Solemnis at Lincoln Center a few seasons ago, people around me, having, up to the downbeat, talked about Jenn's new French casserole, cheap car rentals in Miami, and the possible age of their golden retriever, seemed pleased enough with the show they were given. On-stage the gigantic self-congratulatory assembly of The New York Philharmonic Orchestra, its director Alan Gilbert, the huge professional choir, and four hefty soloists with hefty voices, strutted their virtuoso stuff. The first violinist, with a big smile on his face played his solo in the Benedictus as if it were the barcarolle from Tales of Hoffman. Everybody up there was having a good ol' time performing the ultimate feat of alchemy—transforming Beethoven's divine Missa Solemnis into a glittering, glamorous, larger-than-life movie score. Perhaps the supertitles flashing "Lord have mercy," "I believe…" and "holy, holy, holy," made it more accessible to the public—perhaps not.
In contrast, I recently heard Mozart's Requiem and Vesperae de Dominica sung by the superlative Canticum Scholare choir and played by a contracted orchestra conducted by Michael Feldman at the Church of St. Joseph in Greenwich Village. Audience members discussed other performances and recordings at the break. No mention of car rentals or casseroles. The reading of the Requiem, from a new edition by Richard Maunder, was revelatory. Tempos were muscular and more brisk than one usually hears; the ensemble sound was lustrous, and the dramatic geography brilliantly shaped. There was a ring of truth, a sense of reverence, and a heartfelt delivery of the text.
Organizations like the Orchestra of St. Luke's, Clarion and the Jupiter Chamber Players attract the same kind of audience because they offer the same kind of performance. Jupiter, for example, located at the Church of the Good Shepherd, boasts an immense concentration of brilliant artists, who without a doubt rival both technically and artistically the musicians of the "aren't we having fun" school performing in Alice Tully's formidable and spacious climes. These technically flawless Jupiter artists ultimately trump their wealthy Lincoln Center neighbors by way of their authentic brio, their palpable sincerity and their great joy in performance.
In venues such as these we find the remnant of what was once the mainstream. It has done what rivers sometimes do when misused, redirected, choked with debris, buried under concrete, or completely covered over. It has gone underground to more modest halls and less notoriety, where publicity is not all that necessary, where the muse is still alive and well, and where the voice of business is so faint you can actually hear the music.
***
The founder of the New York Vocal Arts Ensemble, Raymond Beegle has taught vocal chamber music and vocal accompanying at the Manhattan School of Music for 20 years. He has performed with conductors such as Igor Stravinsky, Robert Craft, Lawrence Foster, Johannes Somari and Richard Westenburg, and collaborated with Licia Albanese, Zinka Milanov, Jennie Tourel, Marital Singher, James McCracken, and Theresa Zyllis-Gara.