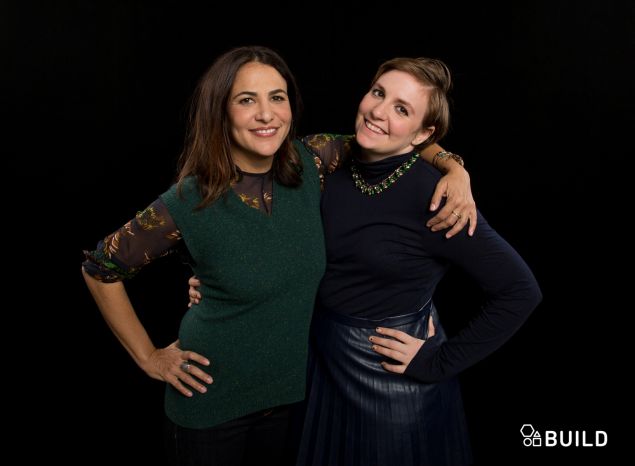 Well, that was fast. After only five issues, Lenny, the twice weekly newsletter created by Girls Lena Dunham and Jenni Konner, is partnering with Hearst Magazines. The partnership includes advertising, distribution and platform—and means that Hearst will get exclusive rights to "monetize content and create custom programs for advertisers in the newsletter" and on the website, while the Lenny team will retain editorial control.
"Hearst has the most vibrant digital portfolio of young women's and fashion brands, and LENNY's unique perspective speaks directly to the spirit of our audience," Troy Young, president of Hearst Magazines Digital Media, said in an announcement. "Adding LENNY into the mix strengthens our connection to the reader and creates new opportunities for marketers to reach a generation of young women who stand up for what they believe in."
Or as the duo collectively called Lenny (Lena + Jenni = Lenny, get it?) explained, more chattily, in today's email newsletter:
[I]n the next few weeks we are going to start running advertising in our newsletter and on lennyletter.com through our new partnership with Hearst Magazines. Hearst is going to help us by spreading the Lenny word across its digital platforms like Elle, Cosmopolitan, Esquire, Marie Claire, and more. (Our articles will be online a day after our email subscribers have had the exclusive look. Y'all are the originals.)

Why are we doing this? Because we want Lenny to be a self-sustaining, kick-ass, women-run business for a long, long time. We want to continue to pay our authors and artists fairly and get our content to as many people as we possibly can. The resources afforded by this partnership simply allow Lenny to exist and to grow. We've got big plans!!! We love this deal with Hearst because they really "get" us and will allow us to retain ownership and complete editorial control. We wouldn't have it any other way.
In announcing the partnership, Hearst mentioned the value of Ms. Dunham and Ms. Konner's friends and contributors such as Hillary Rodham Clinton, Jennifer Lawrence, Shonda Rhimes, Jenna Lyons, Amy Poehler, Padma Lakshmi and Gloria Steinem.
So far, the content of the lengthy newsletters has featured first-person stories by quirky-cool celebrity writers like Jenny Slate (she got a Vajacial, it was weird but not that weird), interviews with feminist icons like Gloria Steinem, and advice like whether it's okay to smoke pot before a friend's babyshower and how to negotiate maternity leave.