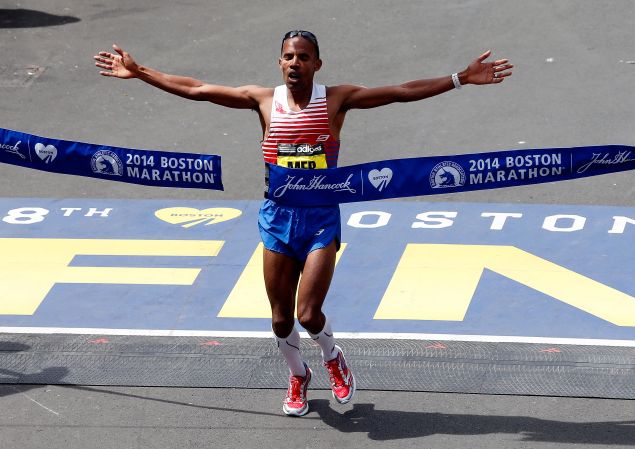 November 1 is fast approaching, meaning the world's top distance runners have but a few weeks left to train for the New York Marathon. That means chugging through increasingly-long practice runs, stretching every muscle of the body and—to power through it all—consuming plenty of fuel.
Among the elite athletes competing in the 26.2-mile race through the city's five boroughs is Meb Keflezighi, the Eritrean-American runner known most recently for winning the 2014 Boston Marathon—the first American to do so since 1983. He also won the 2009 New York Marathon, finished fourth in the men's marathon at the 2012 Summer Olympics and took home a silver medal in the same event at the 2004 Summer Olympics.
Wondering what Mr. Keflezighi eats during marathon training? For starters, the 40-year-old's daily food intake has nothing on the 10,000-plus calories purportedly consumed by Olympic swimmer Ryan Lochte. Mr. Keflezighi takes in the comparatively bird-like 3,000 calories, according to stats put out by one of his sponsors, PowerBar—those calories primarily coming from lean protein, fruits, vegetables and healthy fats.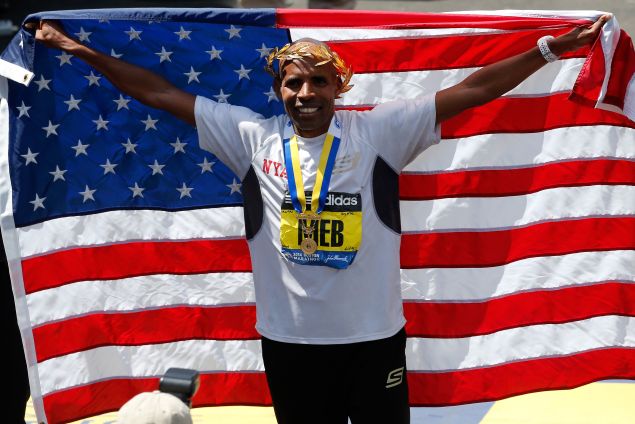 When it comes to breakfast, the marathon champ is an almond butter fan. He eats it in one of two ways: on a whole wheat bagel, or on two slices of whole wheat toast with a drizzle of honey on top.
For lunch, Mr. Keflezighi might eat a turkey sandwich on whole wheat bread with lettuce and tomatoes, or eggs with turkey, ham, vegetables and avocado, plus a side salad. Dinner tends to be a bowl of pasta, with turkey meatballs for extra protein.
Those meals are interspersed with snacks, which, in addition to energy bars courtesy of his sponsor, include blueberries, bananas, apples, pears, oranges, peaches and beef jerky. Mr. Keflezighi also hydrates with electrolyte drinks, plus 60 to 70 ounces of water daily.
That all adds up to more than 120 grams of protein, and more than 400 grams of carbohydrates.
Mr. Keflezighi "does not believe in counting calories," the information from PowerBar indicated. "He likes to graze throughout the day and never let himself get to hungry." He also recommends staying consistent with eating choices in the week leading up to the race—in other words, runners should probably not shock their bodies with a sudden Seamless Thai food binge two nights before marathon day.
Mr. Keflezighi placed eighth in this year's Boston Marathon. In February, he'll head to Los Angeles to compete in the 2016 Olympic trials.