So, we are just shy of the halfway point in NBC's Heroes Reborn mini-series. Technically, that point will be halfway through the next episode, but we are basically there. For the uninitiated, it may have felt like an awful lot happened in "Game Over." It felt that way, but for long time fans you know it probably didn't. More on that in a moment.
On the surface, this episode brought friendzoning, suicide, romance, virtual death and fratricide.
It also brought the return of Masi Oka's Hiro Nakamura, probably the third best character in the whole cannon (after HRG and Sylar) and its worst concept overall. Hiro is the master of time and space. In other words, once he shows up, the series always has a cheap and easy way to get out of anything that truly shocked viewers along the way, because he's a time traveler.
For example, take the killing of Quentin Frady by his lost sister, Phoebe Frady (who was only ever nice in the prequel). What a reunion, right? She sees her brother who has risked his life to find out what's happened to her, and her first move is killing him with her creepy shadow powers (lifted from oversexed '80s supercriminal and Witchblade precursor, Ecstasy, from Marvel Comics).
Did it freak you out? Well, whatever machinations Hiro and Noah Bennett are about to undertake is likely to undo that and everything you've seen so far.
Recap
The episode opens with testosterone blazing. The two non-powered macho men, Noah Bennett and Carlos Gutierrez putting a beat down on enemies in their clutches. Bennett is pounding on Harris (Prime), the cloning masochist. Gutierrez is beating on the super-strong cop who has been rounding up people with abilities for $10,000 a head.
Bennett gets Harris to agree to get him inside Renautas's super secret lab facility. Gutierrez convinces the cop to take him to where he's been taking evos for the money. Later, we learn it works like some sort of Stepford Wives summer camp, according to the cop (my bet: Matt Parkman, the telepath from Heroes turns out to be Head Camp Counselor).
Meanwhile, Miko Otomo (also known as Katana Girl) is fighting her way through Evernow, only to realize that she's not looking for her father. She's looking for the "Master of Time and Space." This obviously refers to Hiro Nakamura, who the previews made clear would be popping up. Nakamura has the power to teleport and travel through time (in other words, he's Nightcrawler and Kang the Conqueror in one character). Meanwhile, Ren is watching her progress on a laptop in a coffee shop.
The artist that made Katana Girl look cool. 
Back at Renautas, the top nerd freaks out to Erica Kravid about Katana Girl's progress through Evernow, making it clear that there is something important about the game world but also raising the question: why has no other gamer managed to get inside this building which exists in a playable area inside what previous events have shown to be a hugely popular massively multiplayer online role-playing game? Anyway, the nerd uses some code to hide the virtual building from Miko.
So she goes back to the real world, and her little henchmen Ren works out how to hack the trick in about two seconds. An obstacle never lasts long on Heroes Reborn. As soon as it's presented, someone usually works out a simple fix, immediately.
In a bit of black humor, Luke Collins is shown on a dock, surrounded by yachts, calling his homicidal ex-wife to say he sold the practice and burnt the house down. After throwing his flip phone into the sea, he asks a skeezy yacht dealer to sell him a boat that looks like the one he and his son had built together.
Ren and Miko's trick for beating the code inside Evernow is simply finding the building in the real world, which they do. Then she and Ren go inside Evernow and fight a giant unbeatable samurai, who they beat in (by my count) two (maybe three) swipes of their virtual samurai swords.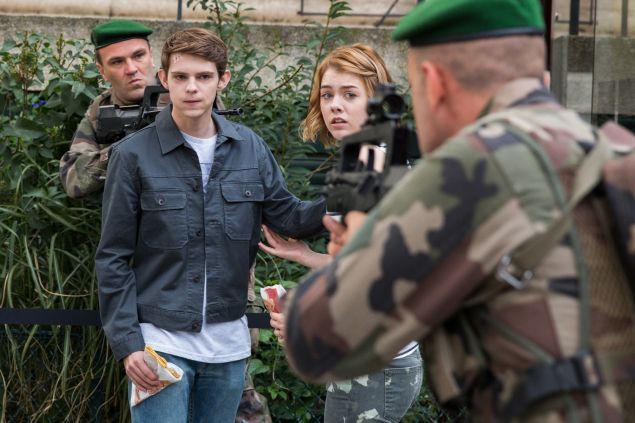 Back in Illinois,Tommy meets up with Emily and he takes her to Paris. We see a great deal of these two interspersed from here out, but mostly it's a lot of nothing tension building. Only three events happen, which we'll skip directly to. Tommy spazzes out in front of French military who won't let evos onto the Eiffel Tower. Back in Illinois, Emily performs surgery on him in her bedroom to dig the tracker out of hiis, and he is completely chill about it. Lastly, they smooch.
Bet his new buddy Brad won't like him so much now.
Isn't it cute how Tommy is definitely going to cause her death in some way as he spazzes out and turns completely whack job evil? (I am not letting go of this prediction)
So, this episode had two big moments. The first one comes when Malina, the girl we first saw up in the arctic messing with the Northern Lights, randomly bumps into bummed out Luke Collins by a snack machine.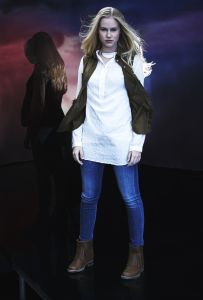 The next time we see him, he's on his fancy new sailboat, with a backpack full of bricks. He jumps into the water while Malina watches. She flips out and basically Captain Planet's him out of the drink. She seems to summon wind underwater to lift him up and shoot him back out through a water spout (while obligatory stunned little kid watches from a dock).
My prediction for the next ep: Luke doesn't have fire power anymore—he exhibits Malina's power. In other words, Luke doesn't have fire power. He has some version of the power copying ability that Sylar and Peter Petrelli both exhibited.
Once he's all chill again, Luke explains his attempted suicide by saying, "I had a purpose, a reason for living, but then I lost it. I was just looking for a sign." Getting sucked out of the deep by a blonde elementalist should have been more than enough, but then Malina shows him the envelope the invisible woman gave her before she died. It has a picture of Tommy in it. Malina tells Luke that she needs to find him so the two of them can save the world together. Luke offers to drive.
Meanwhile, back at the ranch (where 'the ranch' in this case is Renautas's HQ, which by the way has profoundly porous security for a world crushing organization), HRG wrings a couple revelations out of the top nerd after shooting him in the foot.
He's built a time machine, powered by Hiro.
Miko Otomo is a replica of the real Miko Otomo, who died in a car collision. She's not real, at least not in the traditional way of making babies (but we live in an age of expanded identities).
Renautas is moving stuff into the future where a select group of people will rebuild civilization, sometime after the giant solar flare destroys it.
Inside Evernow, Miko faces Evil Miko, who also tells her she isn't real. She slips back and forth between the real world and the virtual world a few times. On her last visit to our world, it's clear to her and her buddy Ren that she probably won't come back after she rescues Hiro.
Ren says, "I love you, Miko."
Her last words to him are, "I know." Ooph, friendzoned by a fembot! That's going to make some shrink's boat payment.
Inevitably, they get Hiro out of Evernow. Just as inevitably, HRG persuades him to take him back to June 13th, which means that you can expect everything we've seen happen up to this point wiped out by time travel. Everyone who is dead, won't be dead. Quentin's sister probably never even kills her brother.
Time travel is the worst. Shakespeare is shaking his head about time travel as a plot device. If you're going to kill people, they ought to stay dead.
On the other hand, on a coming episode, Masi Oka is going to get to do this: