Two characters on the new NBC mini-series Heroes Reborn veer wildly away from what the original show taught us to expect from exceptional people: Katana Girl and El Vengador. Unsurprisingly, those are the two characters that the show's consulting artist, Paul Pope, has had the most input into.
"I'm always bringing stuff that's kind of outside the story bible, and I think that's kind of the reason I'm here," Mr. Pope told the Observer during a recent phone call.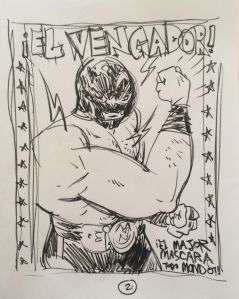 Among comic book fans, Paul Pope (Heavy Liquid, THB) is one of those artist-writers with a rockstar quality, who does comics more about edgy party life, artists, outsiders and drug users than about extraordinary beings fighting crime, arch-nemeses or global supernatural threats. Though he was also happy to do Batman books when DC Comics has asked him to.
Mr. Pope is taking on the role that artist Tim Sale (Batman: The Long Halloween, Superman For All Seasons) played on the original series. He's the comic book artist on the team who staff can bring in to provide certain artistic elements for the story. A major plot device in the first season of Heroes, for example, was paintings that predicted the future. Tim Sale made all of those. Mr. Sale also made the 9th Wonder comic books that popped up throughout.
Having a recognized comics virtuoso on retainer has lent the shows credibility with fans. Mr. Sale did and Mr. Pope likely will do a solid job of providing little nods to the culture the show was born from.
Mr. Pope explained that he isn't a TV guy. He doesn't know much about Heroes or Heroes Reborn. He hadn't actually even watched the season opener when we spoke, but he had it TiVO'ed (he's since let us know that he's caught up, however).
He designed the mural for El Vengador's lair, saying the producers wanted to have a sort of Banksy or Shepard Fairey quality. 
"The initial concept was so cool. I thought it was such an elegant and simple idea, that I'm surprised no one thought of it," Mr. Pope said, of a crime-fighter with his secret lair beneath an autoshop. "It's such an interesting, L.A. specific thing."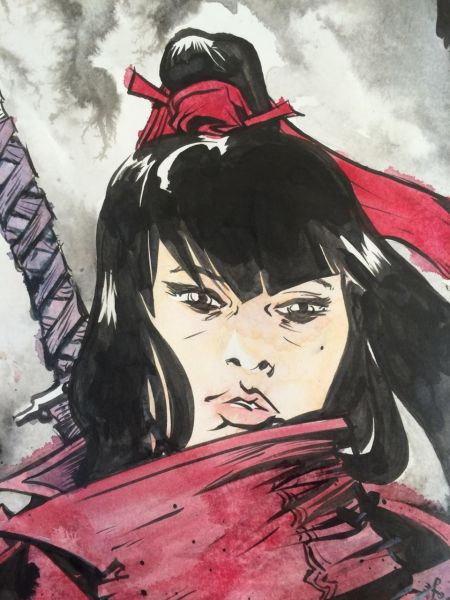 Mr. Pope told us he weighed in on El Vengador's costume. Not changing it dramatically, he explained. Just upping its street quality, as he did for the caped crusader in Batman: 100. So far, El Vengador, played by Carlos Gutierrez, is one of the few characters who hasn't exhibited any powers yet, but he has recently given his suit a steampunk Iron Man upgrade of sorts. He looks to be on a collision course now with Judith Zekoni's Joanne Collins, the murderous mom hell-bent on killing the evos, who, last we saw, was most likely still headed for L.A.
Up to now, the Heroes universe hasn't really had costumed heroes (Micah's cousin "St. Joan" dabbled in that role, but we saw very little of her—she had this guy's ability). Still, Mr. Pope said that El Vengador isn't new in the universe, though. His tradition goes back at least to the Gutierrez brothers' grandfather, Mr. Pope revealed.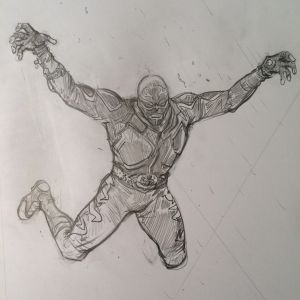 One other character that Mr. Pope has had his hand in might also represent something new under Odessa's sun: Katana Girl. It's not clear yet, but many fans speculate that she might not be a person at all. She might be some sort of artificial intelligence or robot. Hers might turn into something a Pinnocchio-esque story.
Mr. Pope said he's given the team a small set of drawings of the character to use as reference points. 
"Gradually I'm learning more and more about the story and the characters as they develop," he explained. "They sort of want to keep me in the closet on different aspects."
His level of involvement will depend somewhat on how well the show does. When he hears from the team, it's always urgent. "The turnarounds are usually pretty quick. It's an interesting and very different way to see an idea taken into a final stage," he said, adding that it's a welcome change from the slow, solo process of comics.
Another parallel to Mr. Sale's past contributions: all the lettering on the show is from a font made for it from Mr. Pope's handwriting.
Prior to Heroes Reborn, Mr. Pope's experience in moving pictures took place on developing The Amazing Adventures of Kavalier and Clay movie, which seems to be in development hell, and co-directing a short for the Tribeca Film Festival, 7x6x2. One of the shows producers and writers, Raven Metzner, brought him in after Mr. Pope worked with his brother on that last project.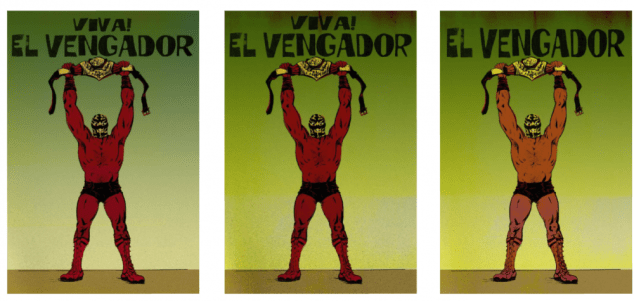 He said, "They brought me in and they said, 'It's better that you don't know anything about the show because we want to come at it with a new aesthetic.'" So, in a way, he's taking the same role on the creative team that character Noah Bennett takes in the show's storyline; they both have less information than the people around them and learn about the Heroes Reborn world by working through its problems.
Presumably, Mr. Pope doesn't get his questions about the gig answered like Bennett would, by shoving a showrunner against the wall and holding up a gun, but we can't say for sure. Mr. Pope has that air of mystery, after all.