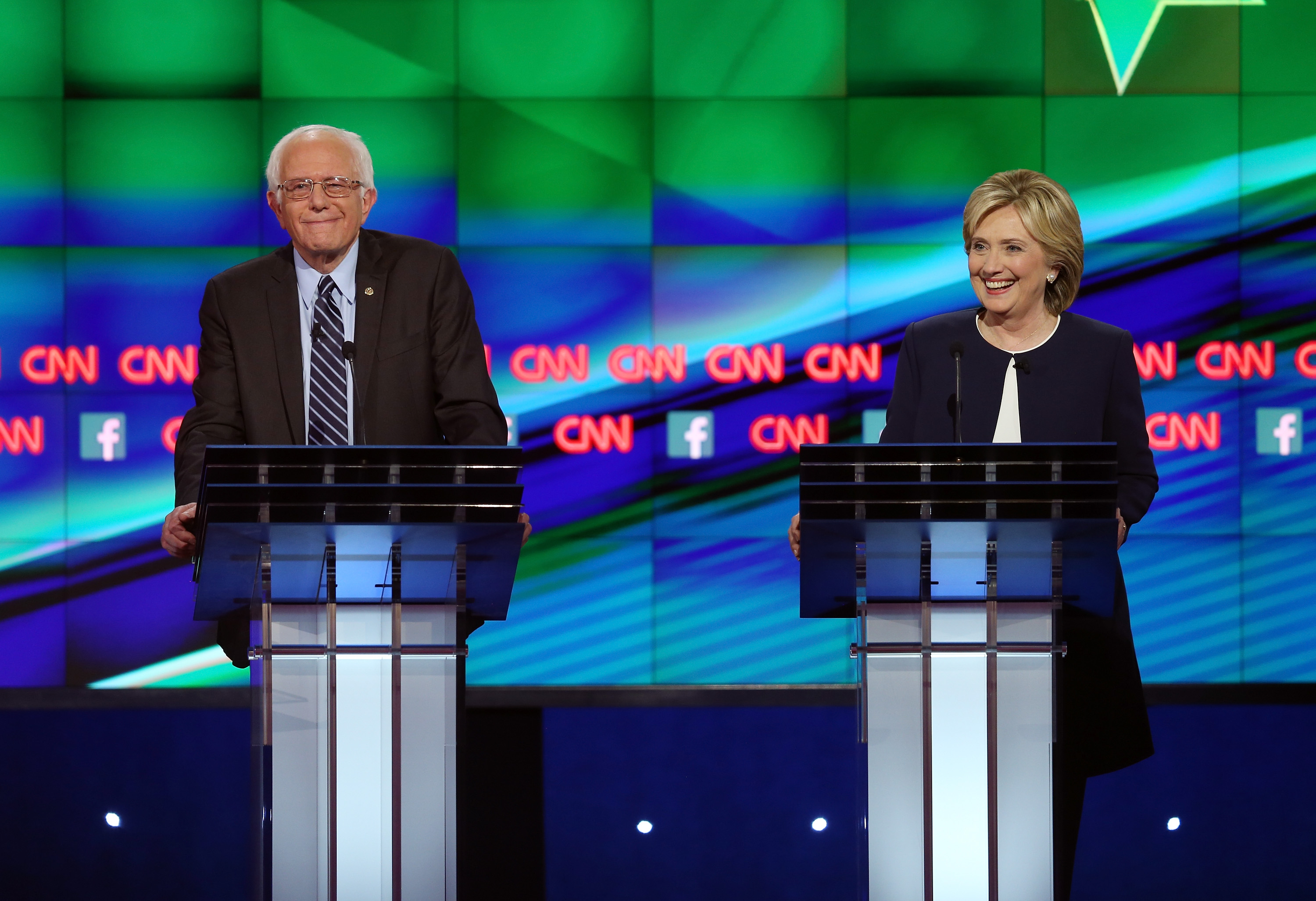 Finally, Hillary and Bernie, head to head. Oh, and three other people, too.
The Democratic candidates for president faced off in their first debate tonight, with front-runner and former Secretary of State Hillary Clinton looking to stem the rising tide of Vermont Sen. and self-described Democratic socialist Bernie Sanders, running second in the polls. Former Maryland Gov. Martin O'Malley was on stage looking for a break-out moment, while two former governors—and former Republicans—Virginia's Jim Webb and Rhode Island's Lincoln Chafee, were looking for people to learn their names.
Too busy watching playoff baseball to tune in? Let the Observer break it down for you.
HILLARY COMES OUT SWINGING AT BERNIE
Mr. Sanders has been drawing record crowds by taking a progressive tack on issues like criminal justice reform, campaign finance reform and income inequality. So Ms. Clinton hit him early where he's most vulnerable with the left-wing of the Democratic Party: guns. Mr. Sanders is from Vermont—a rural state, as he repeatedly mentioned as an explanation for past votes—and in the past has voted against the Brady Bill gun control law and legislation that would have allowed shooting victims to sue gun manufacturers. (Some of Ms. Clinton's local surrogates took the same line today.) Asked if she thought Mr. Sanders was tough on guns, Ms. Clinton, a very experienced debater, was quick: No. While Mr. Sanders argued the liability legislation was "a large and complicated bill"—he expressed concern small businesses could be sued—Ms. Clinton shot back.
"I voted against it. I was in the Senate at the same time—it wasn't that complicated to me. It was pretty straightforward to me that he was going to give immunity to the only industry in America—everybody else has to be accountable, but not the gun manufacturers."
Mr. Sanders—who shouted often during the debate—argued nothing would change until there is a consensus on gun control and he said there was consensus about a need for expanded background checks and an end to the gun show loophole. Mr. O'Malley, who later named the NRA as the enemy of which he was most proud, jumped into the fray, arguing Maryland passed gun laws without infringing on the sportsman culture Mr. Sanders was alluding to in arguing his state was rural.
Ms. Clinton also sought to hit Mr. Sanders on his economic policy. Asked by debate moderator Anderson Cooper whether it was realistic that Mr. Sanders could win as a self-described socialist, Mr. Sanders argued he was fighting against a rigged economy and looking to Denmark as a model.  "We are not Denmark. I love Denmark, but we are the United States of America," Ms. Clinton said.
Meanwhile, Ms. Clinton defended her own liberal bona fides. Asked about her shifting policies, she argued she was more of a pragmatist in the line she's probably hoping everyone remembers: "I'm a progressive, but I'm a progressive who knows how to get things done."
BUT MR. SANDERS MAKES HIS MARK TOO
While he's had great success on the campaign trail, this was an opportunity for Mr. Sanders to introduce himself to a wider array of Democrats and non-Democrats alike. Overall, he was, well, Bernie. Brooklyn accent untamed by years in Burlington, Mr. Sanders offered a boisterous defense of his left-wing politics. He stumbled around foreign policy a bit—not his favorite area to discuss—but worked to shift questions about war to something he's more comfortable talking about, Democrats. He bashed the NSA's surveillance programs as "unacceptable." He scoffed at Ms. Clinton's assertion her plans for regulating banks and the financial industry were tougher than his.
"Congress does not regulate Wall Street—Wall Street regulates Congress," Mr. Sanders said.
Mr. Sanders also worked hard to connect with black and Hispanic voters—an area where Ms. Clinton has performed well and where Mr. Sanders, from an overwhelmingly white state, has struggled. His opening statement included figures on black and Hispanic youth unemployment and mass incarceration. Asked if black lives matter or all lives matter—a question that's hung up other candidates—Mr. Sanders was blunt.
"Black lives matter and the reason those words matter is the African-American community knows that on any day, some innocent person like Sandra Bland can get into a car and three days later she can end up dead in jail."
BERNIE AND HILLARY AGREED ABOUT THE E-MAILS
Ms. Clinton said she's "taken responsibility" for using a private email server during her time as secretary of state and has said it was a mistake. But she also painted the Republican inquiry into her email account as a political witch hunt—with a little help from the guy running the inquiry, who said it was intended to hit her poll numbers—and went on to assure voters she was "still standing. "Tonight I want to talk not about my emails, but what the American people want from their president of the United States," Ms. Clinton said.
And then, the moment that drew the biggest applause of the night, from Mr. Sanders.
"Let me say something that may not be great politics, but I think the she is right," Mr. Sanders said. "And that is that the American people are sick and tired of hearing about your damn emails."
MARTIN O'MALLEY TRIES TO BREAK OUT
Of the other three candidates, Mr. O'Malley is generally seen as the one with most promise—but he has struggled to gain any real support in the polls. Mr. Cooper didn't make it easy for him. Mr. O'Malley is running to the left of Ms. Clinton, but in a debate when candidates were leaning into the black lives matter movement, Mr. O'Malley was quizzed about lawsuits against zero-tolerance policing in Baltimore when he ran the city, which led to the incarceration of many people of color. He worked hard to hit Mr. Sanders on guns, repeatedly argued that he'd enacted policies other candidates on the debate stage were proposing when he governed Maryland, and brought up the wonky subject of repealing Glass-Steagall banking regulations. Will that be enough to get him out of the one percent zone? Maybe, but not by much.
SIZE (OF THE FIELD) MATTERS
The most obvious difference between this debate and the Republican presidential debate is the sheer size of the candidate pool, with 11 Republicans in CNN's prime-time debate last month. This field of five was much more manageable, and without Donald Trump's "carnival barker" act—to borrow a phrase from Mr. O'Malley—it seemed there was significantly more time to actually discuss issues. Candidates fielded questions on everything from college tuition to racial politics to climate change to that evergreen debate topic, marijuana. And nobody had to call another candidate beautiful, either.
JIM WEBB WANTS TEN MINUTES
People are going to remember two things about Mr. Webb after this debate. One is that it's been, like, ten minutes since the last time he talked, as Mr. Webb repeatedly argued to Mr. Cooper. The second: asked for his favorite enemy, he bragged about killing the guy who threw a grenade at him in Vietnam. That about sums it up.
HERE ARE SOME FREE CAMPAIGN SLOGANS FOR LINCOLN CHAFEE
Lincoln Chafee: A Block of Granite
Lincoln Chafee: I Have Had No Scandals
Lincoln Chafee: It's My First Day
OH YEAH, ONE MORE THING
Joe Biden didn't show up.