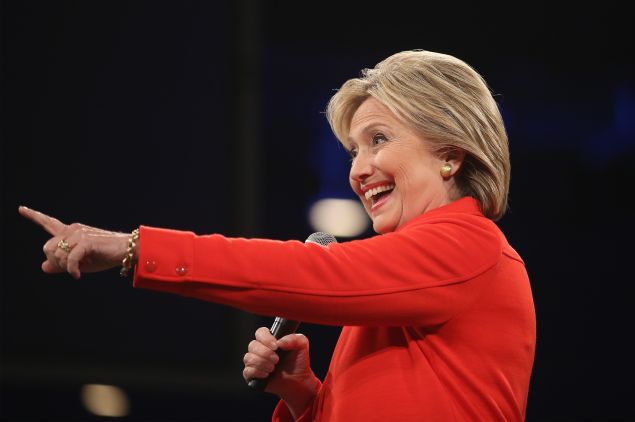 If endorsements and electoral history are any guide–and usually, they are–Hillary Clinton has New York in the bag.
The former Empire State senator and secretary of state unveiled her New York "Leadership Council" this morning, a collection of the state's elected officials, activists and donors who have endorsed her for president. The Council will be charged with building a volunteer team and campaign operation to help Ms. Clinton win New York State in the Democratic primary, and boasts many big names, including Gov. Andrew Cuomo, Sen. Charles Schumer, Sen. Kirsten Gillibrand, State Comptroller Thomas DiNapoli, Attorney General Eric Schneiderman and Assembly Speaker Carl Heastie.
"Having known and worked with her for more than two decades, I know in my head and heart that Hillary Clinton is the most qualified and capable candidate to become our next President," Mr. Cuomo said in a statement. "Hillary's record as a tireless fighter for middle class families, civil rights, and putting people over special interests make it clear that she will be a president who moves New York and our country forward."
Missing from the leadership, of course, is Mayor Bill de Blasio, who is withholding his endorsement until Ms. Clinton proves to him she has a sufficient progressive vision. Many of his close liberal allies in city government, including Council Speaker Melissa Mark-Viverito and Public Advocate Letitia James, are in Ms. Clinton's corner. Bertha Lewis, a liberal activist with close ties to the mayor, is also on Ms. Clinton's leadership team, as is Mr. de Blasio's beloved old boss, former Mayor David Dinkins.
Silda Wall Spitzer, the ex-wife of former Gov. Eliot Spitzer, is another notable name on Ms. Clinton's team.
Unlike in 2008, when Ms. Clinton lost to now-President Barack Obama, New York elected officials are not drawn to the progressive firebrand challenging Ms. Clinton this time, Sen. Bernie Sanders of Vermont. Politicians who broke for Mr. Obama, like Congressman Hakeem Jeffries of Brooklyn, are now supporting Ms. Clinton.
Mr. Sanders is focusing intensely on winning Iowa and New Hampshire, the first two states to vote in the primary. The Brooklyn native does not appear to have any campaign presence in New York.
New Yorkers will head to the polls to vote in the Democratic primary next April. Some pundits expect the race will be decided by then.
View the full list of Ms. Clinton's New York backers below:
Gov. Andrew M. Cuomo
Lt. Gov. Kathy Hochul
State Comptroller Thomas DiNapoli
Attorney General Eric Schneiderman
Sen. Charles Schumer
Sen. Kirsten Gillibrand
Congresswoman Yvette Clarke
Congressman Joseph Crowley
Congressman Eliot Engel
Congressman Brian Higgins
Congressman Steve Israel
Congressman Hakeem Jeffries
Congresswoman Nita Lowey
Congresswoman Carolyn Maloney
Congressman Sean Patrick Maloney
Congressman Gregory Meeks
Congresswoman Grace Meng
Congressman Jerrold Nadler
Congressman Charles Rangel
Congresswoman Kathleen Rice
Congressman Jose Serrano
Congresswoman Louise Slaughter
Congressman Paul Tonko
Congresswoman Nydia Velazquez
State Senator Andrea Stewart-Cousins, Democratic Leader
State Senator Michael Gianaris, Deputy Democratic Leader
State Assemblyman Carl Heastie, Speaker
State Assemblywoman Earlene Hooper, Deputy Speaker
State Assemblyman Joseph Morelle, Majority Leader
State Assemblyman Herman "Denny" Farrell, DNC
State Assemblyman Keith L.T. Wright, New York County Democratic Chair
State Assemblyman Marcos Crespo, Bronx County Democratic Chair
State Assemblyman N. Nick Perry, Black & Puerto Rican Caucus Chair
State Assemblywoman Annette Robinson
State Assemblyman David Buchwald
State Assemblywoman JoAnne Simon
State Assemblyman Phil Ramos
New York City Public Advocate Letitia "Tish" James
New York City Comptroller Scott Stringer
New York City Speaker Melissa Mark-Viverito
City Council Member Stephen Levin
City Council Member Margaret Chin
Bronx Borough President Ruben Diaz Jr.
Manhattan Borough President Gale Brewer
Queens Borough President Melinda Katz
Erie County Executive Mark Poloncarz
Suffolk County Executive Steve Bellone
Ulster County Executive Mike Hein
Buffalo Mayor Byron Brown
Syracuse Mayor Stephanie Miner, DNC
Rochester Mayor Lovely Warren
Albany Mayor Kathy Sheehan
Hempstead Mayor Wayne Hall Sr.
Ithaca Mayor Svante Myrick
Town of Babylon Supervisor Rich Schaffer, Suffolk County Democratic Chair
Town of Huntington Supervisor Frank Petrone
Town of North Hempstead Supervisor Judi Bosworth
Nassau County Legislator Kevan Abrahams, Minority Leader
Town of Hempstead Councilwoman Dorothy Goosby
Town of North Hempstead Councilwoman Lee Seeman
David N. Dinkins, 106th Mayor, City of New York
Carolyn McCarthy, former congresswoman
Tim Bishop, former congressman
Jerry Jennings, former Mayor of Albany
Christine Quinn, former New York City Council Speaker
Rev. Floyd H. Flake, Greater Allen AME Cathedral
Rev. Dr. Calvin Butts, Abyssinian Baptist Church
Michael Mulgrew, President, UFT
Karen Magee, President, NYSUT
Gary LaBarbera, President, Building & Construction Trades Council of Greater New York
Greg Lancette, President, Central-Northern New York Building & Construction Trades Council
Steve McInnis, President, NYC District Council of Carpenters
George Miranda, President, Teamsters Joint Council 16
Henry Garrido, Executive Director, District Council 37
Ernest Logan, President, Council of Supervisors & Administrators
Fran Turner, Political Director, CSEA
DaVon Lomax, Political Director, District Council 9 New York IUPAT
Ron Warner, International Association of Machinists
Carlo Scissura, President & CEO, Brooklyn Chamber of Commerce
Professor Rhea Jezer, Ph. D., Symposium on Energy in the 21st Century
David Kilmnick, CEO, Equality Long Island
Brette McSweeney, Eleanor's Legacy
Hazel Dukes, NYS NAACP
Tonio Burgos, DNC
Maria Cuomo Cole, DNC
Sheila Comar, DNC, Washington County Democratic Chair
Jennifer Cunningham, DNC
Barbaralee Diamonstein Spielvogel, DNC
Emily Giske, DNC
Jay Jacobs, DNC, Nassau County Democratic Chair
Sarah Kovner, DNC
Dennis Rivera, DNC
Gerry Sweeney, DNC
Robert Zimmerman, DNC
Judith Hope, Former Chair, New York State Democratic Committee
Trudy L. Mason, Vice Chair, New York State Democratic Committee
Frank Seddio, Kings County Democratic Chair
Jeremy Zellner, Erie County Democratic Chair
Reginald Lafayette, Westchester County Democratic Chair
Marvin Brance McMoore
Michael Corbett
Bryan Ball, President, Western NY Stonewall Democrats
Kevin Law
Silda Wall Spitzer
Suzy Ballantyne
Heather Beaudoin
Bertha Lewis
Jerry H. Goldfeder
Patrick Jenkins
David Pollak
Jack Mannion
Ramon Martinez
Tracey Brooks
Leecia Eve
Karen Persichilli Keogh
Cathy Calhoun
Resi Cooper
Chrstine Falvo
Robin Chappelle Golston