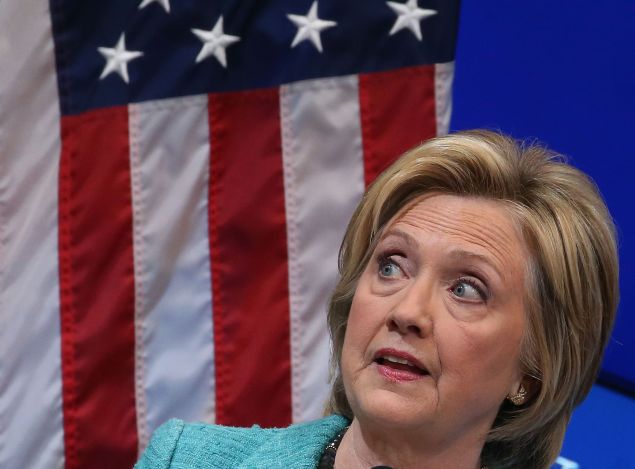 The drip, drip of Democratic presidential candidate Hillary Clinton's emails has revealed one narrative that doesn't seem to have been played up in the media.
Hillary Clinton is technologically illiterate. If she were a Republican man, she would be chastised for being so bad at, well, everything that has to do with technology. Heck, if she were a Republican woman, she'd be ripped to shreds as a moron on par with how the media treated former Alaska Governor Sarah Palin or former presidential candidate Michele Bachmann. If either of those two women couldn't figure out how to find an NPR station, for example (as Ms. Clinton couldn't), they would be the subject of continuous mockery.
Saturday Night Live's repeated skits about Ms. Palin, for example, led many people to believe the former 2008 vice presidential candidate actually said she could see Russia from her backyard.
But with Ms. Clinton, the comedy sketches to date have been tepid (humorous, but tepid) and have avoided her obvious failings with technology. Now would be the time to list a couple examples of Ms. Clinton's—let's call them "disagreements"—with technology, but I think the sheer number of these instances needs to be pointed out. I'm also going to include some other instances of Ms. Clinton showing she's out of touch with regular people.
She can't figure out a fax machine
In one email revealed in an early batch, Ms. Clinton couldn't get a fax machine to work. Her top aide, Huma Abedin, tried repeatedly—via an email exchange—to help the former secretary of state.
Ms. Abedin: "Can you hang up the fax line, they will call again and try fax."
Ms. Clinton: "I thought it was supposed to be off hook to work?"
Ms. Abedin: "Yes, but hang up one more time. So they can reestablish the line."
Ms. Clinton: "I did."
Ms. Abedin: "Just pick up phone and hang it up. And leave it hung up."
Ms. Clinton: "I've done it twice now."
Ms. Clinton then sent a final email on the matter, writing, "Still nothing. Call Oscar if they need help. I'll be out of pocket for an hour or so."
She couldn't get her own tea
In one message, Ms. Clinton emailed an aide to ask that aide to, "Call Sarah and ask her if she can get me some iced tea."
So she knew who Sarah was, but either didn't know her email or couldn't be bothered to get up and ask Sarah for iced tea herself. Or get her own damn iced tea, for that matter.
She doesn't know how she pays her personal shopper
Ms. Clinton asked one her aides to work with "Jason" to prepare a menu. "Also, does he give me a monthly bill for the food he buys and prepares for me?" she asked.
She then requested a Human Rights Watch report about women's rights in Africa, before also asking what time Parks and Recreation and The Good Wife aired.
She also can't find an NPR station
In the most recent batch of released emails, we learned that Ms. Clinton couldn't find an NPR station in Long Island, and emailed several aides for help.
Ms. Clinton: "Can you find out for me what the NPR stations I can hear on Long Island are? I lost the WNYC signal half way down the island and can't figure out from Google what the next stations are."
3 HOURS LATER
Ms. Clinton: "Did any of you get this?"
She responded to an important national security email by asking about breakfast
Ms. Abedin sent Ms. Clinton a New York Times article about problems facing Libyan rebels. The email exchange occurred in 2011, more than a year before the attack on the U.S. Embassy in Benghazi.
In response to this article and the trouble brewing in Libya, Ms. Clinton responded: "The hotel manager asked me last night to try their special breakfast. They may try to send it up—did they?"
Priorities, am I right?
She couldn't figure out how to call the White House and didn't know her own phone number
Ms. Clinton tried to reach Diane Watson, a now-former congresswoman who was retiring in 2010. Ms. Clinton wanted to talk to her, and decided to try and go through the White House operator in order to do so. (I guess her Congressional office was out of the question?)
Ms. Clinton: "But right now I'm fighting w the WH operator who doesn't believe I am who I say and wants my direct office line even tho I'm not there and I just have him my home # and the State Dept # and I told him I had no idea what my direct office # was since I didn't call myself and I just hung up and am calling thru Ops like a proper and properly dependent secretary of state – no independent dialing allowed." [sic throughout.]
I'm sure there are even examples I didn't include here that I missed. There were other gems, but they didn't rise to the level of embarrassment that these did.
The bottom line is that there is a narrative here that is not being played out for Ms. Clinton the way it would be for a Republican. There's comedy gold here, but pointing this out about Ms. Clinton—a woman—would be seen as sexist, even though similar claims of technological incompetence and being too old and out-of-touch have been lodged against Republicans.
To be sure, there has been some ridicule (journalists roundly mocked her for the fax machine emails), but the overwhelming narrative about Clinton is still that, though she may be seen as untrustworthy, she is still a competent, intelligent and strong candidate. There's no way a Republican with these emails would be seen the same way.