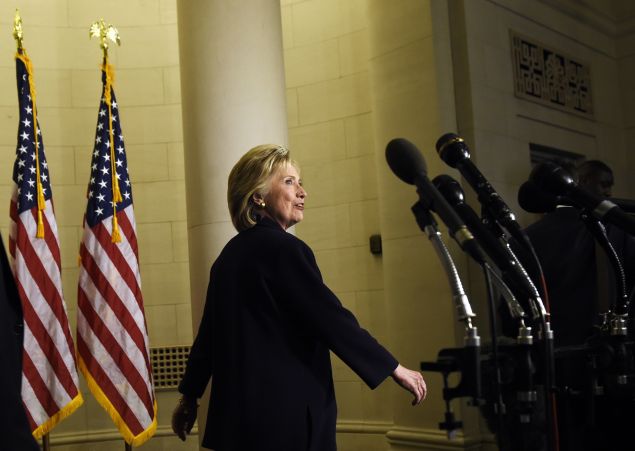 It is very possible that historians will someday view the last two weeks as the time that Hillary Clinton, who should now become the second Clinton to be called the comeback kid, won the Democratic nomination and potentially the presidency.
First, both Hillary Clinton and Bernie Sanders shined in the Democratic presidential debate, with the golden moment for both candidates provided by Mr. Sanders, who rose to the defense of Ms. Clinton against Republican efforts to turn the Clinton emails into a political issue.
For the Senator from Vermont that debate brought a classic Sanders moment, where he demonstrated the integrity and decency that makes him the social conscience of the Democratic Party, by telling a big truth even if it meant defending a political opponent. When Mr. Sanders said that he was sick and tired of hearing about the damn Clinton emails, he was speaking for most Americans who are not partisan GOP hacks.
For the former Secretary of State, that moment provided the supreme inflection point for an email issue whose prominence has begun to bore and annoy most voters. In the debate hall and throughout living rooms across the nation the Sanders defense of Clinton brought a resounding ovation from supporters of both candidates, who were applauding both candidates, with a spirit that put to shame the tone and substance of the GOP debates.
The second great triumph for Hillary Clinton occurred when Vice President Joe Biden announced this week that he will not be running for president. This came as no surprise to me—I had written for months that the vice president should not and would not run—but the Biden news stunned most pundits who paraded to television studios to correctly opine that the Biden withdrawal was a huge victory for the Clinton campaign. It was.
The Benghazi hearing was an unfair fight from the beginning, though not in the way Republicans tried to rig the game.
The third major moment for Ms. Clinton, and the coup de grace of one of the most powerful two weeks in modern presidential campaign history, occurred when the widely discredited and ill-fated Republicans on the House Benghazi Committee unsuccessfully attacked Ms. Clinton throughout an absurd, 11-hour inquisition.
To understand why the House Benghazi hearings are becoming a political debacle for Republicans and a presidential-level triumph for Ms. Clinton, let's begin with two key data points.
Before this week's 11-hour GOP inquisition began, according to Real Clear Politics the unpopularity of the Republican Congress had reached an astounding 78 percent. This public disgust against the Congress controlled by the GOP borders on mathematically impossible. In our divided nation, three-quarters of the American people agree on virtually nothing, but they agree that the GOP Congress has earned an unprecedented degree of repudiation and revulsion from voters.
The second revealing data point is that in a CNN/ORC poll taken before this week's hearing began, 72 percent of Americans believed that the hearings represented a partisan GOP attack against Hillary Clinton and not a good faith attempt to ascertain the true facts about what happened at Benghazi or how to prevent that tragedy from ever happening again.
Think about it. The GOP members of Congress who attacked Hillary Clinton for 11 straight hours in a partisan political hearing serve in a Republican Congress that more than three quarters of the nation disapproves of, and attacked Ms. Clinton from the dais of a Republican-dominated committee that is distrusted by almost three quarters of the nation.
The Benghazi hearing was an unfair fight from the beginning, though not in the way Republicans tried to rig the game. The former Secretary of State conducted herself with a dignity, stature and professionalism befitting a person who would not only be the first woman president but with the gravitas and depth of a candidate with the potential to be an outstanding president.
By contrast to the presidential-level stature projected by Ms. Clinton, her GOP inquisitors conducted themselves like a bad guy prosecutor from a Grade B film of the 1940s who tried to send an innocent person to the gas chamber, only to be thwarted when the good guys won at the end of movie!
When I call the hearing an inquisition, I mean it literally. The notion of partisan Republican members of Congress hectoring, insulting and berating a witness for 11 straight hours with a prosecutorial tone was reminiscent of the practices of the Crown during the original Spanish Inquisition. Why do I suspect that if one of the Republicans had proposed the use of physical torture against Ms. Clinton, it would have been opposed by Democrats and defeated by a party line vote? It bordered on torture to ask a cable television audience to watch this kangaroo court for 11 hours, let alone to subject to this hostile and abusive interrogation for almost one half of a 24-hour day!
SEE ALSO: Benghazi Investigation Spends Fortune to Harass Hillary Clinton
And yet, from the beginning to the end of this discredited congressional inquisition Ms. Clinton remained cool, calm and collected and answered these hostile attacks of partisan Republicans with substance, depth and commanding skill.
After seven previous Congressional investigations, and a review board led by a former senior diplomat, Thomas Pickering, who served multiple presidents, including Ronald Reagan, and retired Admiral Michael Mullen, a former chairman of the Joint Chiefs of Staff, what new evidence did this partisan inquisition bring forth?
Regarding what caused the Benghazi tragedy, nothing beyond what had already been discussed by all of the previous investigations was revealed by committee Republicans. Regarding how to prevent the Benghazi tragedy from ever being repeated, that was not even mentioned in a serious manner.
Voters are more likely think Sidney Blumenthal sells automobiles in New Jersey than to think he should matter in a presidential election!
By the end of the hearing, Republicans were reduced to insulting Mr. Pickering and Admiral Mullen for not doing an adequate job on the review board, and then retracting their insults against these two great patriots when challenged by Secretary Clinton and committee Democrats.
It is no exaggeration to note that by the ninth and 10th hour of the interrogation, Republicans knew they were losing the day. They began to show increasing desperation by talking louder and faster as they insulted Ms. Clinton with prosecutorial-sounding questions and began to literally sweat under the television lights while Ms. Clinton coolly and calmly continued to respond.
The highlight, or low point, of the inquisition against Ms. Clinton that Republicans had planned for more than a year was an attack against Clinton friend Sidney Blumenthal that had nothing to do with what caused the Benghazi tragedy or how to prevent similar tragedies from occurring in the future.
If Republicans think they will win a presidential campaign by attacking Sidney Blumenthal, they are dreaming. As I said in a television interview on NewsMax TV on Thursday evening, voters are more likely think Sidney Blumenthal sells automobiles in New Jersey than to think he should matter in a presidential election!
What will matter in a presidential election is that if Hillary Clinton is the Democratic nominee and debates a Republican, she will ask why so many Republicans supported cutting the budget of the embassy security program from pre-Benghazi levels by $200 million to $300 million, as proposed in a GOP budget offered by Rep. Paul Ryan.
Ms. Clinton will politically obliterate any GOP nominee who argues that the way to prevent future tragedies like Banghazi is to impose these draconian budget cuts that would eviscerate America's ability to protect embassies in trouble spots around the world.
It has indeed been a hugely successful two weeks for the Clinton campaign. Her stellar performance in the debate, the withdrawal of Vice President Biden from the campaign and her outstanding performance before a widely discredited Benghazi committee are all major events compressed into a short period of time.
When Ms. Clinton addresses the Iowa Democratic dinner this weekend, she will be greeted by thunderous applause and standing ovations.
Republicans would be well-advised to close down their Benghazi committee entirely, and consign it to the dustbin of partisan failures where it belongs.