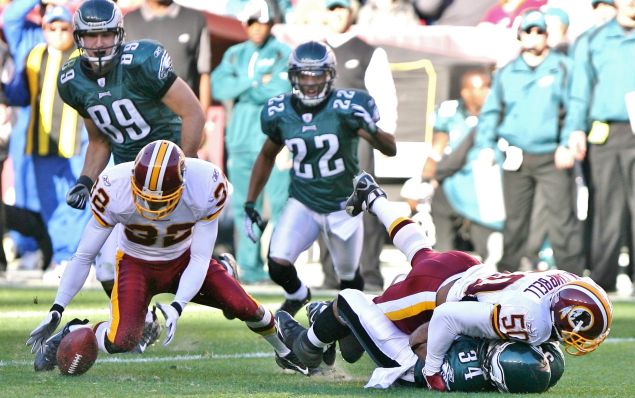 You can't switch on an NFL game on Sundays without watching a blitz of commercials promoting either FanDuel or DraftKings. According to iSpot.tv, the two new fantasy sports companies shelled out more than $25 million combined on advertising and raked in over $57 million in revenue in the first week of the football season, double the amount bet in Las Vegas sports books during the same period. In 2015 alone, FanDuel projects it will pay out more than $2 billion in prize money, a spokesperson for the site told the Observer.
Due to a recent data breach at DraftKings, along with the rapid growth, the industry has been attracting a heightened level of scrutiny from regulators and law enforcement. New York Attorney General Eric Schneiderman recently launched an investigation into insider trading accusations involving DraftKings and FanDuel, and New Jersey Representative Frank Pallone Jr. has been agitating for Congressional hearings. ESPN also scaled back DraftKings' advertising on the network. But with so much money involved, don't expect this gambling juggernaut to disappear.
The booming fantasy gambling industry can thank none other than the Christian right for its existence. Legislators wrote a loophole into a 2006 anti-gambling law, the Unlawful Internet Gambling Enforcement Act (UIGEA), which was subsequently inserted into an uncontroversial port security bill without a public vote or the knowledge of most members of Congress. The bill then passed both chambers with near unanimous support in one of the last votes Congress took before the 2006 election.
Like many other moralistic prohibition campaigns, this effort to curtail a human behavior nearly as old as civilization failed. But in this instance the prohibitionists' efforts unintentionally led right to a massive expansion of the online sports betting, in the form of daily fantasy websites.
Let's go to the replay.
Legislators intended the UIGEA to halt money transfers between U.S. players and offshore gaming companies. The most immediate impact was on the online poker trade. In the three years following the 2003 World Series of Poker, when the aptly-named Chris Moneymaker parlayed a $39 online tournament into a cool $2.5 million, the online poker world had boomed. This explosion in online gaming triggered alarm bells among interests traditionally opposed to the expansion of gaming, including the Christian right.
After UIGEA was signed into law, several online poker sites excluded players from the United States. The Department of Justice indicted PokerStars and Full Tilt Poker (which continued to accept American players) in 2011 for, among other things, violating provisions of UIGEA. (Full Tilt, it turned out, was a Ponzi scheme, strengthening arguments for the need to legalize onshore online gambling operations, instead of relying on companies based in tax havens like Guernsey.)
At the time, when I was working for Democratic Leader Harry Reid, Senate scuttlebutt was that Majority Leader Sen. Bill Frist had slipped UIGEA into the port bill to ingratiate himself with the Christian right. Dr. Frist needed evangelical voters to get out and vote that November if he hoped to retain a Republican majority in the chamber. He also needed their support for a rumored but never materialized presidential campaign. Dr. Frist did not respond to a request for comment from the Observer.
Earlier that year, the International Herald Tribune reported, "Gambling has long been a politically sensitive issue, and online betting draws opposition from evangelical Christians, an important Republican constituency." The paper went on to specifically note that conservative Christian organizations Focus on the Family and the Traditional Values Coalition advocated "in favor of…stiffening penalties" for online gaming.
Following the law's passage, the Christian conservatives celebrated with something of a touchdown dance. Chad Hills of Focus on the Family told the Chicago Tribune that before the passage of the law, online gaming companies "were making a mockery of our U.S. policy, they were making a mockery of our Congress."
The next year, after Democrats gained the majority in Congress, House Financial Services Committee Chairman Barney Frank launched an effort to repeal UIGEA. In response, the NFL's lobbyist, Bill Wichterman, a former aide to Dr. Frist, sent an email to conservative Christian groups asking they sign a letter from Focus on the Family opposing the quest to roll back UIGEA. "The threat posed by the Frank legislation is very real, and we must actively work against it," he wrote. Among the groups that ended up signing the letter was the Christian Coalition.
Congress took no action and Mr. Wichterman, who again swung through Washington's revolving door, moving from his lobbying firm, Covington and Burling, to the White House for the final few months of the Bush administration, where he served as the administration's "liaison to the conservative movement." While serving in that role he was accused of aggressively rushing through the implementation of the law before Barack Obama was sworn into office.
The NFL's interest in this legislation went beyond their longtime opposition to sports gambling. An exemption was written into UIGEA, which ensured the law did not prohibit "participation in any fantasy or simulation sports game or educational game or contest in which (if the game or contest involves a team or teams) no fantasy or simulation sports team is based on the current membership of an actual team that is a member of an amateur or professional sports organization."
From that language, daily fantasy sports betting was born.Previously, professional sports leagues had been publicly skeptical of gambling operations. Lobbying for UIGEA, representatives of NFL, MLB, NBA, NHL and NCAA wrote to Congress in 2006, "Sports gambling threatens the character of team sports." They continued: "Our games stand for the values of clean and healthy competition, and rewarding teamwork, preparation and honest effort.  When sports gambling is prevalent, the games begin to represent a 'quick fix,' the desire to get something for nothing, and even corruption."
Now each of these leagues, with the exception of the NCAA, are profiting from daily fantasy sports. The NBA owns an equity stake in FanDuel and its President for Global Operations and Merchandising Salvatore LaRocca serves on the company's board. DraftKings entered into a partnership agreement with MLB. Additionally, 15 NFL teams have partnership or promotional agreements with either company.
The leagues are also indirectly benefitting from the increase in fantasy sports. And not simply from the massive television advertising expenditures made by the industry. A spokesperson for FanDuel tells the Observer, its clients "consume 40 percent more [sports] content after they start playing on the site."
While NBA commissioner Adam Silver recently came out in favor of legalized gambling, other sports take a different approach in squaring the profit they are making with their previous hardline stance against gambling—denial.
Instead of accepting the fact that many American fans derive enjoyment from football by wagering on it, the league proffers a laughably absurd claim. "Daily fantasy," its spokesperson Brian McCarthy maintains, "is considered a game of skill and not gambling."
Joe Asher, CEO of William Hill US, a British bookmaker that operates in Nevada, disagrees: "Of course it's gambling," he said. "You're risking money on something of an uncertain outcome, and to me that sounds like gambling."
As for Christian conservatives and the role they played in making this law a reality, they no longer can be bothered to address the issue. Allison Meggers of Focus on the Family responded to questions regarding the expansion of online gambling as the result of UIGEA's passage by telling the Observer, "Gambling isn't an area that we currently cover."
For millions of Americans sweating the results of NFL games, hoping their quarterback throws for several touchdowns or their running back is not injured, the notion that this isn't gambling is as ridiculous as the previous moralizing on the issue.
Ari Rabin-Havt is host of The Agenda on SiriusXM. He has served as an adviser to Senate Majority Leader Harry Reid, as well as Al Gore and John Kerry's presidential campaigns. He is the author of the forthcoming book, Lies Incorporated: The World of Post-Truth Politics.