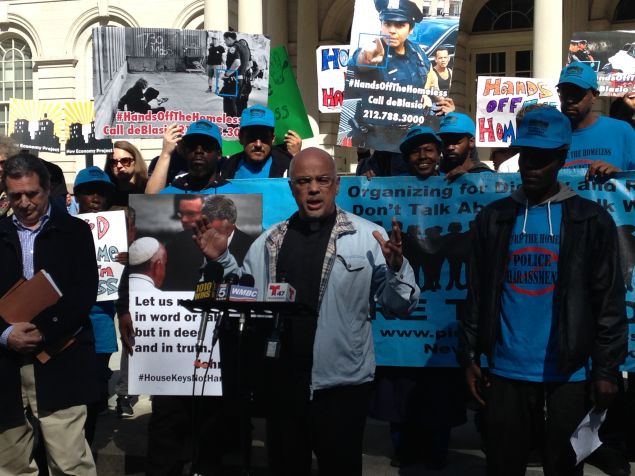 Activists affiliated with the group Picture the Homeless protested outside City Hall this afternoon against what they claimed was a continuing campaign of police harassment of the indigent under NYPD Commissioner Bill Bratton—and a lack of strong solutions from Mayor Bill de Blasio.
Left-wing figures ranging from former New York Civil Liberties Union Executive Director Norman Siegel to performance artist "Reverend" Billy Talen to Park Slope Councilman Brad Lander turned out to object to the police department policy of clearing and cleaning homeless encampments on public property, which they alleged was a violation of the court-defined rights of the indigent. The rhetoric against Mr. Bratton and the police department was at times hot and colorful.
"It is incomprehensible for me to see that the gang of thugs called the NYPD, that is led by Bratton, and that really report to our mayor has decided to begin to harass and bully people," said Rev. Samuel Cruz of Trinity Lutheran Church in Brooklyn. "We're saying 'no, this has to end.' Bratton the gangster and his criminals have to stop this."
Mr. Siegel asserted that the NYPD mistreated the homeless because many of them are "dark-skinned people," and equated their struggles to the civil rights movement of the 1960s.
"This city has engaged in racism. It doesn't deal with the civil rights and the race aspects of homelessness," Mr. Siegel said. "For 30 years we have dealt with this issue. No longer should we take this, no longer should we accept this kind of approach."
Mr. Siegel co-wrote an opinion piece the Observer published this morning that laid out a series of proposals for handling the mushrooming street population—points Mr. Cruz and others echoed at the rally. Among the recommendations were the construction of apartments for people of the lowest incomes—whom they alleged are left out of the mayor's affordable housing agenda—supportive employment programs, more sanitation services and garbage receptacles, more public benches and protected areas for homeless people to use and increased social services, especially for substance abuse.
There was a general sense of disappointment at the event in Mr. de Blasio, whom some claimed had lost touch with the liberal, pro-police reform platform he ran on in 2013.
"We saw him with his family, and something touched us, and 75 percent of us voted for him. We felt a kind of love, and a kind of, you know, 'the police won't be the same anymore, because our leader is willing to show himself that way,'" said Mr. Talen, known for his "Church of Stop Shopping" show. "Here was this man. Now what has happened? He has betrayed his family here."
Mr. Lander arrived at the very end of the rally, well after the other speakers had made their remarks. He argued that the Community Safety Act, which he co-sponsored, shielded people from targeted enforcement because of their housing situation just as it protected them from special attention due to their skin color.
"We do not take enforcement action against people based on who they are. We don't do it if they're African-American, and we don't do it if they're Muslim, and we don't do it if they're lesbian or gay, and we don't do it if they're transgender and we don't do it if they're homeless," he said.
The councilman, a leader in the Council's de Blasio-aligned Progressive Caucus, declined to back up Mr. Cruz's or Mr. Talen's statements and argued that increased NYPD attention to the homeless was a reaction to the increased population—not a reflection on the leadership of the mayor or the commissioner.
The mayor has repeatedly emphasized that when the NYPD clear an encampment, social workers accompany them to offer services—services he has committed some $22 million toward, part of a larger four-year $1 billion anti-homelessness effort. His office touted his having allocated 1,200 apartments across the city for the indigent overseen the transition of some 38,000 people out of the shelter system.
"The de Blasio administration has consistently taken a humane and constitutional approach to serving the City's homeless population," a spokeswoman said in a statement sent to the Observer.
Updated to include comment from Mr. de Blasio's office.