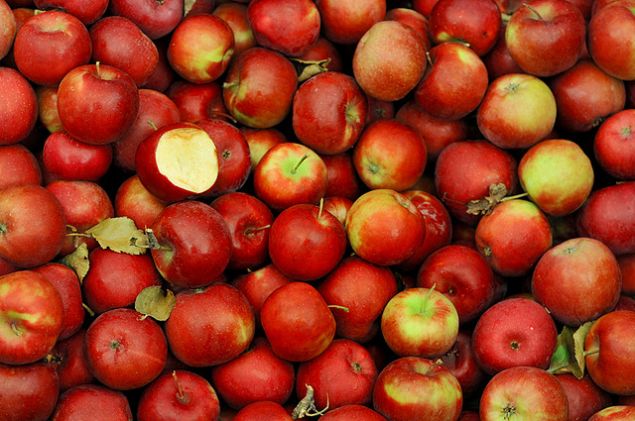 There's something about autumn—the leaves change, our wardrobes change. But that's not all. Our food and drink preferences change, as well, and this shift in palate applies to cocktails menus most of all.
In the summer, we crave booze that's spritzy, refreshing and packed with tropical flavors. It's why rosé and margaritas fare so well during June, July and August. Mid-September, however, there's no longer as much of a reason to cool off, and we begin looking for cinnamon, spice and everything nice in our cocktails.
No drinks achieve this better than apple-based cocktails, which come in both the warm and cold varieties. And most importantly, fall is when apples are harvested, making them the freshest cocktail ingredient of the season. Be it vodka, rum, whiskey, tequila, brandy or wine, here are a few ways to drink your poison with a healthy dose of the fruit that keeps the doctor away:
The Baked Apple 46
2 oz. Maker's 46
1/2 oz. part apple brandy
1/4 oz. part cinnamon syrup
2 dashes baked apple bitters
Garnish with a smoked cinnamon stick and a lemon twist
Fill rocks glass with ice and set aside. Combine Maker's 46, apple brandy, cinnamon syrup and apple bitters into a mixing glass. Fill with ice and stir for 10 seconds. Empty out rocks glass with ice. Take a lighter and heat the end of the cinnamon stick—when it start to smoke, rim it around the inside of the glass. Strain into the rocks glass with a 2-inch ice cube. Zest a lemon twist and put it inside.
Hot Apple Rum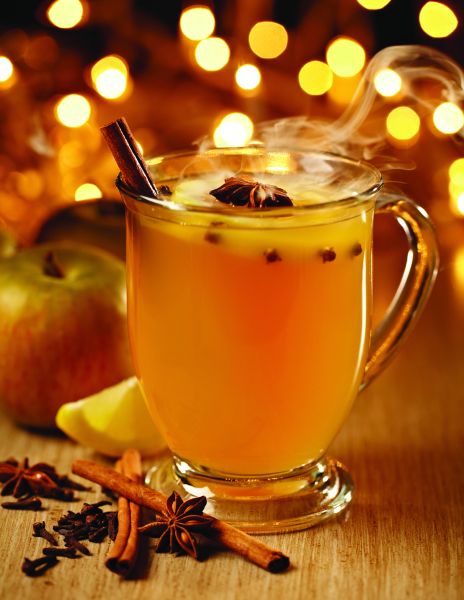 1 oz. Sugar Island spiced rum
2 oz. apple cider
3 slices of orange
4 cinnamon sticks
Garnish with a cinnamon stick
Combine ingredients in a Crock-Pot and stir, heat up and serve as needed. 
Apple Hinny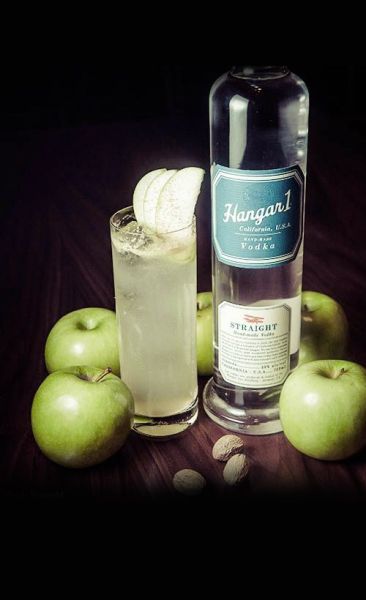 1.5 oz. Hangar 1 vodka
1 oz. fresh green apple juice
1/2 oz. lime juice
1/2 oz. ginger beer
Nutmeg dusting
Garnish with an apple fan
Ménage Apple Turnover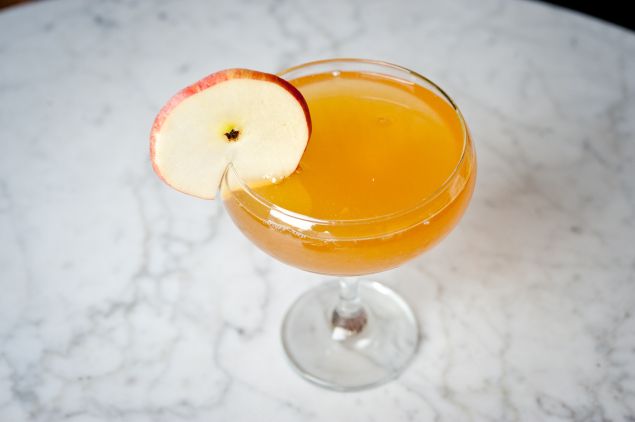 1.5 oz. Ménage à Trois vodka
1/4 oz. allspice dram
1/4 oz. Leopold apple liqueur
1/4 oz. lemon juice
1/4 part cane juice
Garnish with two apple slices and cinnamon
Shake and strain over ice in rocks glass. Garnish with a cinnamon and apple slices.
Era Ora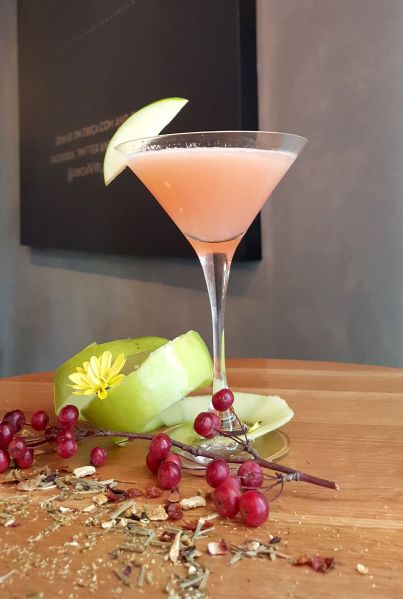 2 oz. chamomile-infused tequila
1/2 oz. Dimmi Liquore di Milano
.5 oz. citrus mix
1/2 oz. honey syrup (equal parts honey/filtered water)
Garnish with apple slices
In a shaker, muddle the apple and add the ingredients. Shake with ice for 20 seconds, and then pass through a double strainer into the chilled martini glass. Garnish with a slice of apple on rim of glass.
Apple Spice Margarita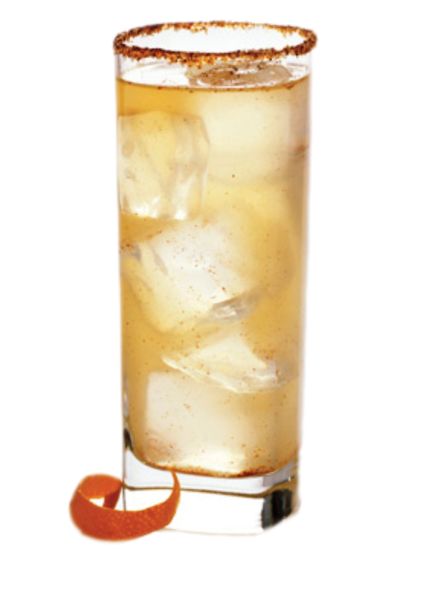 2 oz. CRUZ Reposado tequila
Splash of peach schnapps
4 oz. apple cider
1 lime squeezed
1.5 oz. filtered water
Green Apple Cup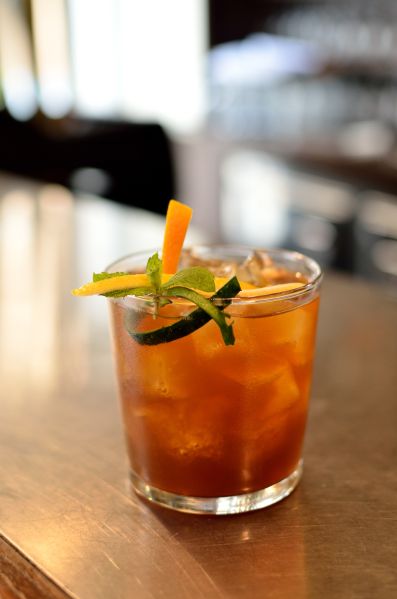 1.5 oz. Amaro Lucano
1.5 oz. green apple juice
1.5 oz ginger ale
Garnish with slices of cucumber, lemon and orange and sprig of mint
Apple Cider Bellini
1/4 oz. fig-infused vodka or liqueur
3/4 cup apple cider
Prosecco
Powdered cinnamon
Granulated sugar
Pour a splash of the fig vodka into a shaker and add the cider and shake to combine. Pour the cider mixture about 1/4 of the way into each champagne flute. Top with Prosecco and add a cinnamon-sugar rim for a festive touch.
Heated Affair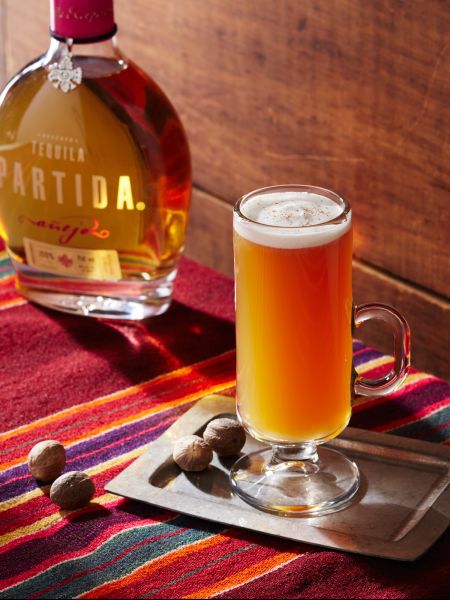 2 oz. Partida Anejo tequila
6 oz. hot spice apple cider
Garnish with fresh nutmeg over heavy cream
In a small warm wine glass, add tequila and hot apple cider. Float heavy cream and sprinkle with nutmeg.
Big Apple Boulevardier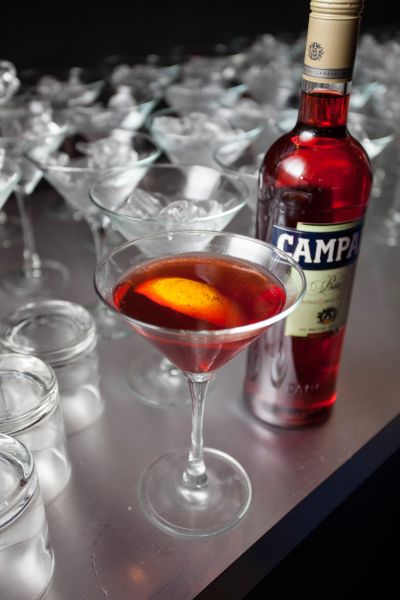 1 oz. Wild Turkey 101 rye
1 oz. Campari
1 oz. apple-spiced vermouth
Garnish with an orange twist
Fired Up!
1.5 oz. Jack Daniel's Tennessee Fire
1 oz. apple juice
Ginger beer
Garnish with apple slices
Shake Jack Fire with apple juice and ice. Strain into a collins glass over fresh ice and top with ginger beer.
Unfiltered Apple Rye Collins
1.5 oz. Belvedere vodka
1/2 oz. dark rum
3/4 oz. lemon juice
3/4 oz. simple syrup
1.5 oz. unfiltered apple cider
Garnish with red apple slices
Combine all the ingredients in a cocktail shaker with ice and shake moderately. Strain into an iced collins glass and garnish.
The Westbourne Punch
9 lemons
1 English cucumber
1.5 bottles Martin Miller's gin (Westbourne strength)
1 gallon fresh press apple cider
1.5 oz. elderflower liqueur
Fresh mint leaves
Slice 6 lemons and 3/4 cucumber put in large punch bowl. Add gin, the juice of three lemons, apple cider and elderflower liqueur. Slap 10 to 15 mint leaves and add ice.