On November 1, tens of thousands of runners will take on the legendary 26.2-mile race through New York City's five boroughs—a stunning achievement for any athlete, to be sure, but particularly for Jimmy Choi, an accomplished distance runner who also happens to have Parkinson's Disease. Since his diagnosis at age 27, the now-39-year-old Chicago resident has 53 half-marathons and eight—soon to be nine—marathons under his belt. Running, Mr. Choi says, is one of the best drugs out there.
But running—and even walking—was not always a possibility for Mr. Choi. He "lived in denial," he told the Observer, for the first eight years following his diagnosis, doing little to fight back against his symptoms. "I let the Parkinson's progress to the point where I needed to walk with cane," he said, "and I started to gain weight because of a less active lifestyle."
That all changed when he was carrying one of his children down the stairs, and fell. To be there for his kids as they grew up, he would have to get active.
"Inspiration set in," he said.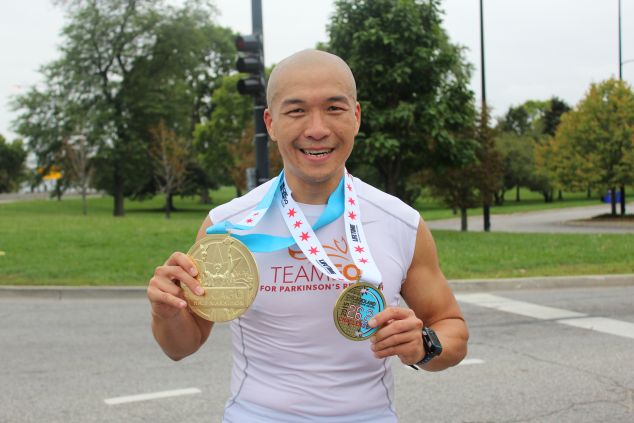 Mr. Choi started signing up for clinical trials, and was eventually selected to try a new form of stem cell therapy. Over the course of three procedures spanning two-and-a-half years, participants in the trial had stem cells injected into their brains to help generate dopamine. The trial has since lost funding, perhaps because its results were not compelling enough, but Mr. Choi, for one, noticed a change.
"Whether or not I was a placebo, I still don't know," Mr. Choi said, "but all I know is whatever happened during that procedure, it was the beginning of a turnaround for me."
During the rehab process, Mr. Choi realized that the more activity he was doing, the better he felt. He started walking around the block, which progressed to jogging, which progressed to running. Shortly after his final stem cell injection in 2012, he ran his first 5K, with a time of 30 minutes.
The accomplishment was met with mixed emotions. "I'm very happy that I'm able to complete runs, but at same time, I hate what is happening to my body," he said. "After my first 5K, I was 36 or 37—it shouldn't be that big of a celebration just for me to finish a three-mile run."
Then there were the physical difficulties: Mr. Choi had to re-learn how the human body moves when it is running. He was used to the way his body naturally moved with Parkinson's disease—a so-called "shuffle," with his feet dragging on the ground and his right arm not swinging. He had to start telling himself to exaggerate all of his steps. "I had to do a lot of mental cues to tell myself to pick up my feet and move my arms," he said. "A lot of times I'm not even paying attention to where I'm going because I'm focusing on left, right, left, right."
Despite the challenges, running became a drug for Mr. Choi.
"I'm not a scientist, but if you think about it, a runner's high is endorphins being released in your brain," he said. "When you have a dopamine deficiency, endorphins are a good substitute." Forty-five minutes to an hour after completing a race, Mr. Choi noticed he would start feeling great, and that the feeling would last over the next 24-hour period.
"It became my therapy—running became my drug," he continued. "If I don't run for 24 hours or a little bit longer, I sort of fall into how I was before." Running, he said, has helped him better manage his "high" and "low" periods—in other words, the times when his symptoms are more prevalent than others. "I think because of running, my low periods happen less often," he said, "and when they do happen, they're shorter in duration."
Later in 2012, the newly-active Mr. Choi decided to run the Chicago Marathon. Tickets were sold out, so he signed up to run with Team Fox, the grassroots community fundraising program associated with the Michael J. Fox Foundation for Parkinson's Research.
"What I thought was just a ticket into a race," he said, "became probably one of the biggest and most life-changing decisions I've made."
Since joining Team Fox, Mr. Choi has become close friends with other runners suffering from—and fighting against—Parkinson's Disease. The community, he said, "has become so vital in my own healing and support system." And Mr. Choi gives back; by running with Team Fox, he has raised roughly $40,000 for Parkinson's Research.
Besides through fundraising, Mr. Choi hopes he can help other Parkinson's patients by setting an example.
"If I can get one person out of their chair, that's a win for me," he said.
While others may take a long, long rest after completing the New York Marathon, Mr. Choi has no plans to slow down.
"When I run, I'm thinking that I'm trying to stay ahead of the disease—that's how I approach it," he said. "If I can keep running, that means I am winning."