Reality, some say, bites. After all, isn't that's why we escape into art (among other things)? But these days, "virtual reality," an idea that's been around for a while but keeps inching closer to reality, has enabled us to escape into worlds that mimic three-dimensional existence in ways we've never experienced. This technology has totally transformed the film and gaming industries, and now some think it's going to revolutionize fine art.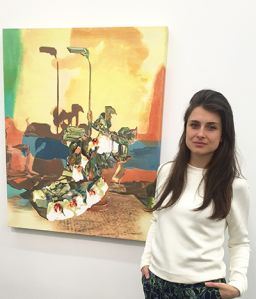 Enter Rachel Rossin, a Florida-born gaming junkie and self-trained programmer who also happens to be a compelling painter of large-scale oil paintings. In her current show "Lossy" at Zieher, Smith and Horton, up through November 14, the artist meshes her talents and interests together, bringing the old world (painting) to the new (VR). The results are like nothing we've seen before.
We got the chance to look at her paintings and her Oculus Rift works—virtual reality artworks she created with tech company Oculus VR's new virtual reality goggles—as well as speak to her about dual practices. But before we spoke, I put on the goggles and checked out her VR piece, I Came and Went as a Ghost in Hand, myself.
Observer: Wow! This is freaky! [looking through goggles.] Are these 3D images drawn from the paintings in the gallery, or are the paintings drawn from the virtual reality?
Rachel Rossin: [Laughs] The paintings come out of the virtual environment. I use different textures as reference material from the 3-D virtual spaces you're traveling through right now.
So where does all of this imagery come from in the Virtual Reality works?
I work from physical captures from my home and studio. With photogrammetry [a way to measure depth data from photographs and recover exact surface points], I'm able to apply gravity and light to different parts of the meshes, creating a 3-D environment.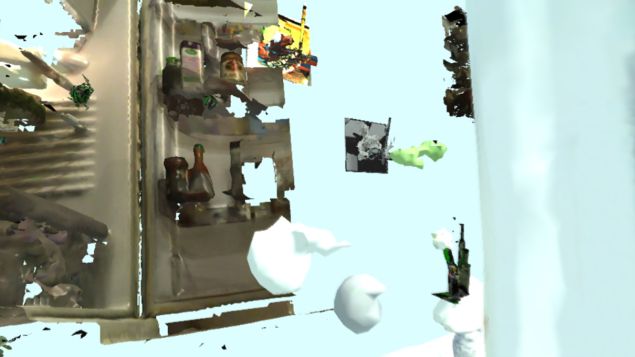 How does someone get ahold of these goggles anyway?
I'm what's considered a "content creator" for the maker of these goggles [Oculus], which means they loan their products to people that are trained to make art and games. I did a residency in Miami in 2014 called Borscht that is run by Lucas Leyva and Jillian Mayer, and they hooked me up with the first model of the Occulus Rift, the DK1. What you're wearing, the DK2, came from them as well. I'm also currently the VR fellow at the New Museum's tech incubator, which has helped get me access to tons of technology resources from the latest software to these new headsets (they're not on the market yet, but they'll be in stores this Christmas!)
I should note here that you do all the programming for these works yourself—with no formal training—but you also have a fine art degree…
I started programming at age 8; almost as long as I've been painting. But I've also worked in installation, performance and film, as well as painting and VR. I really consider physics or, better yet, "reality" my primary medium.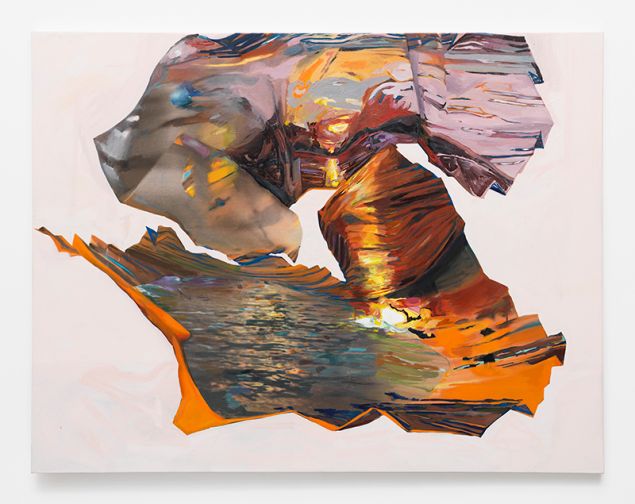 It's funny you say "reality," because your paintings end up looking bizarre, "surreal" in fact.
That is all due to the process of making the VR, which then becomes the subject of my paintings. In fact, that is why the show is called "Lossy," because I lose parts of the image info after crushing the data and compressing the views. It's called "decimating meshes." It makes the final images cleaner but breaks or loses data in the process.
So in GTA V, 2015, for instance, I took an animated landscape from the video game Grand Theft Auto 5 and applied cloth dynamics to it, which lets you twist and fold an image. Then I used that image as a reference for the painting. Cloth modeling is one of the harder things to simulate in any sort of game or software physics.
So in a sense, you're taking a VR replica, decimating it, and then replicating that reconfiguration into a "real life" painted thing?
More or less. Self Portrait, 2015, is an image of myself where I've applied gravity [via programming software] to the top of my head, giving it an active swoon. The texture is a painting from my last solo show. I've added color by wrapping the portrait in a "skin," which is actually an image of a painting from my last exhibition.
The way you abstract things in both VR and in your paintings really makes one think about the nature of these two ways we experience the world daily: "Reality" and a pseudo-reality that began with television and movies and has evolved into virtual reality. Is that the intention behind this show?
Yes. I think [the work] exposes what's ephemeral about technology and the nature of tech's short lifespan, but also how it moves quickly and shifts shape easily, especially compared to something like a painting.
But painting holds a different kind of space, and the richness of that medium has yet to be simulated. I love both mediums very much, and I'm working with painting because I think it holds a significance that virtual reality can't yet.