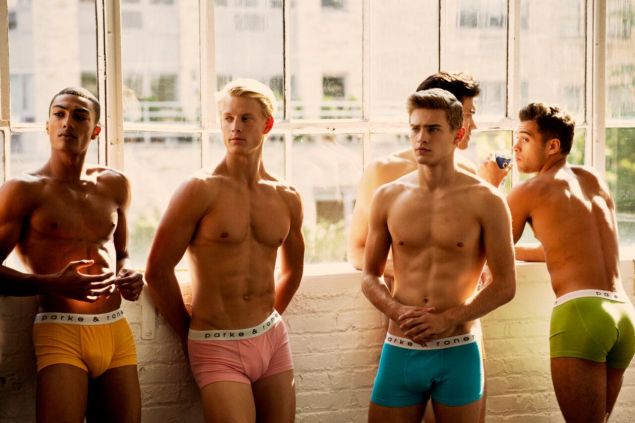 In the past 6 years, if you've found yourself backstage at a Parke & Ronen fashion show during New York Fashion Week, it's likely that you've drooled in public. That wonderland is characterized by the rippling muscles on models of every complexion, lounging around in branded underwear. It's a glorious sight to behold.
"For our first show, we walked into the backstage and hair and makeup was down in the basement," Ronen Jehezkel told the Observer in an interview during fashion month about how the company first started dressing runway models in the brand's underwear. "We went down there and opened the door and there were all of these flawless, gorgeous bodies and the crazy drama of fashion week with all the flashes. And we look around and they are all wearing all this baggy, nasty underwear. This is free advertisement to all the companies they were wearing," he said.
"So the next show, we made the Parke & Ronen underwear. And that was that"
Until this fall, fans of the brand, which is known in the swimwear space for tailored, fashion conscious men's styles, have only been able to behold those designs in backstage photos. But now, the brand has launched into the category with two styles which marks a milestone of growth in its 18-year story. That growth sees the company, run by Parke Lutter and Ronen Jehezkel, moving even further from its street vendor beginnings.
***
Parke & Ronen started as just Ronen, in a test iteration that was nothing like what the New York-based brand is today. The Israeli-born designer, Mr. Jehezkel, actually chose vests as his first fashion business after arriving in the States.
"I came to New York and wanted to see the city through my eyes and needed to make some money," Mr. Jehezkel explained of his start. "I was hanging out with friends and looking at what people were selling on the street and what sold the best t-shirt. T-shirts are accessories, unisex, seasonless da, da, da, da, da. A few drinks later: vests! You can wear it shirtless, it's seasonless, men wear it, women wear it." And from there the business started with $200 and a bed transformed into a cutting board. After setting up on the street, sharing a space with another vendor because neither of them could singularly afford a space, the wares sold out in mere hours, with the young entrepreneur pocketing $2,000.
The hustle proved good business for the designer who unloaded some 100,000 units over the span of six months, eventually bringing on help in the form of interns like then fashion student, Parke Lutter. "I met him under the disco ball 22 years ago," Mr. Jehezkel reminisced about their first chance encounter at the after-hours Hell's Kitchen club, Sound Factory.
Eventually the time for vests had passed. Mr. Jehezkel had established the financial base he wanted, learned enough about the American consumer and in all honesty, the fad itself was dying. For the next project, Mr. Jehezkel, with the Parsons graduate Mr. Lutter in tow, took on dresses. They took the same principles they learned from the vests and applied it to this new arena.
"The idea of doing one item and killing it like we did with the vest worked." Mr. Lutter said.
"We rocked the house!" Mr. Jehezkel said of the brand's first visit to the trade shows at Javitz Center in 1996. "We were packed! Take a ticket, and wait on line." While that year's snow storm, which shut down the show after the first day–not to mention the entire city– there was still success to be had.
***
"We were sort of cornered by the press really," Mr. Jehezkel said when asked about how the company went from women's dresses, through a full lifestyle brand and finally found an emphasis on men's swimwear. "They didn't care about our women's wear. They said we made great pants and great shirts for men and that's what they wanted." 
In 2001, Barneys was the first major retailer to place a wholesale order with the company, which at the time was presenting itself as a lifestyle brand run out of their own Ninth Avenue shop. There womenswear offerings pulled in a devoted following, thanks to fans that included the likes of Julianne Moore and Meryl Streep, but it was menswear where things really started to get more traction. Chalk it up to their approach.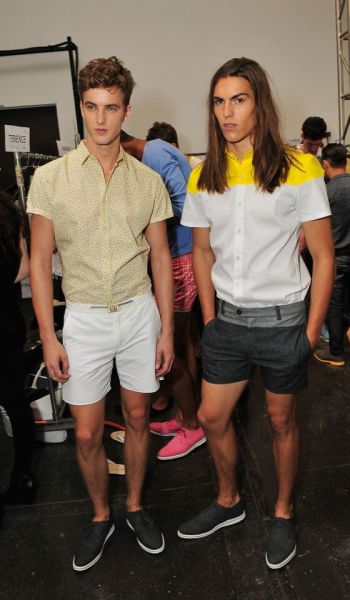 "We really didn't know anything about swimwear," Mr. Jehezkel admitted. "Nothing we made was expressly for swim at first, we would use this fabric that wasn't made for swimming so after five times on the beach it changed colors and faded. People would buy it because it was fashionable. Then of course, we learned."
Coming at a time when beachwear for men was cut akin to cargo shorts, the Parke & Ronen style, with short inseams and tailored legs, was a revelation for a niche market of style savvy guys. While the eight-inch surfer shorts they made were for mass consumption, their four-inch boxer and snap short styles were not. However, that niche slowly began to grow. After two feature articles in The New York Times, more retailers like Saks Fifth Avenue came calling. Then IMG asked the brand to participate in the female-dominated Miami Swim Week.
"You know I don't think we really realized but we basically created this category," Mr. Lutter commented. "There wasn't really men's contemporary swim. There were commodities like activewear–Speedo, Nike–and designers [like] Dolce & Gabbana or Versace threw in a bikini and that was their swim collection." Now, the space seems filled, brands like Orlebar Brown, Solid & Striped and Vilebrequin sitting alongside Parke & Ronen's wares.
A few seasons of Miami runway shows eventually prompted the designers to finally show in the New York market. "I [was] tired of dealing with the sardines, I [wanted] to swim with the sharks," said Jehezkel. The move would not only put the brand in front of more editors, but the duo also used the change to go back to representing themselves as a full lifestyle label once again, but now at the wholesale level.
Since the move to NYFW runways though, the non-swim component of the brand is contributing more and more to the bottom line. Last year, according to WWD it clocked in at 35 percent. Mr. Ronen says it's only grown from there.
The recent underwear launch is likely to grow as a healthy segment of the business with its classic and style conscious design. While the pair decided to go without any prints for the initial launch, to underscore the brand's classic American sportswear underpinnings; the styles definitely have a sex appeal to them.
"When you wear it all day, you go to the bar [until] 1 or 2 o'clock in the morning and you go home and take your pants off, you still look good," Ronen said, explaining the memory capabilities of the 91 percent Pima cotton, 9 percent spandex fabrication. "I understand you worked all day and all of that but it's showtime! That's the beauty of this fabric. It doesn't look like grandpa once you take your pants off." And having taken both a trunk and a brief on multiple test runs, the statement rings true.
Just like with the vests, dresses and swimwear before them, for the foreseeable future, the pair want to nail the underwear space and "rock the house." Based on response already, the process for introducing new styles has already been started with new fabrications and prints, likely to be introduced in the next few months.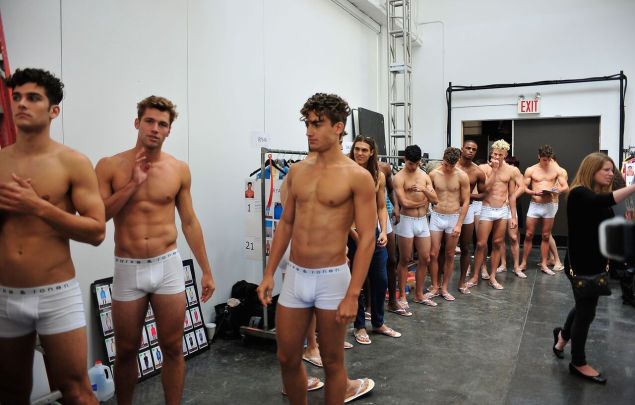 And as for the more distant future? The duo plan on riffing on this idea of a lifestyle brand predicated on vacation essentials. "I want to keep swim as the base for all, but then you use swim suit with the tank top when you go to the Caribbean." Mr. Jehezkel explained. "[And] when you go to Aspen, you still need a swimsuit, because of the indoor pool or the spa. [And] the beautiful knit you throw over your swimsuit when you go down to the bar after your massage. And the lounge pants."
Basically, your traveling wardrobe and must-haves for the most relaxed moments in your life? It's all fair game for Parke & Ronen.