The happy convergence of avant-garde art and revolutionary politics is a utopian dream nowhere more celebrated than in the creative foment of the Russian Revolution. That winsome fantasy—that art is both symptom and fuel of social progress—is everywhere on display in "The Power of Pictures: Early Soviet Photography, Early Soviet Film."
The show, on view at the Jewish Museum, is filled with fabulously dynamic black-and-white pictures of happy workers and peasants, military parades, the rising modern metropolis, industrial development—all familiar themes of Soviet propaganda photography—composed with the kind of vertiginous perspectives and unusual angles that appear as literal expressions of the upheaval that accompanied the transformation of Russian society a century ago.
This unique survey of some 180 works by Sergei Eisenstein, El Lissitzky, Alexander Rodchenko, Dziga Vertov and another two score lesser-known photographers and filmmakers is open through February 7, 2016.
The portable Leica camera was the technological advance that made possible the hyperactive graphics we now associate with imagery of the Russian Revolution. (The camera was introduced at a trade fair in Leipzig in 1925.) The cheaper Soviet knockoff of the Leica was called the FED; it was actually named in honor of "Iron Felix," or Felix Edmundovich Dzerzhinsky, the feared head of the Cheka, the Soviet secret police. His Red Terror campaign killed hundreds of thousands of "counter-revolutionaries" during the consolidation of Bolshevik rule. The camera was produced as part of the rehabilitative program on a commune for orphans Dzerzhinsky had founded in Ukraine.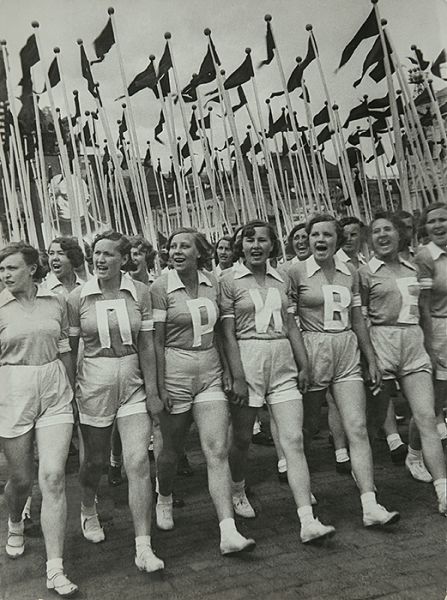 The best-known photographic portrait of Dzerzhinsky, however, on view in this exhibition, is old school. The 1919 headshot is moody and artistic in its soft tones, though it's easy to see a sinister glint in his eyes. The portrait was made by Moisei Nappelbaum, who before the revolution operated a fashionable photo studio in St. Petersburg. His career flourished in the Soviet  era and he died in Moscow in 1958.
The exhibition includes several more portraits, including Rodchenko's appropriately macho image, from 1924, of the poet Vladimir Mayakovsky, and a 1924 portrait by Nappelbaum of the acclaimed modernist writer Anna Akhmatova in profile, looking rather too cosmopolitan in beads and flowered dress. Nappelbaum's modest gelatin silver print from the early '30s of Stalin in his trademark worker's tunic and boots stands in as the sole representative in the show of the cult of personality that characterized the autocrat's long rule.
The Jewish Museum's senior curator emeriti, Susan Tumarkin Goodman, who organized the show, points out that its narrative trajectory moves from avant-garde "formalism" to Soviet Realism, from freedom of expression to complete state control. Photography and photo-graphics—a substantial selection of picture newspapers and magazines, designed with a largely illiterate population in mind, is included—increasingly became restricted to Soviet propaganda purposes.
In the end, experimental photographic methods served the regime quite well, Ms. Goodman notes, "as long as the photographer embraced the approved themes of industrialization, collectivization, healthy and happy life, empire expansion, sports and defense." Despite its design as first and foremost a propaganda tool, "photography became the last bastion of radical visual culture."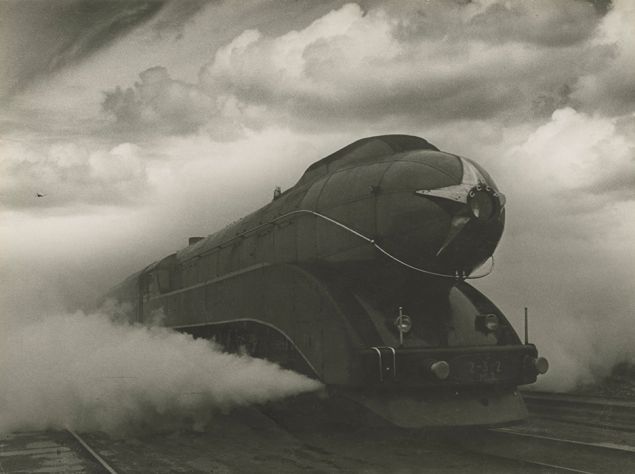 The most dramatic example cited by Ms. Goodman of the use of photography to obscure the reality behind triumphant images of socialism are Rodchenko's photographs for an issue of USSR in Construction, an oversized photo journal published in the 1930s.
Rodchenko's images chronicled the completion of the massive 140-mile-long White Sea-Baltic Sea Canal as a signal accomplishment of Stalin's first five-year plan. But they do not document the use of forced labor from the gulags to build the canal. Of a workforce of 100,000 convicts, as many as 25,000 died as part of a state-directed effort of "re-education through labor."
In the USSR, modernist aesthetics were gradually co-opted by an all-embracing government bureaucracy. A picture that was stylistically avant-garde could promote official goals as well, if not better, than more traditional modes. With its progressive, forward-looking posture, in fact, the avant-garde aligned all too well with the party line, which heralded a gloriously healthy and happy socialist future.
As postmodernist academics have so laboriously pointed out since the 1980s, photography can construct a version of the truth as much as it might reveal the essence of things. In themselves, they construct a legible history with two parallel tracks, one of utopian Communist propaganda and a second, hidden one of existing socialism.
More clearly here than elsewhere, photography arises from uncertain social conditions, a kind of personal limbo that clearly affected all Soviet citizens living under the Communist state.
The exhibition includes a gallery of film posters, originally produced in high numbers as disposable advertisements but now quite rare. The effect of their colorful and dramatic graphics is evident, even though it's obscured for those of us who don't speak Russian. More alluring is a stellar film program, organized by Jewish Museum deputy director Jens Hoffmann, which unspools on a regular schedule in a dedicated theater.
The 10 or so films include Eisenstein's Battleship Potemkin (1925) and Ten Days that Shook the World (1928), and Vertov's Man with a Movie Camera (1929). Though avant-garde films were apparently not that popular with Russian audiences, who preferred ordinary melodramas, Vertov's delirious ode to the hustle and bustle of the modern city, with its cuts marked by shots of trams passing rapidly within a few feet of each other, remains a revelation.