A storm is coming. New York may not see the worst of hurricane Joaquin though, as current models of the storm's path show it veering away from the east coast. Still it's going to bring a whole lot of rain. A State of Emergency has been declared in New Jersey, North and South Carolina and flood warnings remain in effect up and down the east coast. It's best to be prepared. The storm is still a big deal, as illustrated by astronaut Scott Kelly's photo of it from above.
Of course, that hasn't stopped folks from having a little fun gearing up for the rain. Especially when it comes to stocking up on the essentials.
And we have to admit, the hurricane's name leaves it open to a few jokes.
Does this mean it started out as Tropical Storm Leaf?
Though this seems to have caused some confusion on Google News.
If you've been following the storm, you've seen it's predicted path has changed radically over the last few days. The Weather Channel's Michael Lowry showed us just how much.
The uncertainty has been frustrating for some.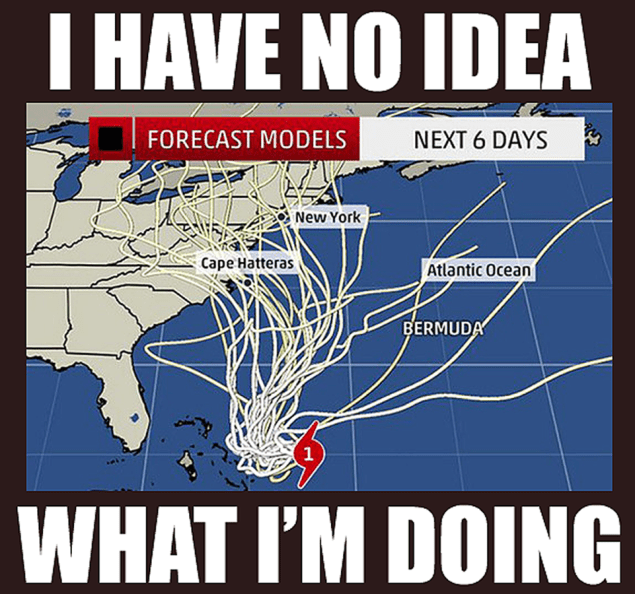 (Via Reddit/zvoidx)
Especially students hoping for a few days off,
people looking to add a little something to their weekend "Netflix and chill" sessions,
[protected-iframe id="b3666243555884a19fb481957cdddcca-35584880-14935720″ info="//platform.twitter.com/widgets.js" class="twitter-tweet"]
and, presumably, a few meteorologists.
Always remember though, the best way to stay safe and prepared, is to remain vigilant.