Three years ago this week, Hurricane Sandy ravaged the Northeast, resulting in 117 deaths, $50 billion in damages and more than 650,000 destroyed homes. But even the most devastating storms have a silver lining. For a lucky few, this week marks a different kind of anniversary: the day Hurricane Sandy served as an unexpected meet cute for couples now ready to weather another adventure—marriage. 
Bar None: Leigh & Angel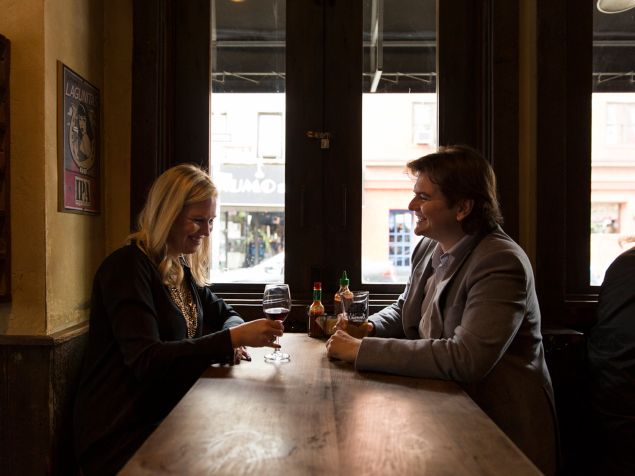 For Leigh Kunis, it was love at first blackout.
While most New Yorkers were hibernating in the lead up to Hurricane Sandy's arrival, Ms. Kunis was busy exchanging glances with Angel Jimenez de Luis at the Blind Tiger Ale House in the Village. Their conversation never wavered—even as the power did. 
Two years later, he flew her to his native Spain for a long weekend and proposed in Granada, overlooking the Alhambra.
"Because of the hurricane, we showed our personalities right away," Mr. de Luis remembered. "If this had been she and I in the same bar on a normal day, it probably would not have happened the way it happened. Usually a hurricane is bad, but something good came out of it."
Sue Johnson, a clinical psychologist and author of Love Sense: The Revolutionary New Science of Romantic Relationships, isn't surprised by the storm's matchmaking magic. "That's the surest recipe for falling in love that I can imagine," she told the Observer. "It's a perfect bonding scenario. That's how you're wired as a mammal. You don't want to face this alone." In a potentially catastrophic situation such as the hurricane, she added, "All your defenses are gone. You've broken through walls that take people years."
After the lights went out in the bar, Ms. Kunis, 32, suggested she and Mr. de Luis, 35, explore the damage on the Hudson River. "He actually agreed and I was attracted to his sense of adventure," the marketing manager remembered. 
When they walked home—both lived in the Village—around 11p.m. that night, it was pitch-black outside. "It was at that point that I was like, 'Huh, this could've been a bad idea walking around with a stranger in the middle of a hurricane where I don't even know where I am.' Thankfully, it turned out O.K.," Ms. Kunis joked. He even helped barricade a stranger's house from flooding with a mattress, winning her over completely. 
"It kind of forced us on a first date," Mr. de Luis, who is a foreign correspondent, added. "One thing that impressed me was that she was adventurous and pushed me into going outside. Normally, left to my own devices, I would not be into that adventure. In hindsight, it was probably not the best idea. After the hurricane, tree branches were falling down. Things were flooded. Electrical wires were laying on the floors." 
That bravery ignited sparks of its own. "Adventure fuels our innate passion for life, and in that state, we become more sexual, more passionate and more emotionally connected," explained Ken Page, LCSW, psychotherapist and author of Deeper Dating: How to Drop the Games of Seduction and Discover the Power of Intimacy.
When cell phone service was restored a week later, Mr. de Luis asked her out and they went on their first real date—right when a nor'easter hit.
"It's kind of our joke that bad weather really brings us together," Ms. Kunis said.
On Track: Alexandra & Wes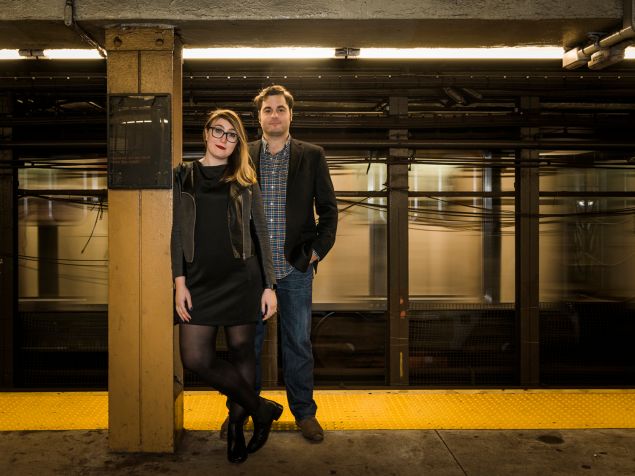 Alexandra Samuel, 30, met fiancé Wes Henrie, 30, by accident on the 7 train. The Sandy subway closures had diverted the Greenpoint residents' trips home—and ended up rerouting their entire lives. 
The G and L trains were shut down, so they would have had to take the 7 to Long Island City and walk over the Pulaski Bridge to get home. She was at Grand Central when he bounded onto the train as the doors were closing, asking loudly, "Does this stop at Vernon-Jackson?" She answered, "I hope so!" They ended up talking until they reached their stop. And when she couldn't find the bridge, he offered to walk her home. 
They took another walk two years later, when he proposed on the pier in Greenpoint's Transmitter Park. 
Research supports the phenomenon of finding love in novel situations. "Human beings are programmed to be risk averse, to protect our safety," Ken Page, LCSW, told the Observer. "In our day-to-day lives, we mostly talk to the people in our daily orbit. We act out the same daily patterns. We follow the same routes to work and home. A disaster like Sandy forces us out of our comfort zone."
In fact, we had mutual friends but they would have never set us up. The first time I told one of them we were dating, her jaw dropped
Both were aware of how strange it was to meet on the subway. Ms. Samuel recalled, "My friends from the city are like, 'What's wrong with you? Why would you talk to anyone on the subway?' " 
Mr. Henrie had the same fear. "I didn't want to be like a creep and keep bugging her while she's trying to get home," the MFA student recalled. 
Neither was looking for love at the time. She was busy with grad school and he was busy being single in Brooklyn.
"All of a sudden she pops into my life and here we are," he said. "She was really cool from the get-go and we clicked immediately. Life was just really happy with her." 
They made it official three months later and moved in together six months after that. Despite living in the same neighborhood, both Mr. Henrie and Ms. Samuel say they would have never met if it weren't for Sandy. "We couldn't be more different at first look, but being thrown together in a kind of crappy situation helped us discover the magnetism that existed between us," Ms. Samuel, a creative technologist, said. "In fact, we had mutual friends but they would have never set us up. The first time I told one of them we were dating, her jaw dropped." 
Ms. Samuel spent the week of Sandy cleaning up Red Hook; Mr. Henrie spent it hosting a weeklong party. She's the artsy free spirit; he's the analytical physics nerd. She's shy, he's outgoing. 
Their story is so beloved that it's become somewhat of an inspiration. "My mom and aunt—both single—were both like, 'We're going to start walking on the Pulaski Bridge. Maybe we'll meet some men,' " Ms. Samuel joked. 
Room Mates: Nicole & Dave
Nicole Chismar's Financial District apartment was in Flood Zone 1, but luckily the publicist was able to crash with a college friend. Things continued to look up when Dave DelSonno also sought refuge in the three-bedroom duplex on the Upper East Side. "Oh, wow, this kid's pretty cute. This is going to be a fun week," she thought. That week turned into three years—the couple is now searching for their own apartment on the UES.
"Living with each other for five days during the hurricane brought Dave and I together without the pressure that generally goes with dating," the publicist, 30, said. "We really got to know each other before diving in, which I think helped us fall in love a little quicker than we ordinarily would. It's honestly the best relationship we've both ever been in."
Ken Page, LCSW, attributes this rapid romance to a larger desire for connection in catastrophe. "We all feel vulnerable in a disaster, and that shared sense of our humanity makes us more open to love in all its forms. Neighbors who might never have spoken become friends," he said. "In this heightened state, romantic love is more accessible."
Midweek, Ms. Chismar and Mr. DelSonno started doing laundry, cooking dinner and walking to work together. "We pretty much were attached at the hip for the week doing normal couple stuff. It forced us to get close pretty quickly," she said. Over that three-mile walk to work, they realized they had an eerie amount in common: they're both only children, have rescue dogs, love jam-band indie rock, and even have scars near their left eyes. 
Living with each other for five days during the hurricane brought Dave and I together without the pressure that generally goes with dating
The lack of modern-day diversions led to a more focused connection. "There are less distractions, which means more time to listen to each other and learn about each other," said Ken Page. "It's almost a set-up for deepening bonds between compatible people. The more positive non-pressured attention paid to each other, the more the chances of connections growing both more quickly and more intensely."
"The fact that we got along so well just kept bringing me back to her, wanting to spend time with her," the digital sales planning manager, 29, said. "I became more comfortable with her faster than anyone else in my life."
And of course, there was the element of destiny. "Fate kind of pushed us together, we had moved in similar social circles for so long but just had never met," she said. 
"We both acknowledge that if it hadn't been for the disaster, our paths never would have crossed. We would have never gotten the chance to really get to know each other because maybe if we had spent one night together or met casually, it may not have sparked," he said. "It's such a unique, cool story with, unfortunately, a tragic piece of New York City's history that I guess there's a silver lining to that disaster and that it's changed both of our lives for the better."
Home Run: Alida & Jason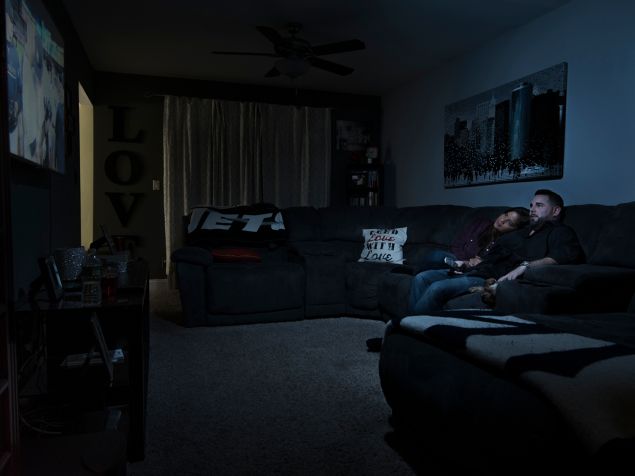 Jason Giannini was the only one who showed up to Alida Almonte's "storm party." The event may have been a bust, but their party of two is still going strong: nine months later, they bought a house together in Deer Park, Long Island, and soon plan to get engaged.
Neither realized how bad the storm would get, so he ended up crashing at her place after it hit. They had been friends for a year, but it was the first time they hung out one on one with zero distractions: no cable, no Internet, no texting, no work, no other people. "Once my roommate went to sleep, we stayed up and hung out," Ms. Almonte, 33, said. "We were spending quality time together and I felt like we had a connection. We were getting to know each other at a different level."
They missed each other so much after he left that he came right back and they've never spent a night apart since. 
I had never brought anybody around my family so quick as I did with her. I literally brought her around a couple weeks later to my niece's birthday party just because I knew she was the one
"Being stranded together can be a real catalyst for love," explained Ken Page. "Both people have the chance to show kindness and be chivalrous to each other in many ways, since resources are limited. Research shows the presence of kindness and generosity to be the greatest factors in determining relationship success and longevity." 
The unique situation allowed Ms. Almonte and Mr. Giannini to expose different sides of each other. He stood in the 10-block gas line to fill up her car, while she made him feel at home inside. "When I met Jay out, I always thought he had a really tough exterior," the media relations manager said. "That he was like a tough guy, but when we got to know each other, I learned he's really just a big family person. He does have a soft side to him, he's very caring."
"It was just us and we were playing games such as Trouble and Uno and spending time like people used to do," Mr. Giannini said  "I can't pinpoint it right now, but we just clicked." 
They both fell faster than they ever had before. "I had never brought anybody around my family so quick as I did with her. I literally brought her around a couple weeks later to my niece's birthday party just because I knew she was the one," the direct sales rep, 39, Mr. Gianni continued. "We never fight. We respect each other. We love each other. Everything was there that I never had before. If the hurricane hadn't happened, who knows where we would be?"