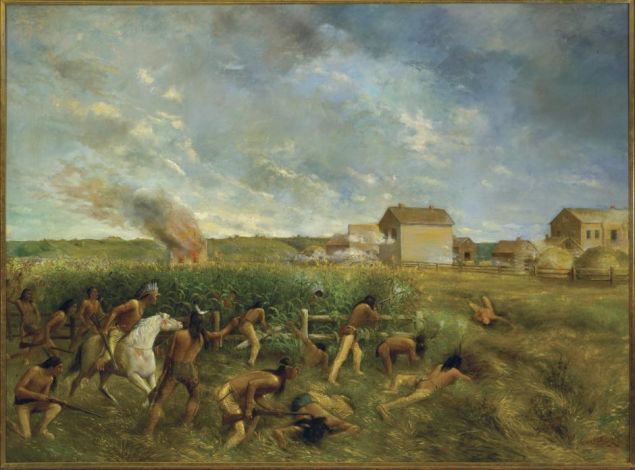 The state of Minnesota is having a reckoning: should offensive images be deleted from history?
When the state embarked on a $309-million, three-year renovation of its state capitol in 2013, the goal was to restore crumbling façades and replace outdated electrical and plumbing equipment. But the mater of how to deal with historic but inaccurate—maybe even racist—art that is usually displayed in the state house has stirred debate.
Four pieces of art that depict Native Americans and are set to reappear when the capitol building re-opens in 2017 have come under fire for inaccurately depicting Native American culture and life.
At issue are: Father Hennepin at the Falls of St. Anthony, Attack on New Ulm, Eighth Minnesota at the Battle of Ta-Ha-Kouty and Treaty of Traverse des Sioux. They have been criticized by some Democratic lawmakers in the state for their images of Native Americans. The paintings date to the early 1900s, and depict interactions between whites and Native Americans, often with the Native Americans attacking.
Eighth Minnesota… depicts the Battle of Kildeer Mountain (Ta-Ha-Kouty is a Native American word for the same landform), and the perspective is from behind the whites as they advance on Native American troops up a hill. Attack on New Ulm, meanwhile, invokes a stereotype of the violent, brutal Native America, a perpetrator of unprovoked attacks. New Ulm came under siege by a small group of Native Americans in 1862, according to documents from the Minnesota Historical Society. In that work, Native Americans point guns at whites while a building burns in the background.
These images fall firmly within the essentialist framework of the painting of the time, as Dr. Brian Hosmer and Dr. Loretta Fowler, historians at the Newberry Library in Chicago, which specializes in Native American history in the Midwest, have pointed out in their scholarship. "The most prevalent negative images of Midwest Indians in the 18th and 19th centuries showed them killing and/or capturing White people… This message was a one-sided one, that is, the brutality of war was ascribed to Indians alone."
The paintings also employ stereotypical images of Native Americans—feathered headdresses, topless women—that may not have actually applied. "Some are romanticized visions of Native Americans that portray them in ways that we don't believe the historical record supports them, in terms of dress and those sorts of things," Dianne Loeffler, a state legislator, told Minnesota Public Radio. "So, as a place people go to learn history, that's a concern."
Of course tired tropes of "the noble savage," or violent Native Americans or overly racialized images of Native Americans have come under fire before. And at the moment, with the discussion around the Washington Redskins raging, matters of Native American identity and symbols surrounding Native American culture are receiving due attention.
Now, Minnesota leaders are now mulling whether the works will be displayed at all, highlighting the question—is it more important to have racist works available as documents or to remove racist depictions from public view?
The art subcommittee of the Capitol Preservation Committee met last week; the group's recommendations for how to handle the art come down in January.