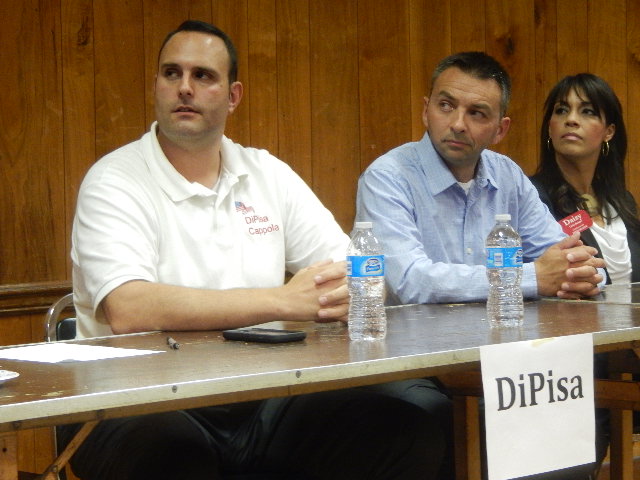 Republican LD38 assembly candidate Mark DiPisa was charged with attempt to cause bodily harm in 2001, according to documents from the Monmouth County Superior Court and the Ocean Township Court.
He was initially arrested on criminal mischief charges in 2001 in Monmouth County but the case was remanded to Ocean Township on August 27, 2001. Though the county did not indict him, he went to court on April 8, 2002 in Ocean Township for criminal mischief with damages, attempt to cause bodily harm and disorderly conduct charges.
He was found not guilty to the criminal mischief and disorderly conduct charges but pleaded guilty and was charged for attempting to cause bodily harm. He paid a $550 fine for the offense.
Though the court could not release details of the incident, records noted that it occurred at the home of the victim.
According to a statement from DiPisa, the incident was "self-defense."
"This happened when I was 19 years old, responding to a girl who was being held against her will and I acted in self-defense after someone socked me in the face," DiPisa said in his statement. "Anyone would have done what I did in that situation."
The statement continues: "My opponents spend more time dumpster diving and slinging mud than trying to find solutions for North Jersey families and seniors. Just when I think Eustace and Lagana can't get any more desperate, they surprise me by sinking their campaign deeper in the gutter. They need to grow up and stop running away from their failed tax and spend record by pathetically obsessing over ways to personally attack me. No wonder nothing gets done in Trenton."
DiPisa, born on January 27, 1981, was a football player at nearby Monmouth University at the time of the incident. Court documents identify him as a resident of Hasbrouck Heights at the time.
For three weeks, DiPisa has been at the center of a spat in LD38 with former running mate Anthony Cappola. DiPisa has blasted Cappola for a book he wrote twelve years ago that contained anti-Semitic, racist and anti-gay language. Since Cappola could not be removed from the ballot, he is still pursuing his candidacy. DiPisa, however, refuses to recognize Cappola as a legitimate running mate and even boycotted the district debate earlier this week.
Cappola subsequently called his fellow Republican "cowardly" for refusing to share a stage with him.
"We all have stuff in our past," Cappola told PolitickerNJ earlier this week after DiPisa's statement that he would not be attending the LD38 debate. "Mark should be happy our opponents spent 5 million dollars smearing me and only being able to come up with an out of print raunchy satirical book from my past. Mark should be grateful they didn't dig up his past."
DiPisa and Cappola are challenging incumbent Democrats Tim Eustace and Joe Lagana in the district. Initially, LD38 was thought to be one of the most competitive races in the state but issues have left the Republicans lagging behind.
The brawl between the two former running mates evolved out of what one Republican source cited as a shaky political alliance from the start, devastated once Cappola's self-published book surfaced.
Bergen County Republican Organization (BCRO) Chairman Bob Yudin did not want Cappola on the ticket, according to the source. The chairman wanted Ed Trawinski but many of the old guard/anti-former Bergen County Executive Kathe Donovan partisans didn't want the former county administrator (and Donovan ally) under any circumstances. Yudn felt that with Trawinski the GOP had a good shot at pulling strong numbers in Fair Lawn. But others in the old guard pushed back with Cappola.
[UPDATE 3 p.m.]
PolitickerNJ received a statement from DACC spokesperson Derek Roseman that stated: "Neither the Eustace and Lagana campaign nor the Democratic Assembly Campaign Committee were aware of this issue prior to reading about it in PolitickerNJ."