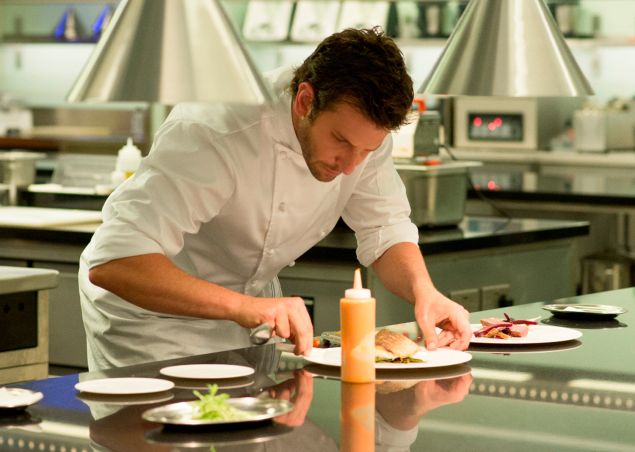 If food is better than sex, as some folks insist, there is no better proof imaginable than Burnt, a mildly entertaining but well acted, sumptuously photographed and smartly written comedy with dark undertones about culinary addiction that can only be called "delicious." See it and then check your cholesterol.
---

BURNT ★★★
(3/4 stars)

Written by: John Wells
Directed by: Steven Knight
Starring: Bradley Cooper, Sienna Miller and Daniel Brühl
Running time: 100 min.

---
Fatally addicted to gastronomy, Bradley Cooper takes on a deft role that is totally different from anything he's ever done before. Washed up in Paris as one of the world's greatest chefs after winning two coveted Michelin stars, Adam Jones disappears, addicted to drugs and alcohol, and ends up in New Orleans shucking oysters. After his one-millionth shell and no pearl, he walks out and starts over in London, determined to take over the great gourmet restaurant owned by his late mentor's partner Tony (Daniel Brühl). Distrustful because of his past reputation and afraid he'll destroy his restaurant in the distinguished Langham Hotel in the process, Tony reluctantly surrenders because he needs a rock star chef who will generate publicity. He's also in love with Adam, who will do anything and use anybody to get his third Michelin star.
In the ruthless odyssey from sleeping on the floor to hypnotizing London's culinary aristocracy, Adam is arrogant, heartless, unscrupulous, immoral and utterly without guile as he goes about hiring the best staff ever assembled, composed of criminals, enemies and past betrayals—all of whom know exactly how to fillet a turbot and create miracles with a pad of butter and a wad of tarragon.
He also gives up booze, drugs and women in an effort to clean up his act and make amends for destroying so many people in his salad days in Paris. He isn't always successful, but first and foremost he turns the cuisine into Technicolor enchantment. You watch Bradley Cooper work his own miracles, too, as he dissects a pigeon, reduces a sauce, and wins over the toughest food critics while the camera roots around through prime cuts of sirloin, sublime cherry tomatoes and ripe figs like a pig searching for truffles. You also watch him raging and bullying his kitchen staff, smashing glasses, measuring the potato slices, timing the halibut and dumping out entire meals that fail to meet his standards.
He's a precious monster so mean-spirited and self-centered that it takes a long time to warm up to his explosive personality, and despite Mr. Cooper's energetic and bombastic performance, a little of Chef Adam goes a long way. He's passionate about food to the point of madness. He doesn't want reviews that call his restaurant "interesting." He equates food with orgasms. He's also taking daily injections for an illness that is never properly explained but mysteriously related to his former life of excess debauchery. After his doctor (an efficient, matronly Emma Thompson) tells him there's nothing wrong with needing others and prescribes a hug, he turns soft in the center like a profiterole and falls for a lady chef with a child to raise who prefers Burger King to beef bourguignon.
This preposterous romance leads to a Love Conquers All finale, which throws the movie a curve ball I could do without, despite the fully assured contribution of Sienna Miller as the girl. (Uma Thurman also makes a brief but amusing appearance as a tough lesbian food critic.) But the big question remains: Does Adam get his third Michelin star? I'll never tell.
Wittily written by Steven Knight and directed by John Wells (the disastrous August: Osage County) at a pace fast enough to deglaze a pan, Burnt is elaborately photographed, and you get a gastronomic tour of the kitchen at the Langham, where I have dined many times to beatific delight and can testify to the quality. You also get to pick over the asparagus in the Billingsgate Market, London's equivalent to Les Halles. The movie is slight and blunted, but you go away stuffed.