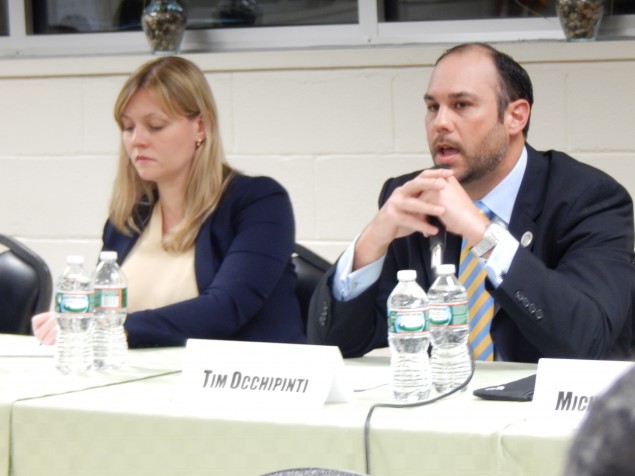 HOBOKEN – At a Thursday night debate in Hoboken, Ward 1 city council candidate Michael DeFusco fired shots at the 21-year incumbent he is hoping to unseat: Theresa Castellano. Ward 4 candidates Ruben Ramos, Dana Wefer and current councilman Tim Occhipinti were equally combative. Ward 3 councilman Michael Russo also participated though he is running unopposed.
One of the night's hottest topics centered around bonding with candidates disagreeing about whether or not accruing debt in order to maintain a budget surplus was a good idea.
In Ward 1, Castellano expressed her dislike of bonding and stated that the city should, instead, tentatively use surplus funds for certain issues.
"When Sandy came we bonded for everything," Castellano said. "We didn't touch the surplus which was a travesty. We have to be careful what we bond for."
Opponent DeFusco's stance was starkly different when it came to bonding and surplus funds.
"I don't know what saver out there isn't saving something in their bank account," DeFusco said. "If you don't agree with bonding, find a solution."
According to DeFusco, the issues in Ward 1 stem from Castellano "pointing fingers" at Mayor Dawn Zimmer and others to explain why things don't get done rather than developing comprehensive plans to make necessary changes.
The bonding/surplus issue was also much-debated among Ward 4 candidates.
"We have a surplus but we don't know where that surplus goes," said Ramos who has served as both a Hoboken councilperson and a member of the New Jersey Assembly in the past. "If we are going to have that surplus it should go to infrastructure."
According to fellow challenger Wefer, however, keeping the surplus is the "responsible" thing to do for Hoboken.
"I will advocate for keeping a surplus because it helps us maintain a stellar bond rating," she said. "I am the only candidate in the 4th ward to have a platform. There is this idea that bonding is a bad thing. Bonding is a responsible thing."
For Occhipinti, however, Wefer's desire to leave the surplus untouched demonstrates a lack of a realistic plan to lower taxes, one of the central tenants of her platform. He claims that he is in favor of bonding at times but recognizes that it should not be used in all instances.
"If you're saying you're going to lower taxes you need something you are going to do," Occhipinti said. "Ms. Wefer, you say you are going to lower taxes. It looks great on a shiny flyer."
In Ward 3, Russo stated that, "keeping some of the surplus was responsible, not keeping $25 million." Throughout the night, Russo continually called out some of the rookie candidates for "running for council without understanding what a councilperson does."
One particular point of contention came when moderator Bowden asked if new cars should be welcomed to Hoboken and Wefer—who keeps a car and parks on the street—said that they should not.
"You don't want new cars but are you willing to give up yours?" Russo questioned, though he did not mention Wefer directly by name when stating his rebuttal.
Other hot issues at the debate included smart redevelopment downtown, the development of the southwest park, affordable housing, traffic/parking congestion and reimagining the NJ Transit train station as a multipurpose space similar to Chelsea Market in New York City.
The debate was held at Hoboken's Multiservice Center and was organized by the Quality of Life Coalition. Members of the public asked questions on topics they felt were most critical for their candidates to address.
The election will be held on November 3.