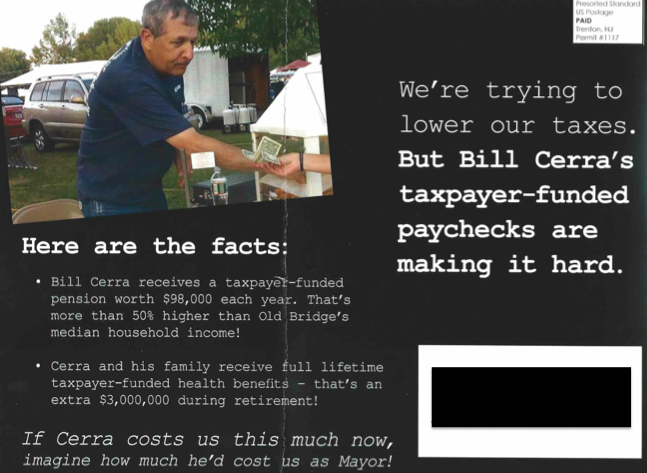 A mailer from the Republican slate for Mayor and council in Old Bridge hit mailboxes in the town this week, calling out Democratic mayoral Challenger Bill Cerra for the pension he receives from the police department where he was formerly captain.
According to the mailer, Cerra receives a $98,000 annual pension and his family gets "full lifetime taxpayer-funded health benefits" that equate to an "extra $3,000,000 during retirement."
Cerra said that his pension comes as a result of the 33 years he served on the Old Bridge Police Department.
"Mayor Henry refuses to discuss or debate the facts and his record," Cerra said. "Instead, he is trying to convince the residents that after 33 years of service to Old Bridge Township I am entitled to nothing after contributing eight percent of my salary to the pension fund for my entire career."
The mailer claims that Old Bridge Mayor Owen Henry and his running mates Anita Greenberg-Belli, Brian Cahill and Debbie Walker are trying to lower taxes. It also alleges that "Bill Cerra's taxpayer-funded paychecks are making it hard" and proclaims: "If Cerra is costing us this much now, imagine how much he'd cost us as Mayor!"
According to Cerra, the mailer's allegations are uncalled for and he would like to challenge Henry to a debate based on the issues.
"Again I am challenging Mayor Henry to a debate so the residents can hear the truth and make a decision  based on facts not fiction," Cerra said. "If Mayor Henry has done such a great job as he claims, why won't he defend his record in a debate."
Additionally, Cerra voiced his concern over the choice of image. On the mailer piece, he is pictured collecting money from an unseen person. Cerra claims that the image portrays him negatively but said that, in reality, he was selling churros at the St. Ambrose Feast to benefit the Kiwanis Club.
Cerra is running on the "Old Bridge First" ticket that includes Tom Galante, Jack Gillick and Deborah Marquez.
The Old Bridge Mayor's race has been heated, with candidates reporting destruction of campaign materials.