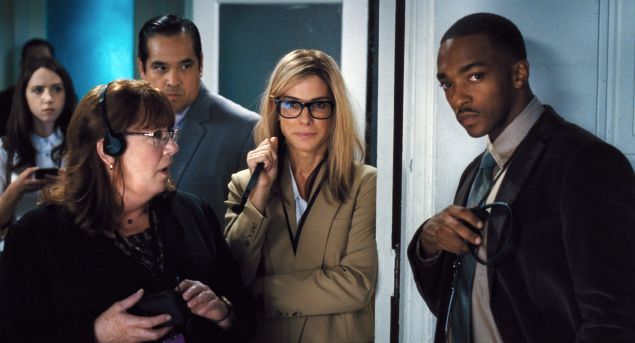 Some movies just come out of the chute branded with failure. Our Brand is Crisis, which premiered to unenthusiastic groans at the recent Toronto International Film Festival, is a wildly uneven and commercially doomed vehicle for Sandra Bullock, produced by her pal George Clooney, written by the pretentious Peter Straughan who wrote a forgotten monstrosity called The Men Who Stare at Goats for Mr. Clooney six years ago, and directed by David Gordon Green, the wobbly, second-rate director responsible for such feeble-minded duds as Pineapple Express and, more recently, the Al Pacino disaster, Manglehorn.
---

OUR BRAND IS CRISIS ★★
(2/4 stars)

Written by: Peter Straughan
Directed by: David Gordon Green
Starring: Sandra Bullock, Billy Bob Thornton and Anthony Mackie
Running time: 107 min.

---
Wasting their collective energy on Our Brand is Crisis, they've come up with a sloppy mess about the spin doctors who get paid big bucks to manipulate political elections that exemplifies much of what's wrong with movies today—vanity projects made with arrogant disregard for the audience by friends with a lot of money and not many serious cultural credentials, who call in favors from each other to make movies nobody wants to see—all serious flaws for which Mr. Clooney is famous.
In a role that was originally written for Mr. Clooney, Ms. Bullock is "Calamity" Jane Bodine, a cartoonish political strategist based on President Bill Clinton's right-hand powerball, James Carville, who was called in to mastermind the 2002 election of a Bolivian president in whom nobody had much faith or trust, including Mr. Carville.
In the movie, which fictionalizes material from a far superior 2005 documentary of the same name by Rachel Boynton, the Carville character has been changed into a female screwball who comes out of retirement to fix one more election—this time, for unpopular, do-nothing former Bolivian president Pedro Castillo. Jane's credo is "I can make myself believe in anything—if the money is good." But the main reason she's gung-ho for this job is because her candidate's opponent is represented by her rival political campaign coach and archenemy Pat Candy (a bald Billy Bob Thornton). Intended as a cynical take on the kind of 20th century electioneering in which corruption often overwhelms the odds, the movie wafts and drones and shifts gears so many times that it is never as funny, pointed, jaundiced or clever as it could have been, and much less politically significant than it should be.
Instead of concentrating on the speed bumps that confront Jane on her arrival in South America—a middle-aged candidate with a poor track record, no enthusiasm for the job and zero charisma—the movie wastes an inordinate amount of time showing Jane as a potential loser herself. The focus is not on the candidates but on the hotshot strategists, who will stop at nothing to defeat each other. While the two politicos, both of whom are just inches above the status of crooks, run their campaigns, their two advisors do everything they can to sabotage them. They're all ruthless. To make things worse, Jane is a dizzy, jet-lagged, frizzy-haired mess with red, swollen eyes, as well as a history of breakdowns, job failures, depression and a weak colon. The humor doesn't always collate satisfactorily with the serious political conflicts (the constant vomiting scenes are just plain silly), and the happy ending, although based on reality, is unconvincing and naïve. The star even moons the public from a bus window in one prank that falls disappointingly flat, no pun intended.
It's more interesting to watch Jane struggle to turn her cold, conservative candidate into a warm and likeable winner, even when he punches a constituent in the face. She temporarily regains her old creative spunk, turning the embarrassing incident into front-page heroism, selling Bolivia as a country in crisis and Castillo as the only man who can roll up his sleeves and save it. But Pat Candy has a few trumps up his sleeve, too. Duking it out through false advertising, insincere slogans and false images that guarantee phony promises, it's Godzilla vs. Mothra until you wish they were both dead. The dialogue is atrocious. The locations in Puerto Rico and La Paz provide tropical ambience. Zoe Kazan, Anthony Mackie, Scoot McNairy and Joaquim de Almeida are wasted members of the under-used supporting cast, and Our Brand Is Crisis adds up to a toothless exercise in missed opportunities that is half cautionary tale, half political satire and oddly insignificant as both.